Retaliatory Discharge Case Claiming Worker Was Fired For Complaining About Racism Settled By EEOC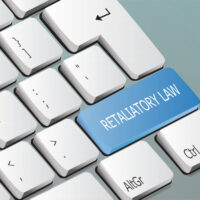 In a press release issued on May 22, 2020, the U.S. Equal Employment Opportunity Commission (EEOC) announced that it has entered into a Consent Decree to settle a retaliation lawsuit against Brookdale Senior Living Communities, Inc. (Brookdale). On May 18, 2020, the EEOC filed the case, U.S. Equal Employment Opportunity Commission v. Brookdale Senior Living Communities, Inc.,Case No. 2:20-cv-00993, in the U.S. District Court for the Eastern District of California after initially seeking to remedy the alleged unlawful retaliatory discharge through its statutorily required conciliation process. Unable to secure from Brookdale an acceptable conciliation agreement, the EEOC moved forward with litigation. In the Consent Decree, which was signed by U.S. District Judge Troy L. Nunleyon on May 20, 2020, Brookdale agreed to pay $80,000 to resolve the retaliation lawsuit.
The EEOC commenced the retaliation lawsuit pursuant to Title VII of the Civil Rights Act of 1964 (Title VII) on behalf of a former employee of Brookdale, Gwendolyn Grayson (Grayson). Under Title VII, employees are protected from racial discrimination in the workplace. Title VII also protects employees from retaliation when they complain about perceived racial discrimination at work. The EEOC claims that Brookdale violated Title VII by firing Grayson in retaliation for complaining about racial discrimination in the workplace. In this article, our Marion County, Florida retaliatory discharge lawyers explain the EEOC's allegations against Brookdale.
Employee Complaints About Racist Remark
Brookdale is a nationwide senior care provider. In April 2018, Grayson began working for Brookdale as a resident care associate. Grayson worked at Brookdale's facility in Auburn, California. On June 12, 2018, Grayson, who is African-American, overheard two white co-workers make a comment that Grayson considered racially insensitive. Grayson told her co-workers that she felt uncomfortable hearing the remark. Two days later, Grayson's opposition to the racial remark was reported to Brookdale's management.
On June 18, 2018, Grayson was directed to report to a meeting that included her supervisor and the Executive Director of the facility where she worked. During the meeting, Grayson was required to justify why she was offended by her co-workers' comment. Grayson believed that the Executive Director was challenged her belief that such a comment could offend. The next morning, June 19, 2018, Grayson lodged a complaint with Brookdale's complaint hotline. Grayson described her interaction with her co-workers and complained that the Executive Director had retaliated against her for expressing a belief that the co-workers' comment was racist.
Employee Claims Retaliatory Discharge
Later that same day, June 19, 2018, Brookdale placed Grayson on immediate suspension pending an investigation into her complaint. In the week following her suspension, Grayson left Brookdale several voicemail messages asking when she would be allowed to return to work. Grayson's calls were never returned. On June 27, 2018, the Executive Director sent a letter to Grayson claiming that Grayson had "not responded to repeated attempts" to contact her. The Executive Director accused Grayson of abandoning her position and thus terminated her employment. The EEOC claims that Grayson's complaint about racist behavior in the workplace was the real reason Brookdale fired her.
Fighting Against Retaliatory Discharge
The EEOC is the administrative agency of the United States responsible for interpreting and enforcing federal labor laws prohibiting discrimination, harassment, and retaliation. In fulfilling its Congressional mandate of enforcing the federal labor laws, the EEOC is also granted the authority by federal law to file lawsuits on behalf of retaliatory discharge victims. In a press release issued by the EEOC on May 22, 2020 regarding the case, the Director of the EEOC's San Francisco Office, Williams Tamayo, explained that the "law protects your right to speak up and oppose language in the workplace that you reasonably believe to be racially offensive." "If an employee explains that a certain term evokes a painful racial stereotype," Mr. Tamayo added, "this is an opportunity to demonstrate respect and understanding and conduct a careful investigation into the allegation."
Consult With Ocala Retaliatory Discharge Lawyers
Based in Ocala, Florida and representing employees throughout Central Florida, our Marion County, Florida retaliatory discharge attorneys have dedicated their practice to fighting against unlawful employment practices. If you have been fired in retaliation for complaining about discrimination in the workplace or have questions about your protection from retaliation under the federal labor laws, please contact our office for a free consultation with our Ocala, Florida retaliatory discharge lawyers. Our employment law attorneys take retaliatory discharge cases on a contingency fee basis. This means that there are no attorney's fees incurred unless there is a recovery and our attorney's fees come solely from the monetary award that you recover.