Retaliatory Discharge Lawsuit Claims Worker Fired For Complaining Younger Employees Treated Better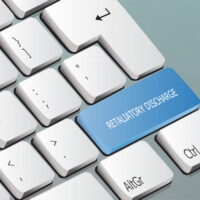 Having represented retaliation victims for more than two decades, our Marion County, Florida retaliatory termination lawyers know that older workers are often treated differently and less favorably from younger employees. Under the Age Discrimination Act (ADEA), employees are protected from retaliation when they complain about perceived age discrimination in the workplace. In enacting the ADEA, Congress included an anti-retaliation provision because enforcement of the ADEA depends on the willingness of employees to oppose age discrimination at work without fear of retaliation. As the U.S. Supreme Court in Crawford v. Metropolitan Gov. of Nashville & Davidson County, 555 U.S. 217 (2009) explained, "fear of retaliation is the leading reason why people stay silent instead of voicing their concerns about bias and discrimination." In this article, our Ocala, Florida retaliatory termination lawyers explain how the alleged facts in O'Bryan v. U.S. Bank National Association, Case No. 20-00153 (M.D. Tenn. Aug. 17, 2020) illustrate the broad protection against retaliation afforded to employees under the ADEA's anti-retaliation provision.
Worker Claims Retaliatory Termination
In that case, Jennie O'Bryan (O'Bryan) brought a retaliatory termination case against her former employer, U.S. Bank National Association (U.S. Bank), pursuant to the ADEA. O'Bryan claims that U.S. Bank violated the ADEA by firing her in retaliation for complaining about age discrimination.
In 1984, O'Bryan began working for U.S. Bank as a bank teller upon graduation from high school. Over the next thirty-plus years, she was consistently promoted, with her salary and benefits increasing commensurately with her increased responsibilities. In thirty-four years, she was never subjected to any disciplinary action. In 2014, she was promoted to the position of Regional Manager/Vice President (RM/VP) in the U.S. Bank's Wealth Management Group, where she was responsible for managing metropolitan markets across five states.
In April 2017, U.S. Bank announced that it had created the position of Associate Division Manager (ADM) for the Midwest and had already filled the position with a woman named Tupman, a younger person with much less experience than O'Bryan. O'Bryan was not advised that this position was being created or given the opportunity to interview for it. Among other duties, Tupman became O'Bryan's supervisor. Tupman immediately transferred a large part of O'Bryan's team to herself, significantly impacting O'Bryan's earning capacity and income. No other RM/VP's territory was reduced or reassigned.
Employee Subjected to Age-Based Slurs
During her supervision of O'Bryan, Tupman frequently made comments regarding O'Bryan's age, referring to her as an "old regional manager, insinuating or stating outright that younger employees were more competent," and telling O'Bryan that she should "get with the younger employees and learn new things." On one occasion, she instructed a younger employee to see if he could "teach the old dog new tricks."
Tupman repeatedly postponed O'Bryan's 2017 end-of-year evaluation and 2018 mid-year evaluation. When O'Bryan requested that she perform them, Tupman initially told her it was "too much trouble" and, when she find did do a belated 2018 mid-year review, the information contained in it was inaccurate, setting O'Bryan "up for negative performance markers at years-end," which further negatively affected O'Bryan's income. O'Bryan brought the inaccurate numbers to Tupman's attention, at which "Tupman angrily and forcefully ripped the papers from her hand, stating that she would have her administrative assistance correct" the review, but she never did.
Employee Complains About Age Discrimination
O'Bryan alleges that she complained to Tupman that Tupman treated her "differently than younger employees." After her complaint, according to O'Bryan, Tupman "continued to praise younger employees and questioned O'Bryan's ability to do her job, while at the same time standing O'Bryan up for meetings and ignoring her request and business needs." In mid-October 2018, O'Bryan was accused by a younger employee of "making a profane statement" to that individual. O'Bryan alleges that Human Resources pressured her into admitting she made the alleged statement even though the accusation was false. Tupman told O'Bryan that she would investigate the situation, but O'Bryan was never contacted about any investigation. Instead, O'Bryan claims that she was wrongfully terminated on November 8, 2018. O'Bryan maintains that Tupman was involved with other employees in orchestrating her termination. Following her termination, Tupman gave to younger employees the territory she had take away from O'Bryan.
Overt Stand Against Age Discrimination
U.S. Bank filed a motion with the trial court seeking dismissal of O'Bryan's wrongful termination claim. In doing so, U.S. Bank argued that O'Bryan's allegations were insufficient to establish that she was protected from retaliation by the ADEA. The trial court denied U.S. Bank's motion for dismissal and ruled that O'Bryan had alleged sufficient facts to establish that she was unlawfully terminated in retaliation for complaining about perceived age discrimination.
In support of its decision, the trial court pointed out that employees are protected from retaliation under the ADEA when they take an "overt stand against suspected" age discrimination in the workplace. O'Bryan took an overt stand against perceived age discrimination, the trial court explained, when she complained to Tupman that Tupman was treated her differently from younger employees. The trial court also observed that O'Bryan claims that Tupman took retaliatory action against her for complaining about age discrimination by working with others to orchestrate her termination. These allegations, the trial court concluded, were sufficient to state a retaliation claim under the ADEA.
Consult With Ocala, FL Retaliation Lawyers
Based in Ocala, Florida and representing employees throughout Central Florida, our Marion County, Florida retaliatory termination attorneys have dedicated their practice to fighting for employees who have been subjected to unlawful employment practices. If you are the victim of a retaliatory termination or have questions about your protection against retaliatory termination under the federal employment laws, please contact our office for a free consultation with our Ocala, Florida retaliatory termination lawyers. Our employment and labor law attorneys take retaliatory termination cases cases on a contingency fee basis. This means that there are no attorney's fees incurred unless there is a recovery and our attorney's fees come solely from the monetary award that you recover.