Sexual Harassment Victim Claims She Was Subjected To Retaliatory Verbal Attack & Assault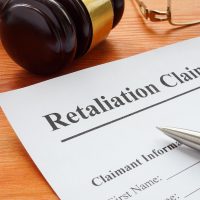 For more than twenty years, our Citrus County employee rights lawyers have represented employees who have been required to work in a hostile work environment. Having represented workplace harassment victims for decades, our Inverness, Florida employee rights attorneys know that workplace harassment victims are often targeted for retaliation after they complain about the harassment. In some cases, workplace harassment victims are targeted by management for retaliatory disciplinary action, demotion, or termination. In other cases, workplace harassment victims are targeted by co-workers for retaliatory verbal or physical altercations. In far too many cases, employers then disingenuously blame workplace harassment victims for initiating the verbal or physical altercation and terminate their employment. In this article, our Citrus County employee rights lawyers explain how the decision in Haughton v. JA-CO Foods, Inc., Case No. 1:20-cv-241 (N.D. Miss. May 11, 2022) demonstrates federal employment discrimination law protects workplace harassment victims who are subjected to retaliatory verbal or physical attacks by co-workers.
Retaliatory Termination Lawsuit
In that case, a woman named Haughton brought a retaliatory termination lawsuit against her former employer, JA-CO Foods, Inc., d/b/a Sonic Drive-In's (Sonic), pursuant to Title VII of the Civil Rights Act of 1964 (Title VII). Title VII protects employees from workplace sexual harassment. In order to protect sexual harassment victims, Title VII contains an anti-retaliation provision. Under Title VII, employers are forbidden from retaliating against employees who complain about perceived sexual harassment in the workplace. Haughton claims that she was fired in retaliation for making a sexual harassment complaint.
In November 2019, Haughton began working at Sonic as a cook. Haughton contends that once her employment commenced, she was subjected to unwanted sexually harassing behavior from the restaurant's assistant manager, Ellis. Haughton alleges that Ellis would sing inappropriate songs to her, that he called her "baby" twice, and that he inappropriately touched her hand in a suggestive way "at least three" times when passing food to her. According to Haughton, things got much worse on the night of December 22, 2019. On that night, Haughton claims that she "bent over to fix a garbage bag that fell in the garbage can" and "Ellis came up behind her and began humping her from behind."
Later that night, Haughton spoke with the restaurant's general manager, Gardner, about the incident. Gardner alleges that she immediately commenced an investigation. Gardner testified that, through her investigation, she found Haughton's claims against Ellis to be unsubstantiated. Nevertheless, she still instructed Ellis not to communicate with Haughton and the two were no longer scheduled to work with each other.
Haughton thereafter worked for the next week without any major issues. That changed on the night of December 30—eight days after the incident with Ellis—when Haughton got into a heated exchange with two other employees, including the daughter of Ellis. Haughton maintains that the two co-workers "began to verbally harass and taunt her" and, when she refused to engage their taunts, they attempted to fight her." "In order to de-escalate the situation," Haughton "was required to contact law enforcement." Before law enforcement arrived, according to Haughton, other co-workers had to restrain the two employees to prevent them from attacking Haughton.
The following day, Sonic engaged in an investigation regarding the incident. Sonic's investigation concluded that Haughton "engaged in abusive and threatening conduct in violation of Sonic's polices." Based on the findings of its investigation, Sonic terminated Haughton's employment. Haughton claims that Sonic used the incident, which she did not initiate and was in fact the victim, as a pretext to terminate her employment in retaliation for complaining about sexual harassment.
Protection From Retaliatory Attack
Sonic filed a motion with the trial court seeking dismissal of Haughton's retaliatory termination claim. In moving for dismissal, Sonic argued that Haughton was the instigator of the events which transpired and that she violated company policy by yelling and using profanity in front of customers. The trial court denied Sonic's motion for dismissal and determined that Haughton was entitled to proceed to a jury trial on her retaliatory termination claim.
In denying Sonic's motion for dismissal, the trial court focused on Haughton's version of events. The trial court observed that Haughton maintains that she was subjected to a verbal attack which nearly became physical at the hands of two co-workers. Thus, the trial court explained, Haughton maintains that "she did not initiate that altercation but was the victim thereof." The trial court also pointed out that the altercation involved the daughter of the alleged sexual harasser and occurred within days after Haughton lodged a sexual harassment complaint. Thus, although Sonic rejected Haughton's characterization of the incident and Sonic's investigation reached a different conclusion, the trial court determined that a jury could reasonably adopt Haughton's version of events and find that Sonic used the incident as a pretext to terminate Haughton in retaliation for complaining about sexual harassment.
Free Consultation For Harassment Victims
One of the most important decisions workplace harassment victims must make is which employment law attorneys to consult with regarding their rights under federal employment discrimination law. As part of our dedication to helping workplace harassment victims, an experienced employment law attorney will speak with you personally and you will receive the individualized attention your case deserves. We offer free confidential case evaluations for employees, and you will not have to pay to speak with our employee rights attorneys regarding your rights. We are available for consultation at your convenience, including scheduling telephone consultations for evenings and weekends.
Citrus County, FL Employee Rights Lawyers
Based in Ocala, Florida and representing workers throughout Florida, our employee rights attorneys in Citrus County, Florida have dedicated their practice to fighting for the rights of hostile work environment harassment victims. If you been required to work in a hostile environment or have questions about your protection from workplace harassment under federal employment discrimination law, please contact our office for a free consultation with our employee rights lawyers in Citrus County, Florida. Our employee rights law firm takes workplace harassment cases on a contingency fee basis. This means that there are no attorney's fees incurred unless there is a recovery and our attorney's fees come solely from the monetary award that you recover.