Stroke Victim Claims She Was Wrongfully Fired After Being Told To "Concentrate On [Her] Health"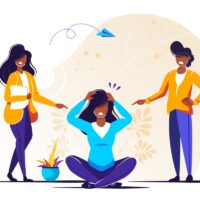 Having litigated wrongful termination cases in Florida courts for more than twenty years, our Marion County, Florida wrongful termination lawyers know that employers often try to get rid of employees who suffer from a serious health condition. In many circumstances, an employee's serious health condition may constitute a disability under the Americans with Disabilities Act (ADA). Under the ADA, employers are forbidden from discriminating against employees on the basis of disability. The ADA further mandates that employers reasonably accommodate disabled employees. In this article, our Ocala, Florida wrongful termination attorneys explain how the decision in Graham v. Women in Need, Inc., Case No. 13-cv-07063 (S.D. N.Y. May 30, 2014) shows that employees may be protected from discrimination under the ADA when they suffer from a serious health condition.
Employee Claims Wrongful Termination
In that case, Martina Graham (Graham) brought a wrongful termination lawsuit against her former employer, Women in Need, Inc. (WIN), pursuant to the ADA. Graham maintains that she was fired because of her disability in violation of the ADA.
In 2006, Graham began working at WIN, a not-for-profit corporation, as a Residential Aide. In 2009, Graham was promoted from Residential Aide to Shift Supervisor. In August 2011, Graham suffered a stroke, and was hospitalized for approximately three weeks. Upon her return to work, Graham requested that WIN provide her reasonable accommodations to facilitate her recuperation. The various requests for accommodation were detailed in a letter provided by Graham's doctor, and included limiting Graham's work week to forty hours and refraining from assigning tasks that involved lifting heavy objects. WIN, however, did not change Graham's work schedule or otherwise agree to her requests for reasonable accommodation, requiring Graham to work a sixty-hour week.
Worker Asked If She Was "Lady With The Stroke"
According to Graham, WIN's discriminatory conduct intensified when a man named Hall became Program Director. Upon taking the Program Director position, Hall greeted Graham by asking her whether she was "the lady with the stroke." In January 2016, Graham suffered a second stroke. Graham contends that WIN responded by "pressuring" her to return to work eight days after the stroke. When she returned to work, Graham against presented WIN with a doctor's note requesting various accommodations, including limiting her work week and physical activity on the job. Once again, WIN disregarded Graham's requests, maintaining her schedule of approximately sixty hours a week and requiring her to perform tasks that involved physical activity.
Several months after the second stroke, Hall told Graham that she should resign if she could not work full-time. During this time, Hall allegedly also told Graham that he was intentionally assigning her more work than so that she would "just go out," implying that Graham should quit her job.
Employee Told To "Concentrate On [Her] Health"
On December 9, 2012, Graham was stabbed in the street and spent thirty days recuperating from the assault. On January 8, 2013, Graham informed WIN that she was ready to return to work, and was told to come in for a meeting the next day. The next day, Graham attended a meeting with the President and Vice President of WIN, and was told that she was being placed on administrative leave because a client had accused her and another individual of forcing the client to lodge a complaint against Hall. Graham requested a copy of the client's complaint, but never was provided one. On January 15, 2013, Graham attended another meeting with the President of WIN, where she was fired. At the meeting, the President told Graham that she should "concentrate on [her] health," now that she was unemployed.
Court Finds Evidence of Wrongful Firing
WIN filed a motion with the trial court seeking dismissal of Graham's disability discrimination claim. In doing so, WIN argued that the evidence established that Graham was fired for a legitimate, non-discriminatory reason—her misconduct as reflected in the client's complaint—and not because of her disability. The trial court denied WIN's motion for dismissal and ruled that Graham had alleged sufficient facts to prove that her discharge was "motivated at least in part by discrimination relating to her disability."
In support of its ruling, the trial court determined that the two strokes Graham suffered during her employment with WIN constituted a disability within the meaning of the ADA. The trial court also observed that "the strokes were the subject of contention" between Graham and WIN, which "refused [Graham's] requests for accommodation and in fact went out of its way to create less accommodating conditions by requiring her to work long hours and lift and carry objections." The trial court also pointed out that the President of WIN specifically referenced Graham's health when discharging her, telling her to "concentrate on [her] health," now that she was unemployed. From this evidence, the trial court concluded, a reasonable jury could find that Graham was wrongfully fired because of her disability in violation of the ADA.
Consult With Ocala, FL Wrongful Discharge Lawyers
Based in Ocala, Florida and representing employees throughout Central Florida, our Marion County, Florida wrongful termination lawyers have dedicated their practice to fighting for employees who have been wrongfully fired. If you have been wrongfully fired or have questions about your protection against wrongful termination under the federal employment laws, please contact our office for a free consultation with our Ocala, Florida wrongful termination lawyers. Our employee rights law firm takes wrongful termination cases cases on a contingency fee basis. This means that there are no attorney's fees incurred unless there is a recovery and our attorney's fees come solely from the monetary award that you recover.