U.S. Supreme Court Breathes New Life Into Pregnancy Discrimination Claim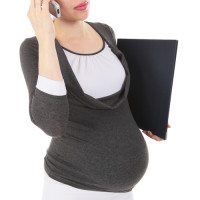 In March 2015, the U.S. Supreme Court in Young v. United Parcel Service, Inc. reinstated a pregnancy discrimination lawsuit against United Parcel Service ("UPS") which the Fourth Circuit Court of Appeals ("Fourth Circuit") had dismissed. At issue in Young was application of the Pregnancy Discrimination Act's ("PDA") mandate that employers treat a pregnant employee who is unable to perform the duties of her job position because of a pregnancy related medical condition the same as other employees who become temporarily unable to perform the duties of their job position.
In that case, Peggy Young filed a lawsuit against UPS under the PDA. Young worked as a part-time driver for UPS. After she became pregnant, Young's doctor told her that she should not lift more than 20 pounds during the first 20 weeks of her pregnancy or more than 10 pounds thereafter. UPS required drivers like Young to lift objects weighing up to 70 pounds and told Young that she could not work while under a pregnancy related lifting restriction. As a result, Young stayed at home without pay during most of her pregnancy and eventually lost her employee medical coverage. Young maintained that UPS accommodated other non-pregnant employees who were temporarily unable to perform the duties of their job position. Young produced evidence showing that UPS had a light-duty-for-injury policy for other employees, but not for pregnant employees. Young also provided evidence that UPS accommodated non-pregnant employees who had work limitations similar to her pregnancy related work limitations.
In affirming the trail court's dismissal of the case, the Fourth Circuit found that Young failed to show similarly situated non-pregnant employees received more favorable treatment than her. The Supreme Court reversed the decision and concluded that the appellate court imposed a misguided and erroneous standard to determine whether Young proved her pregnancy discrimination claim. The Supreme Court explained that an employee claiming pregnancy discrimination, such as Taylor, could prevail by showing that the employer did not accommodate her pregnancy related work limitation, but accommodated other employees "similar in their ability or inability to work." In vacating the appellate court's decision, the Supreme Court observed that Young had produced evidence showing that UPS provided more favorable treatment to some non-pregnant employees whose situation could not be distinguished from Young's and evidence showing that UPS accommodated many non-pregnant employees but did not accommodate pregnant employees. After illuminating the strength of Young's evidence for the appellate court, the Supreme Court explained that whether Young's evidence showing that UPS treated her less favorably from non-pregnant employees entitled to her a jury trial was for the Fourth Circuit to resolve.