Why Are Sexual Harassment Victims Who Complain About Customer Harassment Subjected To Retaliation?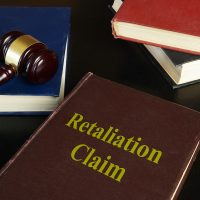 For more than twenty years, our Marion County, Florida sexual harassment lawyers have fought for the rights of employees required to work in a sexually hostile environment. Through their years of experience representing sexual harassment victims, our Ocala, Florida discrimination lawyers know that sexual harassment victims are often subjected to retaliation after lodging complaints against customers or clients. In far too many cases, employers are more concerned with maintaining their business relationships with customers or clients than protecting their employees from unwanted sexually harassing behavior and exert pressure on sexual harassment victims not to say or do anything that might jeopardize those business relationships. When they resist employers' coercive tactics and speak out about sexual harassment from customers or clients, employers then target sexual harassment victims for retaliation. In this article, our Marion County, Florida sexual harassment attorneys explain how the alleged facts in Ivey v. Turbo Group Operations, Inc.,Case No. 21-cv-08 (S.D. Miss. May 17, 2022) illustrate the problems sexual harassment victims encounter when they lodge complaints against customers or clients.
Sexual Harassment Victims' Rights
Title VII of the Civil Rights Act of 1964 (Title VII) makes sexual harassment an unlawful employment practice. Under Title VII, employees are protected from sexual harassment by co-workers, supervisors, managers, owners, customers, and clients. To violate Title VII, sexual harassment must be sufficiently severe or pervasive to alter the conditions of the victim's employment and create a hostile work environment. To protect the rights of sexual harassment victims, Title VII contains an anti-retaliation provision. Under Title VII, employees are protected from retaliation when they complain about perceived sexual harassment in the workplace, including perceived sexual harassment from customers or clients.
Retaliatory Termination Lawsuit
In Ivey, a woman named Ivey brought a retaliation claim against her former employer, Turbo Group Operations, Inc. (Turbo), pursuant to Title VII. Ivey claims that Turbo violated Title VII by firing her because she complained about sexual harassment from a client of Turbo.
Turbo owns and operates convenience stores. Ivey worked as a cashier at one of Turbo's stores. On August 2, 2017, a male employee of Southern Beverage, Gray, arrived to restock the store's beer cooler. Gray allegedly approached Ivey as she was taking inventory of the store's cigarettes and noticed that her cell phone was unlocked and opened to the Buffalo Wild Wings website. Gray asked if he could look at the website and Ivey allowed him to look at her phone. Ivey asserts that while she continued to count cigarettes, she heard Gray's phone alert as though it had received several messages in a row. Gray handed Ivey's phone back to her, and when Ivey swiped down to its notification screen to see if anyone had sent her a message, she noticed that her phone had just shared a topless photograph of herself. Ivey believed that Gray had shared this picture while he was using her phone.
Ivey told Gray to leave the store and called her supervisor, Smith, to complain about what had happened. Smith said that she would come to the store, and Smith arrived about an hour later, along with another manager for Turbo, Merrill. Ivey asserts that as she was telling her supervisors what had occurred, they pressured her not to jeopardize the business relationship with Southern Beverage. Ivey claims that Merrill told her that she had a future with Turbo, and that if she made a "big deal about this, it would probably damper [her] career and future" with Turbo. Ivey claims that she told Merrill that she was "going to do something" about Gray and was "gonna let" Southern Beverage know that she was "going to have an attorney."
Disciplinary Action After Complaint
On August 7, 2017, Merrill presented Ivey with a notice of disciplinary action for "personal conduct," specifically for "talking and complaining to another cashier" about another employee's poor work ethic. Ivey signed the bottom of the disciplinary write-up form, acknowledging that she had received it, but she asserts that this disciplinary notice involved events that happened several weeks prior to the date indicated on the notice. Ivey maintains that prior to complaining about Gray, she had no prior disciplinary action. One week later, on August 14, 2017, Smith contacted Ivey to inform her of her terminating, citing poor performance and violation of company policies.
During the litigation, Turbo presented evidence of four other disciplinary notices. However, Ivey claims that the alleged disciplinary notices were based on events that never occurred. Ivey further claims that these disciplinary notices were never presented to her, were not signed by her, and were fabricated after she was terminated. All of the alleged disciplinary notices were issued after Ivey had complained about Gray.
Evidence Of Retaliatory Termination
Turbo filed a motion with the trial court seeking dismissal of Ivey's retaliatory discharge claim. In support of its motion for dismissal, Turbo argued that the evidence established that Ivey was fired because of the misconduct identified in the five disciplinary notices and not because she complained about sexual harassment by Gray. The trial court denied Turbo's motion for dismissal and ruled that Ivey had presented sufficient evidence that she was fired in retaliation for complaining about sexual harassment to proceed to a jury trial.
In denying Turbo's motion for dismissal, the trial court focused on evidence reflecting Turbo's retaliatory animus after Ivey lodged her sexual harassment complaint against Gray. The trial court pointed out that Ivey had "maintained a clean disciplinary record during her employment," until after she complained about Grey's alleged sexual behavior and told Merrill that she might sue Southern Beverage. In other words, Ivey "never received a disciplinary notice until after" she complained about sexual harassment. The trial court also noted that Ivey maintains that all but one of the disciplinary notices were fabricated and Ivey did not sign four of the five. The trial court found that the "timing of the disciplinary notices, coupled with Ivey's evidence that the proffered reasons for termination were not true based upon [Ivey's] testimony that the disciplinary forms were falsified," was sufficient to cast doubt on the sincerity of the proffered explanation for Ivey's termination.
Free Consultation For Harassment Victims
One of the most important decisions sexual harassment victims must make is which employment law attorneys to consult with regarding their employee rights. As part of our commitment to protecting and vindicating the rights of sexual harassment victims, an experienced employment law attorney will speak with you personally and you will receive the individualized attention your case deserves. We offer free confidential case evaluations for employees, and you will not have to pay to speak with our sexual harassment attorneys regarding your rights. We are available for consultation at your convenience, including scheduling telephone consultations for evenings and weekends.
Marion County Sexual Harassment Lawyers
Based in Ocala, Florida and representing workers throughout Florida, our sexual harassment attorneys in Marion County, Florida have litigated sexual harassment cases in Florida courts for more than twenty years. If you have experienced sexual harassment at work or have questions regarding your rights as a sexual harassment victim, please contact our office for a free consultation with our sexual harassment lawyers in Marion County, Florida. Our employee rights law firm takes sexual harassment cases on a contingency fee basis. This means that there are no attorney's fees incurred unless there is a recovery and our attorney's fees come solely from the monetary award that you recover.