Worker Claims He Was Fired Because Of Age Where Supervisor Said He Was "Anchored In The Past"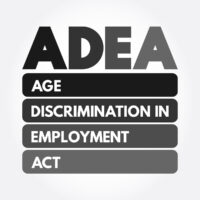 For the past two decades, our Lake County, Florida age discrimination lawyers have fought to protect and vindicate the rights of Florida employees who have been discriminated against on the basis of age. Through their extensive experience representing age discrimination victims, our Leesburg, Florida age discrimination attorneys have learned that older workers are often discriminated against on the basis of age stereotypes. For example, older workers are told by supervisors or managers that they are not "a forward enough thinker," that they have a "low motivation to adapt," and that they "cannot adjust to the changing times." In passing the Age Discrimination in Employment Act (ADEA), it was the intention of Congress to protect older employees from employment decisions, such as hiring, demotion, promotion, and termination, resulting from age stereotypes. As observed by the U.S. Supreme Court in Western Air Lines, Inc. v. Criswell,  472 U.S. 400 (1985), the ADEA commands that "employers are to evaluate older workers on their merits and not their age."
In this article, our Lake County, Florida age discrimination lawyers explain how the recent decision by the U.S. District Court for the District of New Jersey in Rudolph v. Abbott Laboratories, Inc., Case No. 3:18-06071 (D. N.J. March 3, 2021) illustrates that comments made by supervisors or managers about an older employee reflecting age stereotypes are powerful evidence in proving an age-based discriminatory discharge claim.
Employee Claims Age Discrimination
In that case, Richard Rudolph (Rudolph) brought an age discrimination claim against his former employer, Abbott Laboratories, Inc., (Abbott), pursuant to the ADEA. Rudolph contends that Abbott violated the ADEA by terminating his employment because of his age. Rudolph was approximately fifty-five years old when he was fired.
Abbott is a global healthcare company. Rudolph was employed by Abbott for approximately fifteen years. He served in various sales positions between 1995 and 2003, at which point he left the company to pursue other opportunities. In 2009, he returned to Abbott as a Marketing Manager of a sales team. He was promoted to Sales Director of a sales team in May 2010. In that role, Rudolph directly oversaw three Regional Sales Managers who, in turn, supervised twenty-one sales representatives. In May 2015, a man named Devlin became Rudolph's supervisor.
Supervisor Asks If Employee Wants To Retire
In 2016, Rudolph's sales team missed its sales targets. For the first time in his career, Rudolph received a "partially achieved expectations" rating on his annual review in 2016. In December 2016, Devlin spoke to human resources representatives about "managing" Rudolph's performance. During that call, Devlin remarked that Rudolph was "anchored in the past" and described his plan to place Rudolph on a performance improvement plan (PIP) and eventually replace him. During that same call, Devlin asked the human resources representatives whether Rudolph was retirement eligible or whether he had mentioned wanting to retire.
At Devlin's direction, Rudolph was placed on a ninety-day PIP staring in January 2017. Because Rudolph allegedly failed to meet the performance requirements of the PIP, Devlin recommended Rudolph's termination and received approval from Abbott's human resources department. On April 20, 2017, Abbott fired Rudolph. Abbott's proffered explanation for terminating Rudolph's employment was that he had missed sales targets in 2016, "allowed 5 out of 21 sales territories to remain vacant of a sales representative," failed to "effectively manage his sales team and hold them accountable to sales targets," and did not meet his PIP requirements. After Rudolph was discharged, Devlin sent an email to Rudolph's sales team stating that "Rich finally retired." Following his termination, Rudolph was replaced by an individual who is ten years younger.
Age Remarks Reflect Age Discrimination
Abbott filed a motion with the trial court seeking dismissal of Rudolph's age discrimination claim. In doing so, Abbott argued that it fired Rudolph for legitimate, non-discriminatory reasons, and that Rudolph's evidence was insufficient to establish that his age played an impermissible role in the termination decision. The trial court denied Abbott's motion for dismissal and ruled that Rudolph had presented sufficient evidence to proceed to a jury trial on the issue of whether he was fired because of his age in violation of the ADEA.
In denying Abbott's motion for dismissal, the trial court focused on the remarks by Devlin reflecting age stereotypes. The trial court pointed out that in December 2016, shortly before placing Rudolph on a PIP, Devlin asked human resources employees whether Rudolph was retirement eligible or whether Rudolph had mentioned wanting to retire. During that same call, the trial court noted, Devlin stated that Rudolph was "anchored in the past." Approximately four months later and after making the decision to fire Rudolph, the trial court observed, Devlin told employees that Rudolph had "finally retired." Given Devlin's role as the "primary decision-maker" in Rudolph's termination, along with the "timing" of the age-based comments—four months before Rudolph's discharge and immediately after Rudolph's discharge—the trial court determined that Devlin's remarks reflecting age stereotypes "provide circumstantial evidence of age discrimination." "Overall," the trial court concluded, Devlin's remarks reflecting age stereotypes "support" Rudolph's argument that the "stated reasons for his termination were [a] pretext" for age discrimination.
Leesburg, FL Age Discrimination Lawyers
Based in Ocala, Florida and representing employees throughout Central Florida, our Lake County, Florida age discrimination attorneys have litigated age discrimination cases in Florida courts for more than twenty years. If you have experienced age discrimination at work or have questions about your rights as an older worker under the federal employment laws, please contact our office for a free consultation with our Leesburg, Florida age discrimination lawyers. Our employee rights law firm takes age discrimination cases cases on a contingency fee basis. This means that there are no attorney's fees incurred unless there is a recovery and our attorney's fees come solely from the monetary award that you recover.