Worker Claims Pregnancy Discrimination When She Was Fired For "Being Pregnant"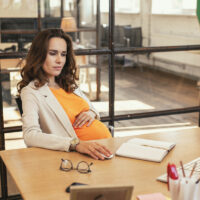 For the past two decades, our Hommossa, Florida pregnancy discrimination lawyers have represented Florida employees who have been discriminated against because of pregnancy. Through their extensive experience representing pregnancy discrimination victims, our Citrus County, Florida pregnancy discrimination attorneys know that employers almost never tell a pregnant employee that she is being fired because she is pregnant. In nearly all cases, employers conjure up pretextual explanations to justify getting rid of pregnant employees. In looking for a reason to fire a pregnant employees, employers will scrutinize her work performance, subject her to unwarranted negative performance evaluations, deny her work-related assistance, or paper her personnel file with disciplinary actions.
As the U.S. First Circuit Court of Appeals in Hodgens v. General Dynamics Corp., 144 F.3d 151 (1st Cir. 1998) pointed out, "smoking gun evidence is [ ] not required to prove discrimination." Thus, it is not necessary that an employer tell a pregnant employee that she is being terminated because of pregnancy in order to prove a pregnancy discrimination case. As explained by the U.S. Seventh Circuit Court of Appeals in Sheehan v. Donlen Corp., 173 F.3d 1039 (7th Cir. 1999), "it would cripple the enforcement of the employment discrimination laws" to insist that evidence in an employment discrimination case "take the form of an employer's statement to the effect that, I'm firing you because you're [pregnant]."
In this article, our Hommossa, Florida pregnancy discrimination lawyers explain how the alleged facts in the recent decision by the U.S. District Court for the Eastern District of Michigan in Konczal v. Zim Tim, LLC, Case No. 19-cv-12275 (E.D. Mich. April 15, 2021) are illustrative of the exceptionally rare circumstances where an employer leaves a "smoking gun" attesting to discriminatory intent.
Worker Claims Fired Because Pregnant
During her first night shift, and after her discussion with the co-worker, Konczal informed Kollias that she was pregnant. Kollias, according to Konczal, looked her "up and down" and said "okay" with disapproval. The co-worker stated that Kollias was "visibly and outwardly angry." On August 10, 2018, after having worked eight shifts since her employment began, Konczal sent Kollias a text message stating that she had to go to the maternity ward because "her feet were extremely swollen and purple." Kollias covered Konczal's August 10, 2018 shift.
On August 12, 2018, Kollias informed Ibarra that she intended to terminate Konczal's employment. Kollias tasked Ibarra with informing Konczal of her termination. That same day, Ibarra left Konczal a voice mail messaging stating, "with all things considered, with your situation, and with you in the middle of being pregnant at the moment, we have to terminate your employment." Konczal called Ibarra back after the voice mail to complain about being fired because of her pregnancy. According to Konczal, Ibarra explained that he was just telling her to want Kollias wanted him to tell Konczal.
Evidence Of Discriminatory Discharge
Zim Tim filed a motion with the trial court seeking dismissal of Konczal's pregnancy discrimination claim. In denying Zim Tim's motion for dismissal, the trial court focused exclusively on the reason proffered for Konczal's discharge. The trial court pointed out that Ibarra told Konczal that she was being fired "considering" that she was "in the middle of being pregnant." The trial court also noted that Ibarra admitted that Konczal's pregnancy "was a reason stated in the voicemail for her termination." Based on this evidence, the trial court determined, Konczal had presented "direct evidence that her pregnancy was at least a motivating factor" in Zim Tim's decision to terminate her employment. Thus, the trial court concluded that Konczal was entitled to proceed to a jury trial on the issue of whether she was fired because of her pregnancy in violation of the PDA.
Free Employment Law Consultation
When confronted with workplace issues, one of the most important decisions employees have to make is which employment law attorneys to contact for legal advice. At our employee rights law firm, an experienced employment law attorney will speak with you personally and you will receive the individualized attention your case deserves. We offer free confidential case evaluations and you will never have to pay to speak with our employment law attorneys regarding your workplace issues.
Hommossa, FL Discrimination Lawyers
Based in Ocala, Florida, and representing employees throughout Central Florida, our Citrus County, Florida pregnancy discrimination attorneys have fought for the rights of pregnant employees for more than two decades. If you have been discriminated against because of pregnancy or have questions about using an employer for pregnancy discrimination, please contact our office for a free consultation with our Hommossa, Florida pregnancy discrimination lawyers.