Worker Claims Race Discrimination In Promotion Because Employer Prevented Him From Applying For Promotion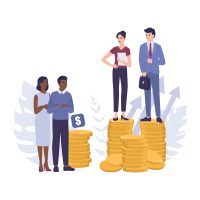 For the past twenty years, our Citrus County, Florida employment discrimination attorneys have litigated employment discrimination cases in Florida courts. Through their extensive experience representing employment discrimination victims, our Inverness, Florida employment discrimination lawyers know that African-American employees continue to face significant obstacles in their efforts to obtain promotion. In far too many cases, African-American workers are passed over for promotion in favor of less qualified employees. In some cases, employers even attempt to prevent African-American employees from leaning about promotion opportunities. In this article, our Citrus County, Florida employment discrimination lawyers explain how the alleged facts in Harris v. City of Providence, Case No. 19-548 (D. R.I. Feb. 23, 2022) are illustrative of the systemic discrimination African-American employees continue to endure in the promotion process.
Race Discrimination Lawsuit
In that case, a man named Harris brought an employment discrimination lawsuit against his former employer, City of Providence (the City), pursuant to Title VII of the Civil Rights Act of 1964 (Title VII). Title VII protects employees from discrimination in all aspects of employment, including hiring, promotion, discipline, and discharge. Harris, who is African-American, claims that the City failed to promote him because of his race in violation of Title VII.
Harris began working for the City in 1995. After holding various jobs in the Department of Inspection and Standards until 2015, Harris was promoted to Assistant Supervisor of Structures and Zoning. When his immediate supervisor retired in late 2016, Harris served as de-facto acting Supervisor of Structures and Zoning. He planned to officially apply for this promotion, but unbeknownst to Harris, the City had reorganized the Department, eliminating the Supervisor of Structures and Zoning position. As part of the reorganization, the City created a new position of Plan Examiner and posted the job on the Department's Bulletin Board.
Not only did the City never inform Harris that it had eliminated the position to which he desired promotion, but it also moved the location of the job posting board from outside Harris' cubicle to the "cafeteria," a room that Harris never used so he never saw the Plan Examiner posting until after he had missed the opportunity to apply. The Department Director, however, personally told a co-worker of Harris, a man named Dickenson, about the new position. Dickenson, a co-worker with much less seniority than Harris, got the Plan Examiner job.
At that time, Harris was the only African-American employee of the thirty-four Department employees. Harris complained to the City's Equal Employment Opportunities Office. In August 2017, Harris filed charges of race discrimination with the U.S. Equal Employment Opportunity Commission.
Evidence Of Race Discrimination
The City filed a motion with the trial court seeking dismissal of Harris' race discrimination claim. In support of its motion for dismissal, the City argued that Harris could not establish that he was passed over for promotion based on his race because he never applied for promotion to the position of Plan Examiner and Dickenson was more qualified for the position. The trial court denied the City's motion for dismissal and ruled that Harris had presented sufficient evidence to proceed to a jury trial on the issue of whether the City did not promote him because of his race.
In denying the City's motion for dismissal, the trial court focused on evidence showing that the "City seemed to go out of its way to ensure that [Harris]—the only African-American employee in the Department—did not see the job posting." The City, the trial court pointed out, "offered no evidence that it had a legitimate, non-discriminatory reason for changing the posting location from an area where Harris knew to look for job postings to a place where he would never see them." Based on this evidence, the trial court concluded that "a jury could infer that the City did not want Harris to know about the Plan Examiner position and acted to prevent him from applying for the promotion." Having drawn such an inference, the trial court explained, a jury could find that the City's defense that Harris did not apply or was less qualified was a pretext for illegal discrimination."
Free Consult For Discrimination Victims
One of the most crucial decisions employment discrimination victims must make is which employment law firm to contact for advice regarding their legal rights. As part of our dedication to fighting for the rights of employment discrimination victims, an experienced employment law attorney will speak with you personally and you will receive the individualized attention your case deserves. We offer free confidential case evaluations for employees, and you will not have to pay to speak with our employment law attorneys regarding your rights under federal employment discrimination law. We are available for consultation at your convenience, including scheduling telephone consultations for evenings and weekends.
Citrus County Discrimination Lawyers
Based in Ocala, Florida and representing workers throughout Florida, our employment discrimination attorneys in Citrus County, Florida have dedicated their practice to representing employment discrimination victims. If you have experienced workplace discrimination or have questions about your rights as an employment discrimination victim, please contact our office for a free consultation with our employment discrimination lawyers in Citrus County, Florida. Our employee rights law firm takes employment discrimination cases on a contingency fee basis. This means that there are no attorney's fees incurred unless there is a recovery and our attorney's fees come solely from the monetary award that you recover.