Wrongful Discharge Lawsuit Alleging Employer Fired Employee Because It Perceived Him As Disabled Filed By EEOC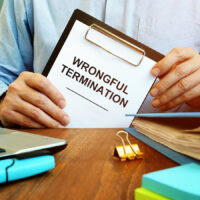 In a press release issued on April 1, 2020, the U.S. Equal Employment Opportunity Commission (EEOC) announced that it has filed a disability discrimination lawsuit against Blue Sky Vision, LLC (Blue Sky). On March 30, 2020, the EEOC filed the case, U.S. Equal Employment Opportunity Commission v. Blue Sky Vision, LLC, Case No. 1:20-cv-00285, in the U.S. District Court for the Western District of Michigan after initially seeking to obtain a pre-litigation resolution of the case through its lawfully mandated conciliation process.
The EEOC has brought the disability discrimination lawsuit pursuant to the Americans with Disabilities Act (ADA) on behalf of a former employee of Blue Sky, Randall Jansma (Jansma). Under the ADA, employers are prohibited from discriminating against individuals who have an actual disability or who are regarded or perceived by the employer as having a disability. The EEOC claims that Blue Sky violated the ADA by firing Jansma because it perceived or regarded him as disabled. In this article, our Citrus County, Florida wrongful discharge lawyers explain the EEOC's allegations against Blue Sky.
EEOC Claims Wrongful Discharge
Blue Sky is a management services company that provides support to eye care providers. In June 2018, Jansma began working for Blue Sky as an optometrist at its office in Grand Rapids, Michigan. In September 2018, Jansma notified a co-worker that he has an eye condition called homonymous hemianopsia. On September 25, 2018, Blue Sky had an in-person meeting with Jansma. During the meeting, Blue Sky questioned Jansma about his eye condition and told Jansma that he should have disclosed his eye condition sooner. Blue Sky further told Jansma that he could no longer work for the company, but that he had the opportunity to submit a resignation letter.
Approximately one week later, in October 2018, Jansma told Blue Sky that he believed the decision to terminate his employment was illegal. In response, Blue Sky postponed Jansma's termination and placed him on a leave of absence. Then, Blue Sky requested that Jansma undergo a medical examination by a neuro-ophthalmologist and provided him with the names of two neuro-ophthalmologists from which Jansma could choose to examine him.
EEOC Alleges Unlawful Medical Inquiry
In connection with requiring Jansma to undergo an examination by a neuro-ophthalmologist, Blue Sky told Jansma that he was also required to sign a medical release for the release of his medical records to Blue Sky. The medical release required by Blue Sky authorized Blue Sky, in essence, to obtain Jansma's entire health care history, including hospital records, pharmacy records, dental records, alcohol records, substance abuse records, mental health records, and HIV records. Jansma told Blue Sky that the medical release was too broad because it sought information that was unrelated to whether he could perform his job duties with his eye condition. Blue Sky, however, refused to narrow the scope of the medical release. Consequently, Jansma refused to sign the medical release and declined to submit to a medical examination by a neuro-ophthalmologist.
Blue Sky never permitted Jansma to return to work after the meeting held on September 25, 2018. On December 5, 2018, Blue Sky e-mailed Jansma a termination letter. The termination letter stated that Blue Sky terminated Jansma's employment because he did not sign the medical release or submit to the medical examination. The EEOC claims that because of the extreme breadth of the medical release, the medical release constituted an unlawful medical inquiry prohibited by the ADA. The EEOC further claims that Blue Sky fired Jansma because it regarded or perceived him as disabled.
Fighting Against Wrongful Discharge
The EEOC is the administrative agency of the United States responsible for interpreting and enforcing federal laws prohibiting employment discrimination, including disability discrimination. In enforcing the federal civil rights laws, the EEOC is also authorized by federal law to bring lawsuits on behalf of employees who have been wrongfully discharged in violation of the federal anti-discrimination laws. In a press release issued by the EEOC on April 1, 2020 regarding the case, a trial attorney for the EEOC's Detroit Field Office, Karen Brooks, explained that "employers should not rush to judgment and terminate an employee simply because that person disclosed a medical condition." Ms. Brooks further explained that "medical inquiries must be job-related and consistent with business necessity in order to be lawful."
Consult With Inverness Wrongful Discharge Lawyers
Based in Ocala, Florida and representing employees throughout Central Florida, our Citrus County, Florida wrongful discharge attorneys have been fighting for employee rights for more than two decades. If you have been wrongfully discharged or have questions about your protection against wrongful discharged under the federal employment laws, please contact our office for a free consultation with our Inverness, Florida wrongful discharge lawyers. Our employment and labor law attorneys take wrongful discharge cases on a contingency fee basis. This means that there are no attorney's fees incurred unless there is a recovery and our attorney's fees come solely from the monetary award that you recover.