Wrongful Termination Case Where Employee Endured Racial Slurs & Physical Threats Survives Dismissal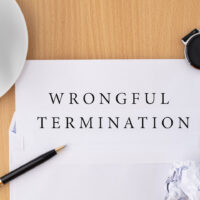 Having litigated race discrimination cases in Florida courts for more than two decades, our Marion County, Florida race discrimination lawyers know that employees are often fired for alleged behavior that employers ignore when done by employees of another race. An employer's different treatment of employees who are not members of the same race is the most common form of race discrimination. As the U.S. Supreme Court explained in International Bhd. Of Teamsters v. United States, 431 U.S. 324 (1977), "proof of a discriminatory motive can in some situations be inferred from the mere fact of differences in treatment." In this article, our Ocala, Florida race discrimination attorneys explain how the recent decision in Donaldson v. Coca Cola Refreshments USA, Inc.,Case No. 18-01713 (D. Conn. May 19, 2020) illustrates that when an employer treats an employee of one race less favorably from an employee of a different race when they engaged in similar conduct, the different treatment is evidence of race discrimination.
Worker Subjected To Racial Abuse
In that case, Shannon Donaldson (Donaldson) brought a race discrimination lawsuit against his former employer, Coca Cola Refreshments USA, Inc. (Coke), pursuant to Title VII of the Civil Rights Act of 1964 (Title VII). Under Title VII, employers are forbidden from discriminating against employees on the basis of race. Donaldson, who is African-American, alleges that Coke violated Title VII by firing him because of his race.
In December 2012, Donaldson was hired by Coke and worked at Coke's warehouse in East Hartford, Connecticut. The terms and conditions of Donaldson's employment were governed by a collective bargaining agreement (CBA) between Coke and the labor union.
In November 2016, Donaldson complained to human resources that his co-worker, a woman named Fontanez, subjected him to a racial slur and threatened him with bodily harm when making the racial slur. While Donaldson's complaint was being investigated, Donaldson complained to a manager that Fontanez, who is not African-American, intentionally tried to hit his car with her car when while they were leaving the parking lot. Donaldson further alleges that he told the manager that Fontanez had bumped into him when he was leaving the men's locker room. In January 2017, Coke fired Fontanez for her use of the racial slur. However, Coke voluntarily reinstated Fontanez's employment a few days later in February.
Employee Claims Discriminatory Discharge
In April 2017, Coke received an anonymous complaint on its ethics hotline alleging that Donaldson had intentionally bumped into two employees and threatened them with future physical harm. Following receipt of the complaint, Coke initiated an investigation, speaking with three of Donaldson's co-workers. The co-workers submitted written statements claiming that Donaldson had intentionally bumped into two employees and threatened them with future physical harm. Donaldson denied the allegations, claiming that he simply said that he would push past his co-workers in the future. On June 8, 2017, Coke fired Donaldson for threatening to harm employees.
Donaldson filed a grievance pursuant to the CBA, which proceeded to arbitration in September 2017. After considering sworn testimony from witnesses and viewing a videotape of the incident, the arbitrator concluded that it was clear from the video that Donaldson did not intentionally bump the two employees. The arbitrator further found that the testimony from the co-workers who submitted written statements regarding Donaldson's alleged behavior was inconsistent and insufficient to prove that Donaldson had threatened employees with future physical harm. Consequently, the arbitrator found that Coke did not have just cause to fire Donaldson. As a result, Donaldson's termination was converted to a written warning for his inappropriate remark that he would push past co-workers in the future.
Evidence Reflects Employee Fired Because Of Race
Coke filed a motion with the trial court seeking dismissal of Donaldson's race discrimination claim. In doing so, Coke argued that it was entitled to treat Fontanez differently from Donaldson in reinstating her employment but firing Donaldson because Donaldson's conduct was worse that her conduct. Donaldson's conduct was worse, according to Coke, because his conduct involved "acts of violence" and threats of "future acts of violence," while Fontanez's conduct "reflected nothing more than bigoted ignorance." The trial court rejected Coke's argument and denied Coke's motion for dismissal.
In rejecting Coke's argument that Donaldson's behavior was worse than Fontanez's, the trial court pointed out that Coke's argument was premised on ignoring evidence regarding Fontanez's acts of violence and threats of future acts of violence against Donaldson. In particular, Donaldson testified that Fontanez had physically threatened him when hurling a racial epithet at him, that Fontanez also tried to intentionally hit his car when they left the parking lot, and that Fontanez also made unwanted physical contact with him.
Based on such evidence, the trial court determined, a reasonable jury could find that Donaldson "was treated more harshly for a single instance of similar conduct compared to Fontanez, who engaged in repeated threatening behavior, accompanied by personally targeted racial bigotry." Although Fontanez engaged in "arguably worse" misconduct, Coke "voluntarily re-employed Fontanez only a few days after her termination." In contrast, the trial court noted, Coke did not voluntarily re-employ Donaldson. Instead, Coke was "contractually compelled to re-employ [Donaldson] after an arbitration award." Thus, the trial court concluded that it was for the jury to decide whether Coke unlawfully fired Donaldson because of his race in violation of Title VII.
Consult With Ocala, FL Race Discrimination Lawyers
Based in Ocala, Florida and representing employees throughout Central Florida, our Marion County, Florida race discrimination attorneys have been fighting for race discrimination victims for more than twenty years. If you have been fired on the basis of race or have questions about your protection against race discrimination under the federal anti-discrimination laws, please contact our office for a free consultation with our Ocala, Florida race discrimination lawyers. Our employee rights law firm takes race discrimination cases cases on a contingency fee basis. This means that there are no attorney's fees incurred unless there is a recovery and our attorney's fees come solely from the monetary award that you recover.