Ashley Judd's Sexual Harassment Claim Against Harvey Weinstein Revived On Appeal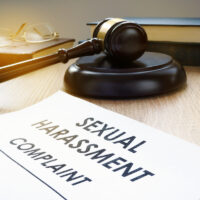 Having represented sexual harassment victims for more than two decades, our Marion County, Florida sexual harassment lawyer know that the scope of protection against sexual harassment under federal law is narrow because the applicable federal law, Title VII of the Civil Rights Act (Title VII), only applies in the context of an employment relationship. However, the individual states are permitted to enact their own laws against sexual harassment and provide broader protection against sexual harassment than the scope of protection under Title VII.
In 1994, California enacted a law, section 51.9 of the California Civil Code (section 51.9) which prohibits sexual harassment in a wide variety of business relationships outside of the workplace. Under section 51.9, individuals are protected against sexual harassment where there is a "business, service, or professional relationship" between the victim and harasser. The statute provides enumerated examples of such relationships, including doctor-patient, landlord-tenant, and teacher-student. The statute also prohibits sexual harassment in any business relationship that is "substantially similar" to the enumerated examples of such relationships.
In 2018, Ashley Judd (Judd) brought a sexual harassment claim Harvey Weinstein (Weinstein) alleging sexual harassment in a professional relationship under section 51.9. After her sexual harassment claim against Weinstein was dismissed by the trial court, Judd filed an appeal with the U.S. Ninth Circuit Court of Appeals. In this article, our Ocala, Florida sexual harassment attorneys explain the Ninth Circuit's decision in Judd v. Weinstein,
Sexual Advances During Business Meeting
In late 1996 or early 1997, Weinstein invited Judd to a breakfast meeting at a hotel in Beverly Hills. At the time, Weinstein was an influential and well-connected Hollywood producer, and Judd was a young aspiring actress in the early stages of her career. The meeting was meant to the a "general" business meeting, not a job interview for any particular movie role.
When Judd arrived at the hotel, she was directed not to the dining room or a conference room, but rather to Weinstein's private hotel room, where the two were alone. Instead of discussing film roles or Judd's professional aspirations, Weinstein—who was wearing a bathrobe—asked Judd if he could give her a message, which Judd refused. Weinstein then asked Judd to watch him shower, which she again refused.
Judd believed that Weinstein intended to physically assault her. Feeling "cornered" and "desperate to escape without angering a man who had the ability to end her budding career," Judd engaged in a mock bargain with Weinstein during which she suggested that she would allow Weinstein to touch her only if she won an Academy Award in one of his films. Weinstein countered, "when you get nominated," to which Judd replied, "no, when I win." Judd then quickly left the hotel room.
Retaliation For Rejecting Sexual Advances
In 1997, director Peter Jackson (Jackson) and producer Frank Walsh (Walsh) were considering making
The Lord of the Rings
book trilogy into a series of films. Because of licensing requirements, any adaptation of the book had to be offered first to Weinstein's production company, Miramax, which Jackson and Walsh did. As a result of this arrangement, Miramax developed The Lord of the Ringsfor approximately eighteen months, with Weinstein involved in many casting discussions for the films. In 1998, Jackson and Walsh invited Judd to attend a meeting during which they discussed their vision for the films. Jackson and Walsh asked Judd which of the two major roles she would prefer. Jackson and Walsh liked Judd and intended to cast her in their films, which were set to being shooting in 1999. Shortly after the meeting with Judd, Jackson and Walsh expressed their enthusiasm for casting Judd to Weinstein. Weinstein responded that Miramax had a "bad experience" with Judd in the past, that she was a "nightmare to work with," and that they should avoid her "at all costs." Jackson and Walsh believed that Weinstein remarks were genuine and ultimately did not cast Judd in The Lord of the Rings films. The Lord of the Ringswas a blockbuster success, earning more than $2.5 billion in ticket sales. In late 2017, various media outlets reported allegations of sexual harassment and assault against Weinstein by numerous women, including Judd. Following these public allegations, Jackson revealed in a media interview that he chose not to cast Judd in The Lord of the Rings  films because of Weinstein's statements about Judd's professionalism. It was only after this interview that Judd learned why she was not cast in The Lord of the Rings Films more than a decade earlier.
Power To Sexually Exploit Relationship
The trial court dismissed Judd's sexual harassment claim. The trial court concluded that Weinstein's status as a producer was not within the scope of section 51.9 because a producer-actor relationship was not one of the enumerated examples in the statute and was not "substantially similar" to any of the enumerated examples in the statute. On appeal, the Ninth Circuit reversed the trial court's decision and reinstated Judd's sexual harassment claim.
In reversing the trial court, the Ninth Circuit determined that "each of the enumerated examples" of relationships in section 51.9 "consists of a relationship wherein an inherent power imbalance exists such that, by virtue of his or her business, service, or professional position, one party is uniquely situated to exercise coercion or leverage over the other." "For example," the appellate court explained, "teachers can exercise coercive power over their students because they control their students' grades." Thus, the Ninth Circuit concluded that the ability of one party to "exercise coercive power" over the other was "the key element to every example in the statute."
The Ninth Circuit found that the ability of one party to "exercise coercive power" over the other "also exists in the producer-actor relationship." "By virtue of his professional position and influence as a top producer in Hollywood," the appellate court reasoned, "Weinstein was uniquely situated to exercise coercive power or leverage over Judd, who was a young actor at the beginning of her career." Thus, the Ninth Circuit concluded that section 51.9 encompassed Judd's and Weinstein's producer-actress relationship and section 51.9 protected Judd from sexual harassment by Weinstein within the context of that relationship.
Consult With Ocala, FL Sexual Harassment Lawyers
Based in Ocala, Florida and representing employees throughout Central Florida, our Marion County, Florida sexual harassment attorneys have been fighting for sexual harassment victims for more than two decades. If you been required to work in a sexually hostile work environment or have questions about your rights as a sexual harassment victim, please contact our office for a free consultation with our Ocala, Florida sexual harassment lawyers. Our employment and labor law attorneys take sexual harassment cases cases on a contingency fee basis. This means that there are no attorney's fees incurred unless there is a recovery and our attorney's fees come solely from the monetary award that you recover.