EEOC Brings Pregnancy Discrimination Lawsuit Against 40 Steak & Seafood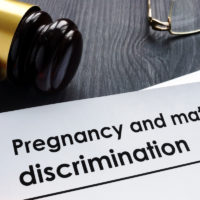 The U.S. Equal Employment Opportunity Commission (EEOC) recently announced that it has filed a pregnancy discrimination lawsuit against 40 Steak & Seafood (40 Steak) pursuant to the Pregnancy Discrimination Act (PDA). The PDA prohibits employers from discriminating against employees on the basis of pregnancy, including childbirth and pregnancy-related medical conditions. The EEOC has brought the pregnancy discrimination lawsuit on behalf of Erica Davidson (Davidson), a former employee of 40 Steak.
On December 10, 2018, the EEOC filed the lawsuit, EEOC v. 40 East, Inc., d/b/a 40 Steak & Seafood, Case No. 1:18-cv-260, in the U.S. District Court for the District of North Dakota after initially attempting to reach a pre-litigation settlement through its statutorily mandated conciliation process. In this article, our Citrus County, Florida employment discrimination lawyers explain the EEOC's allegations against 40 Steak and illuminate the legal basis for the EEOC's pregnancy discrimination lawsuit.
EEOC'S Allegations Of Pregnancy Discrimination
In February 2015, Davidson began working for 40 Steak as a server. In April 2015, Davidson learned that she was pregnant. In June 2015, Davidson told her managers and co-workers that she was pregnant. On July 7, 2015, 40 Steak's Manager, a woman named Redrig, told Davidson that servers were going to have to work harder at 40 Steak. Redrig further told Davidson that 40 Steak had decided that it was not fair to make her work harder because she was pregnant and would not be at the restaurant forever. Redrig then told Davidson that someone else would cover her shift and escorted her out of the restaurant. Redrig then told other 40 Steak employees that Davidson was no longer working at 40 Steak because she was pregnant.
"Smoking Gun" Evidence Of Pregnancy Discrimination
As observed by the U.S. Second Circuit Court of Appeals in Rosen v. Thornburgh, 928 F.2d 528 (2d Cir. 1991), "an employer who discriminates is unlikely to leave a 'smoking gun,' such as a notation in an employee's personnel file, attesting to a discriminatory intent." Thus, as explained by the U.S. First Circuit Court of Appeals in Hodgens v. General Dynamics Corp., 144 F.3d 151 (1st Cir. 1998), "smoking gun evidence is, of course, not required to prove discrimination."
Although employers rarely leave "smoking gun" evidence of discrimination, the facts alleged by the EEOC arguably constitute "smoking gun evidence of pregnancy discrimination. In particular, Redrig's alleged remark to other 40 Steak employees that Davidson was no longer working at 40 Steak because she was pregnant constitutes "smoking gun" evidence that 40 Steak fired Davidson because she was pregnant. Under applicable law, "smoking gun" evidence of discrimination almost always enables the employee claiming discrimination to bring his or her discrimination claim before a jury for resolution. If the jury believes that Redrig made the remark, then the jury is legally permitted to find that Davidson was fired because she was pregnant in violation of the PDA.
EEOC Fights Pregnancy Discrimination
The EEOC is the administrative agency of the United States responsible for interpreting and enforcing federal laws prohibiting employment discrimination, including pregnancy discrimination. In enforcing the federal anti-discrimination laws, the EEOC is also authorized by federal law to bring lawsuits on behalf of victims of employment discrimination. In a press release regarding the case, the regional attorney for the EEOC's Chicago District Office, Greg Gochenour, stated that "[p]regnancy discrimination is a continuing problem in the United States." "The rule is simple," Mr.Gochenour explained, "don't fire someone, or treat someone adversely in any way, simply because she is pregnant."
Free Consultation With Inverness Discrimination Lawyers
Based in Ocala, Florida and representing employees throughout Central Florida, we have represented employment discrimination victims in hundreds of cases before the EEOC. If you have been a victim of pregnancy discrimination or have questions about your rights as a pregnant employee, please contact our office for a free consultation with our Citrus County, Florida employment discrimination attorneys. Our employment and labor law attorneys take employment discrimination cases on a contingency fee basis. This means that there are no attorney's fees incurred unless there is a recovery and our attorney's fees come solely from the monetary award that you recover.