EEOC Claims Employer Unlawfully Fired Employee Because It Regarded Him As Having A Disability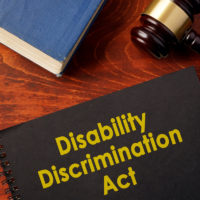 Having fought for the rights of employees for nearly twenty years, our Marion County, Florida wrongful termination attorneys have learned that employers continue to discriminate against employees who they regard as having a disability. Under the Americans with Disabilities Act (ADA), employers are prohibited from discriminating against employees who have an actual disability and employees who they regard as having a disability. This means that employees are protected from discrimination under the ADA when an employer perceives them as having a disability even if they do not have an actual disability. When an employer subjects an employee to an adverse employment action, such as demotion or termination, because the employer regards the employee as disabled, the employer violates the ADA.
The U.S. Equal Employment Opportunity Commission (EEOC) recently announced that it has filed a disability discrimination lawsuit against Brock Services, LLC (Brock Services) pursuant to the ADA. On May 9, 2019, the EEOC filed the lawsuit, U.S. Equal Employment Opportunity Commission v. Brock Services, LLC, Case No. 1:19-cv-212, in the U.S. District Court for the Eastern District of Texas after initially attempting to reach a pre-litigation settlement through its statutorily mandated conciliation process. The EEOC has brought the disability discrimination lawsuit on behalf of a former employee of Brock Services, Jim Bailey (Bailey). In this article, our Marion County, Florida wrongful termination lawyers explain the EEOC's allegations against Brock Services.
EEOC'S Allegations Of Disability Discrimination
In October 2010, Bailey began working for Brock Services as a scaffolding builder leadman. Bailey held this position for the remainder of his employment with Brock Services. Bailey has a physical impairment, glaucoma in his right eye, stemming from an old injury. The EEOC claims that Bailey's glaucoma did not affect his ability to perform the essential functions of his job and Bailey was successfully performed the essential functions of his job throughout his employment. Nevertheless, according to the EEOC, Brock Services violated the ADA by terminating Bailey's employment because Brock Services regarded him as disabled based on his glaucoma.
On February 13, 2018, a safety supervisor observed Bailey wearing an eye patch on his shirt, not on his eye. The safety supervisor asked Bailey why he needed the eye patch. Upon learning of his glaucoma, Brock Services asked Bailey to obtain a medical releasee. The next day, Bailey brought a medical release form with him to West Coast Health Center. After evaluating Bailey, a nurse practitioner at West Coast Health Center noted that Bailey had vision impairment in his right eye but placed no restrictions on his ability to work.
However, Brock Services asked Bailey to obtain another medical release. This time, a safety representative employed by Brock Services placed an asterisk on the medical release form next to a question about whether Bailey could see well. On February 20, 2018, Bailey was examined by a local optometrist. The optometrist noted that Bailey had advanced glaucoma in his right eye which caused some restriction in his peripheral vision and reduction of central acuity but found that Bailey could "see well centrally" using both eyes. Even after reviewing the medical release form given to Bailey by the safety representative, the optometrist placed no work restrictions on Bailey.
Although Bailey had obtained two medical release clearing him to work without restrictions, Brock Services demanded that Bailey be examined by a medical contractor used by Brock Services, Business Health Partners. A nurse practitioner employed by Business Health Partners examined Bailey's eyesight and, based on the results, completed a medical release form restricting Bailey from returning to work. Upon receipt of this third medical release form, which directly conflicted with the two prior medical release forms, Brock Services immediately terminated Bailey's employment. 
EEOC Fights Wrongful Termination
The EEOC is the administrative agency of the United States responsible for interpreting and enforcing federal laws prohibiting employment discrimination. The EEOC is also authorized by federal law to bring lawsuits on behalf of victims of employment discrimination, including disability discrimination. In a press release issued by the EEOC regarding the case, the Director for the EEOC's Houston District Office, Rayford O. Irvin, stated that "[a]n employer cannot fire a worker with a medical impairment because of myths, fears, and stereotypes." A Regional Attorney for the Houston District Office, Rudy Susaita, added that "[c]ompanies must live up to their responsibility to evaluate each employee's situation, without bias, based solely on the actual evidence—and they should not second guess valid medical releases obtained by an employee."
Free Consultation With Ocala Discrimination Lawyers
Based in Ocala, Florida and representing employees throughout Central Florida, we have represented employment discrimination victims in hundreds of cases before the EEOC. If you have been discriminated against because an employer regarded you as having a disability or you have questions about your rights under the ADA, please contact our office for a free consultation with our Marion County, Florida employment discrimination attorneys. Our labor law attorneys take employment discrimination cases on a contingency fee basis.This means that there are no attorney's fees incurred unless there is a recovery and our attorney's fees come solely from the monetary award that you recover.