EEOC Claims Female Employee Was Sexually Harassed By Co-Owner In Violation Of Federal Law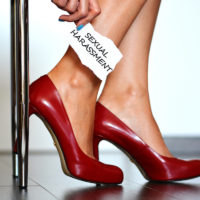 The U.S. Equal Employment Opportunity Commission (EEOC) recently announced that it has filed a sexual harassment lawsuit against Tosca Americana Italian Kitchen (Tosca) pursuant to Title VII of the Civil Rights Act of 1964 (Title VII). Title VII, which is federal law, protects employees from sexual harassment in the workplace. Employees are protected against sexual harassment by co-workers, supervisors, managers, owners, clients, and customers. In Meritor Sav. Bank v. Vinson, 477 U.S. 57 (1986), the U.S. Supreme Court stated that employees are not required to run a "gauntlet of sexual abuse in return for the privilege of being allowed to work and make a living."
On May 9, 2019, the EEOC filed the lawsuit, U.S. Equal Employment Opportunity Commission v. Eddie's Americana Cuisine Concepts, Inc., d/b/a Tosca Americana Italian Kitchen, Case No. 4:19-cv-1707, in the U.S. District Court for the Southern District of Texas after initially attempting to reach a pre-litigation settlement through its statutorily mandated conciliation process. The EEOC has filed the sexual harassment lawsuit on behalf of a former employee of Tosca, Alyssa Valadez (Valadez). In this article, our Marion County, Florida sexual harassment lawyers explain the EEOC's allegations against Tosca.
EEOC Allegations Of Sexual Harassment
In May 2017, Valadez began working for Tosca as a hostess. Valadez was 16 years old when her employment began. The EEOC claims that Valadez was subjected to unwanted verbal and physical conduct of a sexual nature by a co-owner of Tosca. According to the EEOC, the co-owner's sexually harassing behavior towards Valadez included requests for dates, comments on her appearance, and sexual touching. The EEOC further claims that the co-owner subjected other female employees to similar sexually harassing behavior, including brushing up against their bodies, touching their breasts and intimate body parts, making remarks about their bodies, and making sexual comments to them.
The EEOC claims that Valadez complained to an assistant manager in June 2017 about an incident of inappropriate touching by the co-owner. Despite her complaint, the EEOC alleges, Tosca failed to take prompt and effective remedial action to protect Valadez from further sexual harassment. Instead, according to the EEOC, the co-owner continued to sexually harass Valadez after her complaint. On September 20, 2017, while Valadez was making photocopies, the co-owner cornered her, hugged her, and ran his hand down her buttocks. On October 10, 2017, the co-owner grabbed Valadez's buttocks and tried to kiss her. Later that same day, he grabbed Valadez by the shirt and looked inside. Because the co-owner's sexually harassing behavior continued despite her complaint to management, the EEOC contends that Valadez was compelled to resign her employment on October 13, 2017. In compelling Valadez to resign because of the on-going hostile work environment sexual harassment, the EEOC claims that Tosca constructively discharged Valadez in violation of Title VII. 
Employers Must Stop Sexual Harassment
The EEOC is the administrative agency of the United States responsible for interpreting and enforcing federal laws prohibiting employment discrimination, including hostile work environment sexual harassment. The EEOC is also authorized by federal law to bring lawsuits on behalf of victims of sexual harassment. In a press release issued by the EEOC regarding the case, the Regional Attorney for the EEOC's Houston District Office, Rudy L. Sustaita, stated that "[y]oung, vulnerable workers must be protected against sexual advances at work." "Owning a business and being the boss," Mr. Sustaita added, "is not a license to sexually harass employees." The Director for the EEOC's Houston District Office, Rayford O. Irvin, further stated that the "EEOC is committed to ensuring that all workers, especially teenage and other vulnerable workers, are free from workplace sexual harassment."
Free Consultation With Ocala Sexual Harassment Lawyers
Based in Ocala, Florida and representing employees throughout Central Florida, we have almost twenty years of experience representing sexual harassment victims in cases before the EEOC. If you have been subjected to unwanted sexual behavior at work or have questions about your right to be free from sexual harassment in the workplace, please contact our office for a free consultation with our Marion County, Florida sexual harassment attorneys. Our employment and labor law attorneys take sexual harassment cases on a contingency fee basis. This means that there are no attorney's fees incurred unless there is a recovery and our attorney's fees come solely from the monetary award that you recover.