EEOC Files Disability Discrimination Lawsuit Where Employer Thought It Was Hiring A "Healthy" Individual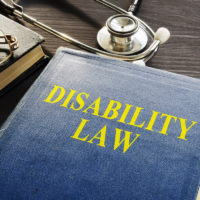 In a press release issued on June 27, 2019, the U.S. Equal Employment Opportunity Commission (EEOC) announced that it has filed a disability discrimination lawsuit against Valley Tool, Inc. (Valley Tool) pursuant to the Americans with Disabilities Act (ADA). Under the ADA, employers are prohibiting from discriminating against employees with a disability. The ADA further requires employers to provide reasonable accommodations for employees with a disability.
On June 27, 2019, the EEOC filed the lawsuit, U.S. Equal Employment Opportunity Commission v. Valley Tool, Inc., Case No. 3:19-cv-140, in the U.S. District Court for the Northern District of Mississippi after initially attempting to reach a pre-litigation settlement through its statutorily mandated conciliation process. The EEOC has brought the disability discrimination lawsuit pursuant to the ADA on behalf of a former employee of Valley Tool, Veronica Folson (Folson). The EEOC claims that Valley Tool violated the ADA by firing Folson because of her disability. The EEOC further claims that Valley Tool violated the ADA by failing to provide Folson with a reasonable accommodation for her disability. In this article, our Marion County, Florida employment discrimination lawyers explain the EEOC's allegations against Valley Tool.
EEOC'S Allegations Of Disability Discrimination
Valley Tool is a tool company based in Walter Valley, Mississippi. In March 2017, Valley Tool hired Folson as a sorter. According to the EEOC, Folson has a disability within the meaning of the ADA in the form of sickle cell anemia, a hereditary blood disorder. On March 27, 2017, Folson experienced a sickle cell crisis, causing her to take sick leave and miss work. On April 3, 2017, Folson returned to work and provided a doctor's note stating that she could return to work without restrictions.
During a meeting on April 6, 2017, a Valley Tool supervisor complained about too many employees taking sick leave and returning with doctor's notes when they did not look sick before taking leave. During the meeting, Folson stated that she had a "blood disorder" which caused her to become ill and miss work. In response to Folson's disclosure, the supervisor stated, "blood disorder, if I had known that, I wouldn't have hired you."
On April 12, 2017, Folson met with Valley Tool's owner regarding her need for an accommodation for her sickle cell anemia. During the meeting, the owner stated that they thought they were "hiring a healthy individual and needed a dependable employee and he did not want to an employee who could not perform the job." The owner told Folson that she could not miss any more work until the expiration of her probationary period and that Folson needed to her doctor to complete a form related to her disability. Thus, according to the EEOC, the owner made it clear to Folson that Valley Tool would not provide leave as a reasonable accommodation.
On April 17, 2017, Valley Tool instructed Folson and several other employees not to report to work the next day allegedly due to a lack of work. Valley Tool instructed Folson to call thereafter to see if she would need to report to work because work had become available. When Folson called to check on the availability of work, Folson was told not to report to work until the following week. When Folson reported to work the following week on her normal shift and attempted to begin work, a supervisor instructed Folson to return home. Folson never returned to work after April 17, 2017. However, Valley Tool had recalled other employees who lacked a disability to work. Valley Tool also hired other employees to work as sorters who lacked a disability.
When Folson filed for unemployment compensation benefits, Valley Tool challenged her claim by alleging that Folson had been placed on a leave of absence. In May 2017, Folson provided a letter to Valley Tool from her doctor stating that Folson could work without any restrictions. Despite receiving the letter, Valley Tool refused to return Folson to work. Until October 2017, Folson continued to contact Valley Tool seeking to return to work. Valley Tool refused to return Folson to work as a sorter or any other position.
EEOC Enforces Civil Rights Laws
The EEOC is the administrative agency of the United States responsible for interpreting and enforcing federal laws prohibiting employment discrimination. In enforcing the federal anti-discrimination laws, the EEOC is also authorized by federal law to bring lawsuits on behalf of victims of employment discrimination, including disability discrimination. In a press release issued by the EEOC regarding the case, a District Director for the EEOC, Delner Franklin-Thomas, noted that the "ADA has been in effect for almost 30 years" and stated that "after all this time, employers must know that their employees have a right to a reasonable accommodation absent undue hardship."
Free Consultation With Ocala Labor Lawyers
Based in Ocala, Florida and representing employees throughout Central Florida, we have represented employment discrimination victims in hundreds of cases before the EEOC. If you have experienced discrimination on the basis of disability or have questions about your rights under the ADA, please contact our office for a free consultation with our Marion County, Florida employment discrimination attorneys. Our employment and labor law attorneys take employment discrimination cases on a contingency fee basis. This means that there are no attorney's fees incurred unless there is a recovery and our attorney's fees come solely from the monetary award that you recover.