EEOC Resolves Sexual Harassment Lawsuit Alleging Supervisor Posted Explicit Photos Of Victim On Internet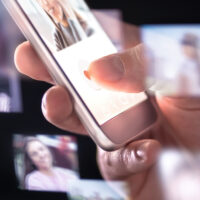 On December 20, 2019, the U.S. Equal Employment Opportunity Commission (EEOC) issued a press release announcing that it has entered into a Consent Decree to settle a sexual harassment lawsuit against United Airlines, Inc. (United). On August 9, 2019, the EEOC filed the sexual harassment lawsuit, United States Equal Employment Opportunity Commission v. United Airlines, Inc., Case No. 5:19-cv-00817, in the U.S. District Court for the Western District of Texas after initially attempting to reach a pre-litigation settlement through its statutorily mandated conciliation process. 
The EEOC brought the sexual harassment lawsuit pursuant to Title VII of the Civil Rights Act of 1964 (Title VII) on behalf of a former employee of United. In the lawsuit, the EEOC refers to the victim utilizing the pseudonym of Jane Doe (Doe). Title VII protects employees from sexual harassing behavior which has the purpose or effect of creating a hostile work environment. Unlawful sexual harassment occurs when the workplace is permeated with discriminatory intimidation, ridicule, and insult that is sufficiently severe or pervasive to alter the conditions of the victim's employment and create an abusive work environment. In this article, our Ocala, Florida sexual harassment lawyers explain the EEOC's allegations against United and the Consent Decree.
Employee Claims Sexual Hostile Environment
In November 1989, Doe began working for United as a flight attendant. From 2002 until 2006, Does was in a consensual relationship with a United co-worker. The co-worker was employed by United as a pilot and Captain who exercised supervisory authority over flight attendants due to the nature of his job and rank. At various times during their private and consensual relationship, Doe allowed the Captain to take photographic images of her in provocative poses. The Captain took at least one photograph of Doe without her permission.
In 2006, one of Doe's United co-workers told her that he had seen nude photos of her on an internet website. Doe realized that the Captain had been posting nude pictures of her on the internet which were never intended to be anything other than private between them as a couple. When the Captain refused to cease the offensive and harmful conduct, Doe ended their relationship in 2006.
Over the next decade, the Captain continued to regularly post sexually explicit photos and stories of Doe on the internet. Doe came to learn that these images had been viewed by at least two of her United co-workers. At least some of the Captain's internet posts explicitly implicated Doe's job as a flight attendant by occupation and, in some case, as a flight attendant for United. The Captain posted partially nude images of Doe in her United flight attendant uniform. The Captain also repeatedly referred to Doe by her name, identified her occupation and home airport, and made clear by implication that her employer was United. 
Victim Makes Sexual Harassment Complaint
In May 2011, Doe complained to two United officials that the Captain was posting nude images of her on the internet without her permission. Doe provided the officials with copies of the Captain's internet postings, including the photo of her in her flight attendant uniform. United, according to the EEOC, failed to take appropriate corrective action in response to Doe's complaint. The EEOC claims that the Captain's actions and United's refusal to address the matter effectively had the consequence of interfering with Doe's ability to perform her job and altered her working conditions.
Because the Captain's sexually offensive conduct continued despite her complaint, Doe made a complaint to the United's human resources department in November 2011. Doe gave human resources personnel evidence of the Captain's internet postings and information about her own efforts to stop the harassment by the Captain. Upon review of Doe's complaint, United advised her that the Captain's conduct purportedly did not constitute sexual harassment in the workplace and concluded that it did not warrant intervention or action by United. No written disciplinary action was imposed against the Captain.
Because the Captain continued to post nude images of her on internet websites, Doe filed another complaint with the human resources department in September 2013. Although United interviewed the Captain in November 2013, United failed to satisfy its remedial obligations under Title VII to conduct a thorough and adequate investigation. As was the case when Doe complained in the past, no adequate corrective or disciplinary action was taken by United in response to Doe's complaint. 
Sexual Harasser Arrested For Stalking
Due to the emotional harm suffered as a result of the continual harassment by the Captain and the inaction by United, it became necessary for Doe to utilize her leave under the Family Medical Leave Act in April 2015. In May 2015, the FBI arrested the Captain and charged him with stalking based on his continual posting of nude images of Doe without her knowledge or consent. Despite the FBI's involvement, United continued to employ the Captain. In June 2016, the Captain pleaded guilty to stalking and was sentenced to 41 months in prison. The Captain remained on United's payroll until July 2016, when he was allowed to retire with full benefits. 
Consent Decree Compensates Harassment Victim
In the Consent Decree settling the lawsuit, which was signed by U.S. District Court Judge Xavier Rodriguez on December 19, 2019, United agreed to pay $321,000 to resolve the sexual harassment case. In the Consent Decree, the EEOC required United to revise its sexual harassment policies and to specifically implement policies addressing sexually harassing conduct perpetuated through the internet or social media. The EEOC further required United to provide training to employees on Title VII's prohibition against sexual harassment, including providing employees with examples of comments and conduct that constitute sexual harassment.
Protection For Sexual Harassment Victims
The EEOC is the administrative agency of the United States responsible for interpreting and enforcing federal laws prohibiting employment discrimination, including sexual harassment. In enforcing the federal civil rights laws, the EEOC is also authorized by federal law to bring lawsuits on behalf of employees who were subjected to a sexual hostile work environment. In a press release issued by the EEOC on December 20, 2019 regarding the case, a regional attorney for the EEOC's Dallas District Office, Robert A.. Canino, stated that "this case highlights the issues of employer accountability for harassment in the modern workplace." "Employee workdays and jobsites," Mr. Canino explained, "are no longer defined by timecards and the walls of a building, but by the breadth of a digital age and the reach of electronic communications."
Consultation With Ocala Sexual Harassment Lawyers
Based in Ocala, Florida and representing employees throughout Central Florida, our Ocala, Florida sexual harassment attorneys have represented sexual harassment victims for almost two decades. If you have been subjected to a sexual hostile work environment or have questions about your protection against sexual harassment under the federal civil rights laws, please contact our office for a free consultation with our Ocala, Florida sexual harassment lawyers. Our Marion County, Florida employment law attorneys take sexual harassment cases on a contingency fee basis. This means that there are no attorney's fees incurred unless there is a recovery and our attorney's fees come solely from the monetary award that you recover.