Employee Wrongfully Terminated Because Employer Believed She Might Have Cancer EEOC Lawsuit Claims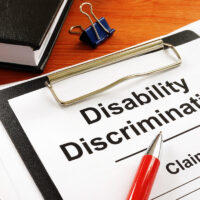 On November 10, 2020, the U.S. Equal Employment Opportunity Commission (EEOC) issued a press release announcing that it has filed a disability lawsuit against Cappo Management XXXIX, Inc., d/b/a Harrold Ford and Victory Automotive Group, Inc. (collectively, Harrold Ford). On November 10, 2020, the EEOC filed the lawsuit, U.S. Equal Employment Opportunity Commission v. Cappo Management XXXIX, Inc., d/b/a Harrold Ford and Victory Automotive Group, Inc., Case No. 2:20-cv-02245, in the U.S. District Court for the Eastern District of California. Before commencing lawsuit, the EEOC initially tried to settle case through its voluntary conciliation process. Unable to reach an acceptable settlement through its conciliation efforts, the EEOC moved forward with attempting to remedy the alleged unlawful employment practices through litigation. In this article, our Inverness, Florida lawyers for wrongful termination victims explain the EEOC's allegations against Harrold Ford.
Prohibition Against Wrongful Termination
The EEOC has filed the disability discrimination lawsuit pursuant to the Americans with Disabilities Act (ADA) on behalf of a former employee of Harrold Ford, Aryn Rahimi (Rahimi). The ADA makes discrimination against disabled employees an unlawful employment practice. Under the ADA, an employer is prohibited from discriminating against employees who have an actual disability and employees who do not, in fact, have an actual disability but who are regarded by the employer as disabled. When an employer discharges a disabled employee on the basis of disability, or otherwise discharges an employee because the employer regards the employee as disabled, the employer has wrongfully terminated the employee in violation of the ADA. The EEOC claims that Harrold Ford violated the ADA by wrongfully terminating Rahimi's employment because it regarded her as disabled. Harrold Ford regarded Rahimi as disabled, according to the EEOC, because Harrold Ford believed she might have cancer.
EEOC Claims Wrongful Termination
In August 2018, Harrold Ford hired Rahimi to work as a title clerk at its automotive dealership in Sacramento, California. On October 12, 2018, Rahimi was admitted to the hospital due to pain in her abdominal area. A few days later, Rahimi informed Harrold Ford that she was still in the hospital awaiting diagnosis. On October 17, 2018, Rahimi told Harrold Ford that she had been transported to a different medical facility to see a specialist and that the doctors were "afraid her body might shut down." On October 20, 2018, Rahimi submitted a doctor's note to Harrold Ford stating that she was being put-off work until October 28, 2018. A few days later, Rahimi's managers discussed Rahimi's hospitalization for possible liver or kidney failure. They also discussed, the EEOC alleges, terminating Rahimi's employment.
On October 29, 2018, Rahimi advised Harrold Ford that her doctors thought she might have pancreatic cancer, but that she would be returning to work on November 1. On October 30, 2018, according to the EEOC, Harrold Ford called Rahimi ostensibly to determine whether she still planned to return to work on November 1. After that call, the EEOC maintains, Harrold Ford concluded that Rahimi was more impaired that she was letting on, and that there was "no way" Rahimi would be able to report to work on November 1.
On October 31, 2018, Harrold Ford decided to terminate Rahimi's employment and to have her contact the dealership when she was "ready and able to work full time." Later that day, the EEOC alleges, Harrold Ford called Rahimi to inform her of her termination and to advise her to "focus on her health." When Rahimi asked why she was being fired, she was told that it as a corporate decision. Although Rahimi maintained that she was planning to return to work the next day, Harrold Ford still fired her. On November 1, 2018, Harrold Ford sent Rahimi a termination letter advising her that her termination was "not a reflection of your performance in your job," and that the dealership hoped that Rahimi was "recuperating and getting her strength back."
Attorneys For Wrongful Termination
The EEOC is the administrative agency of the United States responsible for interpreting and enforcing federal employment laws making discrimination, harassment, and retaliation unlawful employment practices. As part of its statutory mission to eradicate unlawful employment practices American workplace, the EEOC is authorized to file lawsuits on behalf of employees who have been wrongfully terminated in violation of the federal employment laws. In a press release issued by the EEOC on November 10, 2020 regarding the case, a Senior Trial Attorney for the EEOC's San Francisco District Office, James Baker, stated that "this employee worked successfully for several months but was terminated when her employer learned that she was being tested for cancer." "It is illegal for employers to reflectively fire employees," Mr. Baker explained, "after learning of a medical condition." In commenting on the case, the Director of the EEOC's San Francisco District Office, William Tamayoy, stated that "Congress enacted the ADA to prevent disability discrimination so that employees can continue to be productive members of the workforce."
Inverness, FL Wrongful Termination Lawyers
Based in Ocala, Florida and representing employees throughout Central Florida, our Citrus County, Florida wrongful termination attorneys have litigated wrongful termination cases in Florida courts for more than twenty years. If you have been wrongfully terminated or have questions about your protection against wrongful termination under the federal employment laws, please contact our office for a free consultation with our Inverness, Florida wrongful termination lawyers. Our employment and labor law attorneys take wrongful termination cases on a contingency fee basis. This means that there are no attorney's fees incurred unless there is a recovery and our attorney's fees come solely from the monetary award that you recover.