Florida Human Rights Agency Affirms Commitment to LGBTQ+ Protection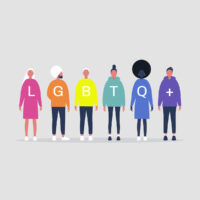 Having represented Florida workplace discrimination victims for more than twenty years, our Marion County, Florida, sexual orientation discrimination victims' lawyers have experienced the friction that can arise when state and federal governments are not in lockstep with regard to civil rights and anti-discrimination laws and priorities. In another blog post, we recently discussed President Biden's orders enforcing his administration's commitment to expanding protections for LGBTQ individuals in schools, health care, the workplace, and other areas. In response to the federal administration's commitment to protection for LGBTQ citizens, Florida's Commission on Human Relations (FCHR) recently issued a statement doubling-down on its own commitment to enforcing LGBTQ rights in the areas of employment and housing. FCHR's statement gives hope that Florida will follow the federal administration's lead in expanding LGBTQ rights and protecting them, even in remote regions more resistant to progress historically.
FCHR Reaffirms Supreme Court Ruling on Gender and Sexual Orientation Discrimination
Florida's Commission on Human Relations is the state agency responsible for enforcing civil rights. The FCHR is empowered to adopt, promulgate, amend, and rescind rules pertaining to enforcement of the Florida Civil Rights Act and the Florida Fair Housing Act. The agency deals with employment and housing discrimination based on race, color, national origin, sex, disability, pregnancy, religion or familial status. The FCHR is empowered to investigate and resolve complaints of employment discrimination through administrative and legal channels.
Recently, the FCHR issued a statement showing unequivocal support for the U.S. Supreme Court's decision in Bostock v. Clayton County.  In Bostock, the Supreme Court held that Title VII of the Civil Rights Act of 1964 (Title VII), which forbids employers from discriminating against employees on the basis of sex, prohibits discrimination based on sexual orientation and gender identity.  The ruling expanded protections for trans and gay workers in states like Florida that lacked explicit protection for those groups.
The FCHR issued a statement explaining its commitment "to investigating housing violations based upon sex discrimination due to non-conformity with gender stereotypes," and noting that FCHR "accepts claims of sex discrimination based on gender identity or sexual orientation for investigation in employment and public accommodations complaints."  The statement follows President Biden's executive order reinforcing Title VII and implementing nondiscrimination protection across all federal agencies, reversing a decision made by the last administration.  The FCHR indicated that it would be "watching for guidance from its federal partners, the U.S. Equal Employment Opportunity Commission and the U.S. Department of Housing and Urban Development, that may revise, suspend, or rescind previous agency actions that would impact its current procedures or processes." 
Free Consultation With Citrus County Gender Discrimination Lawyers
Based in Ocala, Florida, and representing employees throughout Central Florida, our Sumter County, Florida, employment discrimination attorneys have represented employment discrimination victims for more than twenty years. If you have experienced discrimination in the workplace or have questions about your protection against discrimination under the federal anti-discrimination laws, please contact our office for a free consultation with our Wildwood, Florida, employment discrimination lawyers. Our labor law attorneys take employment discrimination cases on a contingency fee basis. This means that there are no attorney's fees incurred unless there is a recovery and our attorney's fees come solely from the monetary award that you recover.