Same-Sex Sexual Harassment Case Alleging Male Employee Subjected To Sexual Advances Settled By EEOC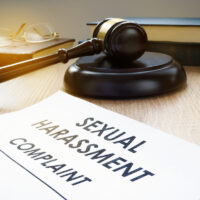 On March 31, 2020, the U.S. Equal Employment Opportunity Commission (EEOC) issued a press release announcing that it has entered into a Consent Decree to settle a same-sex sexual harassment and retaliation lawsuit against Bay Country Professional Concrete, LLC (Bay Country). On September 27, 2019, the EEOC filed the case, EEOC v. Bay Country Professional Concrete, LLC, Case No. 1:19-cv-02848, in the U.S. District Court for the District of Maryland after initially seeking to obtain a pre-litigation resolution of the case through its lawfully required conciliation process. In the Consent Decree, which was signed by U.S. District Judge Ellen L. Hollander on March 26, 2020, Bay Country agreed to pay $30,000 to resolve the same-sex sexual harassment and retaliation lawsuit.
Same-Sex Sexual Harassment Is Unlawful
The EEOC brought the same-sex sexual harassment and retaliation case pursuant to Title VII of the Civil Rights Act of 1964 (Title VII) on behalf of a former employee of Bay Country, Floyd Fuller (Fuller). Title VII prohibits employers from discriminating against employees on the basis of sex. Sexual harassment is a form of sex discrimination prohibited by Title VII. Under Title VII, prohibited sexual harassment is not limited to harassment from members of the opposite sex. Instead, Title VII also forbids same-sex sexual harassment. Same-sex sexual harassment occurs when both the harasser and the victim are of the same sex. Title VII also protects employees from retaliation when they complain about perceived same-sex sexual harassment in the workplace.
The EEOC claims that Bay Country violated Title VII by allowing male employees to sexually harass Fuller and doing nothing to protect Fuller from the sexual hostile work environment he experienced. The EEOC further claims that Bay Country violated Title VII by firing Fuller for complaining about the same-sex sexual harassment. In this article, our Marion County, Florida sexual harassment lawyers explain the EEOC's allegations against Bay Country.
Employee Alleges Same-Sex Sexual Harassment
In March 2015, Fuller began working for Bay Country as a concrete finisher. Beginning in May 2015, according to the EEOC, Fuller was subjected to sexually harassing behavior by two male employees. The same-sex sexual harassment towards Fuller by the male co-workers included sexual advances, sexual touching, making hand gestures simulating oral sex, and calling him a "whore" and a "hot little mama." The abusive behavior also included threatening Fuller with physical harm. In May 2017, Fuller complained to Bay Country's owner about the unwanted sexual behavior. Despite Fuller's complaint, the owner "did not take corrective action." As a result, Fuller's sexual hostile work environment continued.
On December 13, 2017, one of the male co-workers groped Fuller's chest and behind, and the other male co-worker intentionally poked Fuller's behind with a shovel handle. That same day, Fuller made a police report regarding the unwanted touching from the male co-employees. That same day, Bay Country fired Fuller because he called the police. The EEOC claims that Bay Country unlawfully fired Fuller in retaliating for complaining about sexual harassment and for opposing discriminatory employment practices.
Fighting Against Same-Sex Sexual Harassment
The EEOC is the administrative agency of the United States responsible for interpreting and enforcing federal employment laws prohibiting discrimination, harassment, and retaliation. In enforcing the federal civil rights laws, the EEOC is also permitted by federal law to file lawsuits on behalf of same-sex sexual harassment and retaliation victims. In a press release issued by the EEOC on March 31, 2020 regarding the case, the Director for the EEOC's Philadelphia District Office, Jamie R. Williamson, explained that "when an employee bravely comes forward to report workplace harassment, employers should take swift action to end the unlawful conduct." In further commenting on the case, Mr. Williamson stated that "retaliation only compounds the problem."
Consult With Ocala Sexual Harassment Lawyers
Based in Ocala, Florida and representing employees throughout Central Florida, our Marion County, Florida sexual harassment attorneys have been dedicated their practice to fighting against employers who have required employees to work in a sexually hostile work environment. If you have experienced same-sex sexual harassment or have questions about your rights as a victim of same-sex sexual harassment, please contact our office for a free consultation with our Ocala, Florida sexual harassment lawyers. Our employment and labor law attorneys take sexual harassment cases on a contingency fee basis. This means that there are no attorney's fees incurred unless there is a recovery and our attorney's fees come solely from the monetary award that you recover.