Serial Sexual Harasser Created Sexually Hostile Work Environment For Women EEOC Lawsuit Charges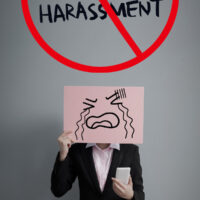 On July 17, 2020, the U.S. Equal Employment Opportunity Commission (EEOC) issued a press release announcing that it has filed a sexual harassment and retaliation lawsuit against Tegra Medical, LLC (Tegra Medical). On July 16, 2020, the EEOC filed the case, U.S. Equal Employment Opportunity Commission v. Tegra Medical, LLC,
Case No. 1:20-cv-11344, in the U.S. District Court for the District of Massachusetts after first attempting to correct the alleged unlawful employment practices through its conciliation process. Conciliation efforts proving futile, the EEOC moved forward with trying to remedy the alleged unlawful employment practices through litigation.
The EEOC has brought the sexual harassment and retaliation lawsuit pursuant to Title VII of the Civil Rights Act of 1964 (Title VII) on behalf of a former employee of Tegra Medical, Zahira Custodio Othman (Custodio). Title VII makes sexual harassment in the workplace an unlawful employment practice. Title VII also protects employees from retaliation when they complain about perceived sexual harassment in the workplace. In this article, our Ocala, Florida sexual harassment lawyers explain the EEOC's allegations of sexual harassment and retaliation against Tegra Medical.
Sexually Harassed By Supervisor
Tegra Medical operates a manufacturing facility in Franklin, Massachusetts. In January 2017, Custodio began working for Tegra Medical as a grist blast operator. Shortly after staring her employment, Custodio was warned that her immediate supervisor, a man named Pacheco, was a "predator." Shortly after the warning was given, Pacheco began targeting Custodio for unwanted sexually harassing behavior. Pacheco's verbal and physical conduct of a sexual nature towards Custodio included sexual advances, remarks about her body and appearance, staring at her breasts, comments about her buttocks, and regularly squeezing by her in tight spaces.
On December 6, 2018, Custodio complained to the Human Resources Department (HR) about Pacheco's unwanted sexually behavior. On December 14, 2018, Custodio requested leave under the Family Medical Leave Act (FMLA) in order to care for her son, who was experiencing a serious health condition. Custodio provided a letter to HR from her son's doctor in support of her request. HR immediately rejected Custodio's request for FMLA leave, stating that the company could not accommodate her request and that "it's a business."
The EEOC contends that Custodio was legally entitled to the requested FMLA leave and Tegra Medical unlawfully denied her request because she had complained about sexual harassment. Tegra Medical's denial of Custodio's request for FMLA leave forced Custodio to quit her employment on December 28, 2018. In forcing Custodio to quit because it unlawfully denied her FMLA leave in retaliation for complaining about sexual harassment, the EEOC maintains that Tegra Medical constructively discharged Custodio in violation of Title VII.
Serial Sexual Harasser In Workplace
During Custodio's exit interview on December 28, 2018, a HR manager provided Custodio with a letter dated December 13, 2018 purporting to "summarize" the results of Tegra Medical's alleged investigation into Custodio's sexual harassment complaint. The letter stated that HR "conducted interviews with all employees involved, including you, the accuser and all potential witnesses," and "after a thorough investigation . . . found that there was not sufficient evidence to concluded that sexual harassment did take place in this case." Prior to Custodio's complaint, according the EEOC, other female employees had complained about Pacheco's "sex-based comments" and "received similar letters."
The EEOC claims that Tegra Medical "was aware of the sexually hostile work environment created by Pacheco because Pacheco was a serial harasser and multiple employees complained about [his] conduct to [the] Human Resources Department." Despite its knowledge that Custodio was a serial harasser who created a sexually hostile work environment for Custodio and other women, Tegra Medical "failed to take appropriate remedial action to address and end the harassment."
Fighting For Sexual Harassment Victims
The EEOC is the administrative agency of the United States responsible for interpreting and enforcing federal civil rights laws prohibiting discrimination, harassment, and retaliation. In enforcing the federal civil rights laws, the EEOC is also authorized by federal law to bring lawsuits on behalf of employees required to work in a sexually hostile work environment. In a press release issued by the EEOC on July 17, 2020 regarding the case, a regional attorney for the EEOC's New York District Office, Jeffrey Burstein, explained that "employers who are aware of sexual harassment in the workplace have a clear duty to act swiftly to end the harassment." In commenting on the case, the Director of the EEOC's New York District Office, Judy Keenan, stated that "victims of sexual harassment should be listened to when they bring the abuse to the company's attention—not punished." Ms. Keenan added that, the "EEOC will continue to aggressively enforce federal laws against retaliation for reporting discrimination in the workplace."
Consult With Ocala, FL Sexual Harassment Lawyers
Based in Ocala, Florida and representing employees throughout Central Florida, our Marion County, Florida sexual harassment attorneys are committed to fighting against employers who have required their employees to work in a sexually hostile work environment. If you have been sexually harassed at work or have questions about your rights as a sexual harassment victim under the federal employment laws, please contact our office for a free consultation with our Ocala, Florida sexual harassment lawyers. Our employee rights law firm takes sexual harassment cases on a contingency fee basis. This means that there are no attorney's fees incurred unless there is a recovery and our attorney's fees come solely from the monetary award that you recover.