Court Finds Age Discrimination Where Supervisor Said Employee Had "Dinosaur Age Related Theories"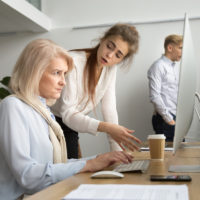 Having fought for the rights of age discrimination victims for nearly twenty years, our Marion County, Florida age discrimination lawyers have learned that employers continue to subject older workers to adverse employment decisions based on age stereotypes. Under the Age Discrimination in Employment Act (ADEA), it is unlawful for employers to make employment decisions based on age stereotypes. For example, employers are prohibited from terminating older workers based on stereotypes about the competence, motivation, or productivity of older workers. As the U.S. Supreme Court observed in Hazen Paper Co. v. Biggins, 507 U.S. 613 (1993), "it is the very essence of age discrimination for an older employee to be fired because the employer believes that productivity and competence decline with age."
Older Workers Protected From Age Stereotypes
The recent decision by the U.S. District Court for Maine in Cyr v. Hannaford Bros., Co. and Delhaize America Transportation, LLC, Case No. 2:17-cv-321 (D. Me. Mar. 12, 2019) demonstrates that the ADEA protects older employees from adverse employment decisions based on age stereotypes. In that case, Robert Cyr (Cyr) brought an age discrimination lawsuit against his former employer, Delhaize America Transportation, LLC (DAT). Cyr claimed that DAT unlawfully fired him because of his age.
In 1983, Cyr began working for Hannaford Trucking Company (Hannaford). Cyr worked for Hannaford in various positions until 2014. That year, Hannaford's ownership converted the company into a new limited liability company, DAT. DAT retained Cyr as a dispatch supervisor. In this position, Cyr's duties included overseeing truck fleet maintenance, working with the trucks' onboard computers, and monitoring drivers' activities for violations of company policy. Cyr worked in this role until his employment was terminated.
At some point in 2015, Cyr informed a transportation manager that he did not agree with the direction of the company and was considering retiring in 2016. In February 2016, the general manager of operations, Southwick, initiated a conversation with Cyr about his retirement plans. Southwick told Cyr that he had heard Cyr was planning to retire. Cyr, then 59, responded by telling Southwick that he would not be retiring until he turned 67.
Employee Claims He Was Targeted Because Of Age
Following that conversation, according to Cyr, Southwick began to give him the "cold shoulder" and ended one of his long-term projects without consulting him. Then, in March 2016, Southwick convened a staff meeting regarding the need to eliminate truck drivers' speeding violations. DAT policy prohibited drivers from exceeding seventy miles per hour even where the speed limit allowed a greater speed. At the meeting, Cyr expressed his opposition to this policy by stating that he did not want to reprimand drivers for doing something that was not illegal. Southwick responded by saying that they needed to move away from Cyr's "dinosaur age related theories."
In June 2016, DAT conducted an audit of drivers' logs and found that Cyr had made numerous edits to the logs. DAT alleged that Cyr had falsified the drivers' logs to avoid a U.S. Department of Transportation hours of service violation. Cyr claimed that he was specifically targeted for termination and audited because of his age. When Southwick asked him about the edits, Cyr explained that he could not recall exactly why he made the edits in question because he made hundreds of edits each month. Cyr then asked Southwick for an opportunity to research the edits so that he could explain them. Southwick refused his request. Southwick then placed Cyr on "administration suspension" pending further investigation. On July 8, 2016, DAT terminated Cyr for "falsifying" driver logs in violation of DAT policy.
Remark Was Disdainful Of Employee's Age
DAT filed a motion with the trial court seeking dismissal of Cyr's age discrimination claim. The trial court denied DAT's motion for dismissal and ruled that Cyr was entitled to bring his age discrimination claim before the jury. In doing so, the trial court focused on Southwick's discriminatory age stereotyped remark. The trial court found that it was "difficult to interpret Southwick's 'dinosaur age related theories' comment as anything other than disdainful of [Cyr's] advanced age." The trial court explained that "Southwick's comment evidenced a belief that [Cyr's] age had diminished his value to the company." Based on Southwick's discriminatory age-related remark, the trial court concluded, a reasonable jury could find that DAT fired Cyr because of his age and not because of his purported "falsification" of driver logs.
Free Consultation With Ocala Age Discrimination Lawyers
Based in Ocala, Florida and representing employees throughout Central Florida, our Marion County, Florida age discrimination attorneys have been litigating age discrimination lawsuits in Florida state and federal courts for almost twenty years. If you have experienced age discrimination in the workplace or have questions about your protection against age discrimination, please contact our office for a free consultation with our Marion County, Florida age discrimination lawyers. Our employment and labor law attorneys take employment discrimination cases on a contingency fee basis. This means that there are no attorney's fees incurred unless there is a recovery and our attorney's fees come solely from the monetary award that you recover.