Age Discrimination Lawsuit Claims Company Planned To Demote Employees Age 65 Or Older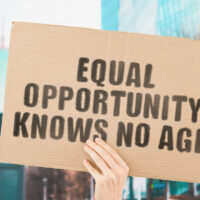 Having litigated age discrimination cases in Florida courts for more than twenty years, our Marion County, Florida age discrimination lawyers know that employers continue to look for ways to get rid of older workers. In many cases, older employees are targeted for demotion or termination through performance improvement plans, disciplinary action, probationary status, and unattainable performance requirements. In some cases, employers even adopt policies intended to extinguish the rights of older workers and let older workers know that they have no future with the company. The alleged facts in Eisenberg v. J. Paul Wiesner & Associates, Chartered, Case No. 2:19-cv-439 (D. Nev. July 20, 2020) are illustrative of the type of unlawful employment practices older workers may face in their attempts to retain employment.
Employee Claims Fired Because Of Age
In that case, Danny Eisenberg (Dr. Eisenberg) brought an age discrimination lawsuit against his former employer, J. Paul Wiesner & Associates, Chartered, d/b/a Radiology Associates of Nevada (RAN), pursuant to the Age Discrimination in Employment Act (ADEA). Under the ADEA, employees are protected against discrimination on the basis of age. Dr. Eisenberg claims that RAN violated the ADEA by terminating his employment because of his age.
Dr. Eisenberg, who is a radiologist, was employed at RAN's medical practice from 1993 until 2017. In 2014, according to Dr. Eisenberg, the president of RAN commenced a campaign to demote Dr. Eisenberg from his shareholder status. In that year, RAN adopted a plan to change the status of radiologists from shareholder to associate at the age of 65. Dr. Eisenberg was the next radiologist to reach age 65 upon adoption of the plan. However, the plan ultimately was not implemented due to concerns expressed by the radiologist.
Allegedly Targeted For Discharge Because Of Age
In May 2017, RAN placed Dr. Eisenberg on a six-month probation for an alleged multitude of performance-related problems. RAN also issued a performance improvement plant (PIP) with a number of terms to which Dr. Eisenberg agreed he would adhere. One of the terms required that a supervisor physician be present the next time Dr. Eisenberg performed a specific type of procedure. Dr. Eisenberg claimed that he was put on probation and a PIP because RAN subjected him to a heightened standard of scrutiny because of his age, and RAN's allegations of performance-related issues were the result of discriminatory age-based animus.
In September 2017, Dr. Eisenberg met with the president and the human resources director to discuss medical procedure issues that had come to light after implementation of the PIP. When asked whether he had complied with the requirement to have supervision to perform a specified procedure, Dr. Eisenberg replied that he "did not try" to obtain supervision. The next day, Dr. Eisenberg sent an email to the president in which he called the PIP "a farce" and stated that the procedure at issue had been performed correctly. Later that month, RAN fired Dr. Eisenberg.
Plan Reflects Age Discrimination
RAN filed a motion with the trial court seeking dismissal of Dr. Eisenberg's age discrimination claim. In doing so, RAN argued that the evidence established that Dr. Eisenberg was fired because of his deficient work performance and violation of a term of the PIP by not obtaining supervision for a specified procedure, and not because of his age. The trial court denied RAN's motion for dismissal and ruled that Dr. Eisenberg had presented sufficient evidence to show that he was fired because of his age to proceed to a jury trial.
In finding that Dr. Eisenberg was entitled to bring his age discrimination claim before a jury, the trial court focused on RAN's plan to change the status of radiologists age 65 or older from shareholder to associate. The trial court found that RAN's plan, although never applied against Dr. Eisenberg, gave rise to an inference of age discrimination and could be used to prove that Dr. Eisenberg's age was the real reason for his termination. Thus, the trial court concluded that it was for a jury to determine at trial whether Dr. Eisenberg was fired because of his age in violation of the ADEA.
Consult With Ocala, FL Age Discrimination Lawyers
Based in Ocala, Florida and representing employees throughout Central Florida, our Marion County, Florida age discrimination attorneys have dedicated their practice to representing employment discrimination victims. If an employer has discriminated against you on the basis of age or you have questions about your protection from age discrimination under the federal employment laws, please contact our office for a free consultation with our Ocala, Florida age discrimination lawyers. Our employment and labor law attorneys take age discrimination cases cases on a contingency fee basis. This means that there are no attorney's fees incurred unless there is a recovery and our attorney's fees come solely from the monetary award that you recover.