Age Discrimination Lawsuit Claims Derogatory Age Remarks Show Employee Was Fired Because Of Age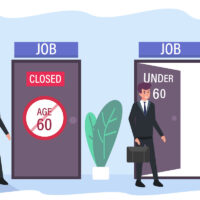 For more than twenty years, our Ocala, Florida attorneys for age discrimination victims have represented Florida employees who have been discriminated against because of age. Having decades of experience representing age discrimination victims, our Marion County, Florida lawyers for age discrimination victims know that employers continue to discriminate against older workers based on age stereotypes. Examples of remarks reflecting age stereotypes include telling an older employee that he or she: "looks good for your age"; has a "low motivation to change"; "cannot produce at your age like you did in the past"; is not a "forward enough thinker"; "cannot pass a physical examination at your age"; and "cannot adjust to the changing times."
Legal Rights Of Older Workers
The Age Discrimination in Employment Act (ADEA) forbids employers from making employment decisions based on age stereotypes. For example, the ADEA prohibits employers from demoting or discharging an older worker based on stereotypes about the productivity, health, or competence of older workers. As observed by the U.S. Supreme Court in Hazen Paper Co. v. Biggins, 507 U.S. 604 (1993), "it is the very essence of age discrimination for an older employee to be fired because the employer believes that productivity and competence decline with age."
In this article, our Ocala, Florida attorneys for age discrimination victims explain how the recent decision by the U.S. District Court for the Middle District of Pennsylvania in Mutchko v. Kost Tire Distributors, Inc., Case No. 3:17-cv-01329 (M.D. Pa. March 29, 2021) illustrates that remarks reflecting stereotypes about the productivity, health, or competence of older employees can be used to prove that an older employee was fired because of age.
Worker Alleges Discrimination Because Of Age
In that case, Joseph Matchko (Matchko) brought an age discrimination claim against his former employer, Kost Tire Distributors, Inc. (Kost Tire), pursuant to the ADEA. Matchko claims that Kost Tire violated the ADEA by terminating his employment because of his age. Matchko was seventy-three years old when his employment with Kost Tire ended.
In September 2009, Kost Tire hired Matchko as a driver. In May 2013, Matchko was promoted to District Manager. Matchko held that position until December 2015, at which time he was laid-off. The parties dispute the reasons for the layoff. Matchko contends that he was told that he was being laid off because of lack of work, while Kost Tire contends that Matchko was laid-off because he was not satisfactorily performing his job and because business was slow. Despite Matchko's layoff and explanation for his layoff that business was slow, Kost Tire advertised for applicants to fill the District Manager position when Matchko was laid-off.
Matchko alleges that, in a telephone conference in July 2016, with an employee named Kost, he was informed that his employment had been terminated. Although Kost Tire denies that it permanently terminated Matchko's employment, the company did not bring Matchko back after the layoff. In fact, Kost Tire ultimately replaced Matchko with another individual who was older than forty, but younger than Matchko.
Age Remarks Warrant Jury Trial
Kost Tire filed a motion with the trial court seeking dismissal of Matchko's age discrimination claim. In denying Kost Tire's motion for dismissal and ruling that Matchko had presented sufficient evidence of age discrimination to proceed to a jury trial on his age discrimination claim, the trial court focused on remarks made by Kost employees about Matchko reflecting age stereotypes regarding his productivity and health. For example, one Kost Tire employee asked why Matchko walked "bent over" all the time. While another Kost Tire employee made comments that Matchko was getting "slower and slower" and was "not an asset anymore." The remarks about Matchko reflecting age stereotypes, the trial court concluded, would enable a reasonable jury to find that the reasons given for Matchko's layoff/termination are not worthy of belief and a pretext for age discrimination in violation of the ADEA.
Age Discrimination Attorneys In Ocala, FL
Based in Ocala, Florida and representing employees throughout Central Florida, our Marion County, Florida lawyers for age discrimination victims have litigated age discrimination cases in Florida courts for more than twenty years. If you have been discriminated against because of age or have questions about your protection against age discrimination under the federal employment laws, please contact our office for a free consultation with our Ocala, Florida attorneys for age discrimination victims. Our employment and labor law attorneys take age discrimination cases cases on a contingency fee basis. This means that there are no attorney's fees incurred unless there is a recovery and our attorney's fees come solely from the monetary award that you recover.