Are Disabled Workers Protected From Bullying Under Employment Discrimination Law?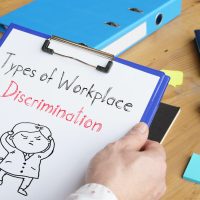 For more than two decades, our labor lawyers in Citrus County, Florida have litigated hostile work environment harassment cases in Florida courts. Having extensive experience representing hostile work environment harassment victims, our labor attorneys in Inverness, Florida know that disabled employees are often subjected to bullying because of their disability. In this article, our labor lawyers in Citrus County, Florida explain how the decision in Moss v. Saja Restaurant Group, LLC, Case No. 22-00014 (W.D. Vir. April 21, 2023) demonstrates that federal employment discrimination law protects disabled employees from being bullied because of their disability.
Disabled Employees' Rights
The Americans with Disabilities Act (ADA) prohibits employers from discriminating against disabled employees on the basis of disability. Under well-established law, disability-based harassment is a form of disability discrimination prohibited by the ADA. To violate the ADA, disability-based harassment must be sufficiently severe or pervasive to alter the conditions of the victim's employment and create a hostile working environment. When an employer requires a disabled employee to work in a disability-based hostile environment, the employer has violated the ADA's prohibition against disability discrimination.
Employment Discrimination Lawsuit
In Moss, a man named Moss brought a disability discrimination claim against his former employer, Saja Restaurant Group, d/b/a Sonic (Saja), pursuant to the ADA. Moss alleges that he was harassed because of his disability in violation of the ADA.
Moss has significant intellectual and physical challenges. Moss has a learning disability and borderline autism. He also suffers from a severe lung disease called pulmonary arterial hypertension, which required him to undergo a double lung transplant when he was sixteen years old. As a result of his lung transplant, Moss was placed on a variety of antirejection medications including Prednisone, which deteriorates his bones and lower lumbar, which, in turn, resulted in osteoporosis. Given his physical challenges, Moss must take breaks throughout the day and sometimes cannot perform daily tasks due to his pain.
Despite these physical limitations, in October 2019, Moss began working as a carhop at a Sonic restaurant owned by Saja. At the beginning of his employment, Moss told the restaurant manager, Davis, that he would need to take breaks when he was in pain, an accommodation that Davis approved. In August 2020, Moss began working as a cook because his doctors wanted to limit his contact with the public. Up until that point, Moss acknowledges that he had not experienced any workplace discrimination based on his disability.
Disabled Employee Bullied
This status quo continued until June 2021, when Saja hired a man named Maturo, who Moss contends began bullying him because of his disability. Moss claims that Maturo's bullying began during one of their shifts in mid-June 2021 while Moss was working at the hot dog station. Maturo apparently took issue with the way Moss prepared hot dogs and told him, "Are you just going to sit there? Or are you going to do your job." Thereafter, during the remainder of June 2021, Moss contends that Maturo made derogatory comments about his disability and told him to "get [his] lazy" behind up, to stop "using [his] disability as an excuse and [his] pain as an excuse," and that he was "a weak little [girl]."
Maturo's bullying prompted Moss to complain to his manager about four or five times. Despite ensuring Moss that "she was going to deal with it," Davis allegedly did nothing, and Maturo's bullying continued through July 4, 2021—the last day Moss worked for Saja.
On July 4, 2021, Moss and Maturo's tumultuous relationship came to a head. That evening, Maturo allegedly threatened Moss with sexual violence and threatened to fight Moss in the parking lot. Davis then allegedly said that Moss and Maturo were not permitted to fight in the Sonic parking lot, but that they could "take it to the Walmart parking lot," which is located behind the Sonic. Moss then called his mother, Holloway, and told her that "he didn't know if he was going to get jumped," and that she needed to pick him up. Holloway arrived in the Sonic parking lot about twenty minutes later.
When Holloway arrived, Moss' brother, Christian, was already in the parking lot speaking with Maturo. During their conversation, Christian told Maturo to "stop picking on my little brother. He can't help—medical things he can't do." Holloway then told Christian to leave, which he did within a couple of minutes. Once Christian left, Holloway asked Maturo, "What is your problem with [Moss] and why do you keep harassing him?" Maturo responded that Moss "takes too many breaks and sits down all the time . . . , and I'm sick of him faking like he's sick." Holloway explained that Moss is "not faking. He had a double lung transplant, and his bones are deteriorating." Following this exchange, Maturo told Moss, "I'm going to get you, you snitch." Davis saw this whole confrontation from inside of the Sonic, but allegedly rolled her eyes and walked away.
Later that night, Saja's Director of Operations, Lloyd, received Holloway's complaint regarding the incident in the Sonic parking lot. After speaking with Holloway, Lloyd began an investigation. As a result of his investigation, Lloyd terminated Davis, and would have fired Maturo, but he had already quit. Nobody from Saja spoke with Moss, and he was thereafter removed from the schedule.
Bullying Creates Hostile Work Environment
Saja filed a motion with the trial court seeking the dismissal of Moss' claim that he was unlawfully harassed because of his disability in violation of the ADA. In moving for dismissal, Saja argued that the "handful of incidents with Maturo" were not sufficiently severe or pervasive to alter the conditions of Moss' employment and create a hostile work environment. The trial court denied Saja's motion for dismissal and ruled that Moss was entitled to proceed to a jury trial on his disability harassment claim.
In denying Saja's motion for dismissal, the trial court determined that a reasonable jury could find Maturo's alleged disability-based harassment was sufficiently severe to create a hostile working environment in violation of the ADA. The trial court explained that Maturo "frequently swore at Moss, disparaged his disability, and even threatened him with sexual and physical violence." The trial court also pointed out that Maturo's alleged bullying "was severe enough for Moss to complain to Davis and call Holloway and request to be picked up from work."
Citrus County, FL Labor Lawyers
Based in Ocala, Florida, and representing workers throughout Florida, our labor attorneys in Citrus County, Florida have dedicated their practice to fighting for the rights of hostile work environment harassment victims. If you have been required to work in a hostile environment or have questions about your protection from hostile work environment harassment, please contact our office for a free consultation with our labor lawyers in Citrus County, Florida. Our employee rights law firm takes hostile work environment harassment cases on a contingency fee basis. This means that there are no attorney's fees incurred unless there is a recovery and our attorney's fees come solely from the monetary award that you recover.