Are Employees Protected From Sexual Harassment Following A Failed Relationship?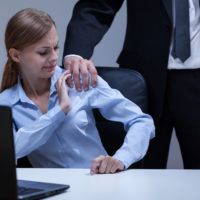 Sexual harassment is a form of sex discrimination prohibited by Title VII of the Civil Rights Act of 1964 (Title VII). As observed by the U.S. Tenth Circuit Court of Appeals in Gross v. Burggraf Construction Co., 53 F.3d 1531 (10th Cir. 1995), sexual harassment is behavior "that would not occur but for the sex of the employee," and "if the nature of an employee's environment, however unpleasant, is not due to her [sex], she has not been the victim of sex discrimination." Thus, as explained by the U.S. Ninth Circuit Court of Appeals in Nichols v. Azteca Restaurant Enterprises, Inc., 256 F.3d 864 (9th Cir. 2001), "sexual harassment is actionable under Title VII to the extent that it occurs because of' the [victim's] sex." In order to establish a sexual harassment claim therefore, a victim must establish that the harassment occurred "because of" his or her sex. 
Having fought for employees subjected to sexual harassment for almost twenty years, our Marion County, Florida sexual harassment attorneys have learned that employers frequently defend sexual harassment claims by claiming that the harassment did not occur because of the victim's sex. When a victim had a past sexual relationship with the harasser, employers customarily maintain that the victim was not targeted for harassment because of his or her sex, but rather because of personal animosity following a failed sexual relationship. Unfortunately, some courts rubberstamp such employer arguments and disregard fundamental principles of sexual harassment law in ruling that employees cannot turn an alleged personal feud into a sexual harassment case. 
However, the majority of courts recognize, as explained by the U.S. Fifth Circuit Court of Appeals in Green v. Admin. of Tulane Educ. Fund, 284 F.3d 642 (5th Cir. 2002), that the critical issue in the Title VII sexual harassment context is whether an employee "was exposed to disadvantageous terms or conditions of employment to which members of the opposite sex were not." In other words, the critical issue in evaluating Title VII's "because of sex" requirement is, as the U.S. Fourth Circuit Court of Appeals observed in Hopkins v. Baltimore Gas & Elec. Co., 77 F.3d 745 (4th Cir. 1996), "would the complaining employee have suffered the harassment had he or she been a different gender?" When the "because of sex" requirement is evaluated within the proper analytical framework, as the recent decision by the U.S. District Court for Minnesota in Pung v. Regus Management Group, LLC, No. 16-6 (D. Minn. Dec. 21, 2017) illustrates, protection against sexual harassment extends to sexual harassment of any kind that meets Title VII's requirements, including circumstances involving a failed sexual relationship or refusal to continue a sexual relationship.
Employee Refuses To Continue Sexual Relationship
In Pung, Ginger Pung (Pung) brought claims for sexual harassment and retaliation against her former employer, Regus Management Group, LLC (Regus), pursuant to Title VII. Pung began working for Regus in 1991 and was promoted to General Manager in 2004. In 2012, Pung and a Regus Area Director named Ravenscroft began a consensual, sexual relationship that continued until early 2014. In March or April 2014, Pung told Ravenscroft that she wanted to end the relationship. After she ended the relationship, according to Pung, Ravenscroft showed up at her house on a few occasions in an effort to re-start the relationship, but she refused. Pung further maintained that after she ended the relationship, Ravenscroft's behavior towards her at work became "very controlling" and that he treated her worse than her co-workers.
On June 4, 2014, Ravenscroft threatened to put Pung on a "coaching plan" because her "numbers were lacking." On June 9, 2014, Pung reported her prior relationship with Ravenscroft to the Director of Human Resources, complained that Ravenscroft wanted to put her on a coaching plan, and explained that she thought Ravenscroft was targeting her because she ended their relationship. After investigating Pung's complaint, the Director of Human Resources "was unable to substantiate whether there had been a sexual relationship between [Pung] and Ravenscroft," but did find that "Ravenscroft's behavior had created an appearance of improper conduct." The purported "inability to substantiate the sexual relationship was due to the lack of corroborating witnesses and the fact that Ravenscroft vehemently denied the sexual relationship." However, Ravenscroft later admitted to the sexual relationship during his deposition.
On August 25, 2014, Ravenscroft prepared and attempted to deliver a corrective action record to Pung. The corrective action record was based on an alleged drop in sales for Pung in June and July. The corrective action plan identified Ravenscroft has Pung's supervisor. In December 2014, Pung was planning a client holiday party and asked Ravenscroft whether there was a formula regarding the amount of money she could spend on such a party. Ravenscroft told Pung there was no specific budget, but to keep it under $250. Pung spent approximately $560 on the party. Ravenscroft then reported Pung's going over the holiday party budget to a Regional Vice President.
In January 2015, the Regional Vice President placed Pung on a performance action plan for overspending on the holiday party. The Regional Vice President testified that he was not aware of anyone else being placed on a performance improvement plan for overspending on a holiday party. In February 2015, Pung was terminated as a part of a reduction in force. Pung claimed that the performance improvement plan factored into her termination and the only reason she was on the performance improvement plan was for going over the holiday party budget. Pung further contended that Ravenscroft was motivated to complain abut the holiday party expenditure because he was upset that Pung refused to continue their sexual relationship. In support of her position, Pung pointed to evidence showing that when asked why he criticized Pung in 2014, Ravenscroft stated, "Why shouldn't I after the hell she put me through this summer?" 
Employee Claims Quid Pro Quo Sexual Harassment
In her lawsuit, Pung claimed that Ravenscroft subjected her to quid pro quo sexual harassment Quid pro quo sexual harassment occurs when submission to or rejection of a supervisor's sexual behavior, such as sexual advances, requests for sexual favors, or sexual demands, is used as the basis for an employment decision with respect to the victim. Pung maintained that Ravenscroft induced her termination because of her refusal to continue a sexual relationship with him. In other words, according to Pung, Ravenscroft would not have caused her termination if she had agreed to resume their sexual relationship. 
Regus filed a motion with the trial court seeking dismissal of Pung's quid pro quo sexual harassment claim. In moving for dismissal, Regus claimed that the consensual nature of the sexual relationship between Pung and Ravenscroft precluded a claim for quid pro quo harassment. In advancing this argument, Regus implicitly contended that a failed sexual relationship did not constitute sexual harassment. The trial court denied Regus motion for dismissal. 
The trial court found that Pung had produced evidence that "could lead a reasonable juror to conclude that [her] refusal to continue a sexual relationship with Ravenscroft or her decision to complain to HR about Ravenscroft's alleged harassment factored into Ravenscroft's treatment of [Pung]." In other words, the court reasoned, there was "sufficient evidence that Ravenscroft was motivated by retaliatory animus toward [Pung] and that he took actions intended to cause [Pung] to suffer an adverse employment action" because of her refusal to resume a sexual relationship. Thus, the trial court concluded, Pung's claim for quid pro quo sexual harassment must be resolved by a jury.
Free Consultation With Ocala Hostile Work Environment Lawyers
Based in Ocala, Florida and representing employees throughout Central Florida, we have almost twenty years of experience fighting for employees who have been the victims of hostile work environment harassment in the workplace. If you have questions about your protection against sexual harassment after a failed sexual relationship or for refusing to continue a sexual relationship, please contact our office for a free consultation with our Marion County, Florida hostile work environment harassment attorneys. Our employee rights law firm takes sexual harassment cases on a contingency fee basis. This means that there are no attorney's fees incurred unless there is a recovery and our attorney's fees come solely from the monetary award that you recover.