Are Male Employees Protected From Sexual Harassment From Female Co-Workers?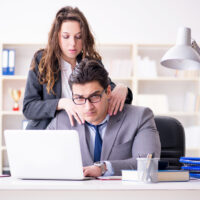 For more than two decades, our Alachua County, Florida sexual harassment lawyers have fought for the rights of Florida employees who have been required to work in a sexually hostile work environment.  Through their extensive experience representing sexual harassment victims, our Gainesville, Florida sexual harassment attorneys know that a common employment law myth is that male workers are not protected from sexual harassment by female co-workers.  Under the federal employment laws, however, both men and women are protected against sexual harassment in the workplace.  Moreover, prohibited sexual harassment under the federal employment laws is not limited to harassment by members of the opposite sex.  Rather, the federal employment laws also forbid same-sex sexual harassment.  In this article, our Alachua County, Florida sexual harassment lawyers explain how the recent decision by the U.S. District Court for the Southern District of Texas in Gregg v. City of Houston, Texas, Case No. 18-4822 (S.D. Tex. Feb. 5, 2021) illustrates that sexually charged behavior by a female employee towards a male employee can create an unlawful sexual hostile work environment.
Man Claims Sexually Harassed By Woman
In that case, Michael Gregg (Gregg) brought a sexual harassment claim against his employer, the City of Houston, Texas (the City), pursuant to Title VII of the Civil Rights Act of 1964 (Title VII). Title VII makes sex discrimination an unlawful discriminatory employment practice. Sexual harassment is a form of sex discrimination made forbidden by Title VII. Gregg alleges that the City violated Title VII by creating and maintaining a sexually hostile work environment.
Since 2008, Gregg has been employed by the Houston Police Department (HDP). In 2012, Gregg transferred to the Child Sexual Assault Unit (CSAU) to work as an investigator. In August 2014, a woman named McCormick joined the CSAU as an investigator. Gregg's hostile work environment harassment claim is based on allegations that beginning in August 2014, his female co-worker, McCormick, subjected him to unwanted sexually harassing behavior. Gregg alleges that McCormick's sexually harassing behavior towards him, which purportedly occurred almost every day, included leering at his crotch, making sexual remarks and sexual innuendos, rubbing his shoulders and neck area while he sat at his desk, simulating the performance of oral sex, and taking a picture zoomed in on his crotch with her cell phone.
Gregg contends that McCormick's sexual behavior in the workplace was well-known by co-workers and his immediate supervisor, Perales, who was also McCormick's supervisor. Gregg claims that Perales "openly acknowledged" to Gregg that she knew about McCormick's misconduct. Despite her alleged knowledge of McCormick's sexual behavior in the workplace, according to Gregg, Perales "did not take any steps that stopped the harassment." After Perales was transferred to another HPD division in September 2015, Gregg contends that his subsequent supervisors were also "well aware of McCormick's behavior."
Court Finds Evidence Of Hostile Work Environment
The City filed a motion with the trial court seeking dismissal of Gregg's sexual harassment claim. In doing so, the City argued that McCormick's alleged conduct was not sufficiently severe or pervasive to alter the conditions of Gregg's employment and create an abusive working environment. The trial court denied the City's motion for dismissal and ruled that Gregg had presented sufficient evidence to establish that he worked in a sexually hostile work environment to proceed to a jury trial.
In denying the City's motion for dismissal, the trial court found that McCormick's alleged sexual behavior towards Gregg was sufficiently pervasive to create a hostile work environment. In support of its conclusion, the trial court pointed out that Gregg testified that McCormick's sexually charged conduct occurred on "almost a daily basis." The trial court also observed that McCormick's "unwelcome harassment was not confined to inappropriate comments, it also included inappropriate touching and embarrassing [Gregg] in front his peers such as when she held up a photo of [Gregg's] crotch[.]" Based on this evidence, the trial court determined, a reasonable jury could find that "the two years of sexually explicit comments and unwanted touching [Gregg] endured constitutes harassment" that was sufficiently pervasive to alter the conditions of Gregg's employment and create a hostile working environment.
Gainesville, FL Sexual Harassment Lawyers
Based in Ocala, Florida and representing employees throughout Central Florida, our Alachua County, Florida sexual harassment attorneys have more than twenty years of experience litigating sexual harassment cases against Florida employers who have required their employees to work in a sexually hostile work environment. If you have endured sexually harassing behavior in the workplace or have questions about your rights as a sexual harassment victim under the federal anti-discrimination laws, please contact our office for a free consultation with our Gainesville, Florida sexual harassment lawyers. Our employee rights law firm takes sexual harassment cases cases on a contingency fee basis. This means that there are no attorney's fees incurred unless there is a recovery and our attorney's fees come solely from the monetary award that you recover.