Are Pregnant Employees Protected From Pregnancy Harassment?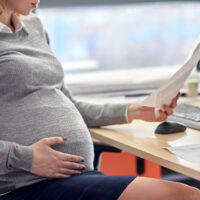 Having represented victims of pregnancy discrimination for almost two decades, our Marion County, Florida pregnancy discrimination lawyers know that pregnant employees often endure harassment because of their pregnancy. Under the Pregnancy Discrimination Act (PDA), employers are forbidden from discriminating against women on the basis of pregnancy, childbirth, or related medical conditions. Pregnancy harassment is a form of unlawful pregnancy discrimination. Harassment on the basis of pregnancy, childbirth, or related medical conditions which is sufficiently severe or pervasive as to alter the conditions of the victim's employment and create a hostile working environment violates the PDA.
In many cases, pregnancy harassment takes the form of derogatory pregnancy-related remarks, insults, or jokes against the victim. However, pregnancy harassment is not limited to verbal abuse, but, instead, includes any conduct by the employer that targets a pregnant employee for abuse because of her pregnancy. For example, pregnancy harassment includes disadvantageous work schedules, unfavorable work assignments, unequal enforcement of work rules, and disciplinary action. A pregnancy harassment lawsuit recently filed by the U.S. Equal Employment Opportunity Commission (EEOC) illustrates the PDA's broad scope of protection against pregnancy-based harassment.
Employee Claims Pregnancy Harassment
The EEOC filed the pregnancy harassment lawsuit, U.S. Equal Employment Opportunity Commission v. Dollar Tree Stores, Inc., Case No. 1:18-cv-00049, in the U.S. District Court for the Southern District of Georgia after initially attempting to reach a pre-litigation settlement through its statutorily mandated conciliation process. The EEOC brought the pregnancy harassment lawsuit pursuant to the PDA on behalf of a former employee of Dollar Tree Stores, Inc. (Dollar Tree), Katesha Tiller (Tiller). The EEOC alleged Tiller was harassed because of her pregnancy in violation of the PDA.
In May 2011, Tiller began working for Dollar Tree as a cashier. In January 2015,Tiller learned that she was pregnant. That same month, Tiller informed the Store Manager of her pregnancy. The Store Manager responded by asking whether she was going to have an abortion. Because of her pregnancy, Tiller's doctor imposed work-related restrictions on her ability to lift heavy items. Tiller notified the Store Manager of her lifting restrictions. Tiller also had doctor's appointments related to her pregnancy for which she sometimes needed time off from work.
Employee Told To Decide Between Job & Pregnancy
After Tiller informed the Store Manager of her lifting restrictions and need to miss work for doctor's appointments, the Store Manager then began sending Tiller threatening text messages and telling her that she needed to decide what was more important her job or her pregnancy. Even though Tiller gave the Store Manager advance notice of her doctor's appointments, the Store Manager intentionally scheduled Tiller to work during the time of her appointments and then would tell her that there would be repercussions if she missed work.
On numerous occasions, the Store Manager also denied Tiller her scheduled break times or would not let her take breaks right until right before her shift ended. On many occasions, when Tiller was supposed to take her break, the Store Manager assigned her other duties instead, such as going to other Dollar Tree stores to run errands for him. On more than one occasion, Tiller suffered heavy bleeding and fainting spells during work due to her pregnancy. The Store Manager, however, still would not allow her to take breaks to deal with her conditions, even when she was scheduled to take a break.
Pregnant Employee Denied Break & Blacks Out
Although Tiller had doctor imposed lifting restrictions the Store Manager still required Tiller to lift items that exceeded her lifting restrictions. When Tiller would remind him of the restrictions, the Store Manager would routinely comment that she had to decide what was more important, implying that she had to choose between her job and following doctor's orders related to her pregnancy. On at least two occasions, Tiller complained to the District Manager that the Store Manager was harassing her based on her pregnancy and told him that she was being threatened with repercussions if she went to her doctor's appointments. However, according to the EEOC, the District Manager ignored Tiller's complaints.
In May 2015, when Tiller was approximately five months pregnant, the Store Manager began to cut Tiller's hours from 32-40 hours per week to 8-16 hours per week. During her work shift in early June 2015, Tiller asked the Store Manager if she could take break because she was feeling ill. The Store Manger denied Tiller permission. Because she was unable to take a break, Tiller's condition deteriorated, and she blacked out. When she recovered, the Store Manager still refused to allow Tiller to stop working and go home to recover. Instead, the Store Manager required Tiller to stay until her replacement came in at the end of Tiller's shift. Just before Tiller left for the day, the Store Manager fired her and told her that her priorities were not in order.
Federal Law Protects Rights Of Pregnant Workers
The EEOC is the administrative agency of the United States responsible for interpreting and enforcing federal laws prohibiting employment discrimination. In enforcing the federal anti-discrimination laws, the EEOC is also authorized by federal law to bring lawsuits on behalf of victims of employment discrimination. In a press release issued by the EEOC regarding the case, the Director for the EEOC's Atlanta District Office, Bernice Williams-Kimbrough, stated that the "EEOC takes pregnancy discrimination seriously and the agency will continue to protect the rights of pregnant employees."
Free Consultation With Ocala Discrimination Lawyers
Based in Ocala, Florida and representing employees throughout Central Florida, our Marion County, Florida pregnancy discrimination attorneys have almost twenty years of experience representing employees who have been discriminated against on the basis of pregnancy, childbirth, or related medical conditions. If you have been the victim of pregnancy discrimination or have questions about your protection against pregnancy harassment, please contact our office for a free consultation with our Marion County, Florida pregnancy discrimination lawyers. Our employee rights law firm takes employment discrimination cases on a contingency fee basis. This means that there are no attorney's fees incurred unless there is a recovery and our attorney's fees come solely from the monetary award that you recover.