Are Women Protected From Discrimination Because Of Postpartum Depression?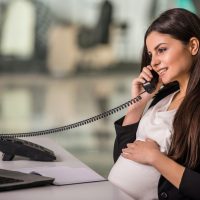 For more than two decades, our Citrus County, Florida employment lawyers have fought for the rights of employment discrimination victims. Through their extensive experience handling employment discrimination cases, our Inverness, Florida employment attorneys know that a common employment law myth is that protection from pregnancy discrimination ends when a woman gives birth. Because of this employment law myth, many employees fired shortly after giving birth mistakenly believe they do not have a pregnancy discrimination case because they were not pregnant at the time of the termination. In this article, our Citrus County, Florida employment attorneys explain how the decision in Navarro v. Robert J. Young Company, LLC, Case No. 3:19-cv-01103 (M.D. Tenn. April 18, 2022) demonstrates that federal employment discrimination law protects women from pregnancy discrimination even after they give birth.
Pregnant Employees' Rights
The Pregnancy Discrimination Act (PDA) prohibits employers from discriminating against women on the basis of pregnancy, childbirth, or related medical conditions. Because the PDA covers not only pregnancy, but also childbirth and related medical conditions, an employee need not be pregnant at the time of the adverse employment action to be protected from discrimination by the PDA. Instead, courts have determined that the PDA protects women from discrimination while they are pregnant, while they are on maternity leave, and shortly after they give birth or return from maternity leave. Because the PDA covers pregnancy-related medical conditions and not just pregnancy, women affected by pregnancy-related medical conditions, such as postpartum depression, are still protected from discrimination by the PDA after giving birth or returning from maternity leave.
Pregnancy Discrimination Lawsuit
In Navarro a woman named Navarro brought a pregnancy discrimination claim against her former employer, Robert J. Young Company, LLC (RJ Young), pursuant to the PDA. Navarro claims that she was demoted and fired because of a pregnancy-related medical condition in violation of the PDA.
At the time of her termination, Navarro was employed as a sales manager. From September 26, 2018 to December 26, 2018, Navarro took twelve weeks of leave under the Family Medical Leave Act (FMLA) for the birth of her child. Navarro returned to her position as sales manager at the end of her FMLA leave. Upon her return to work, Navarro scheduled a meeting with her supervisor, Lagrone. At the meeting, which was held on December 27, 2018, Navarro told Lagrone that she had postpartum depression. Navarro told Lagrone that she wanted to remain sales manager but wanted to make him aware of her condition. Lagrone stated that they would "see where things go down the road." Soon thereafter, however, Lagrone contacted his supervisors and related his conversation with Navarro to them. Lagrone and his supervisors then decided to demote Navarro to a sales representative position.
Fired After Disclosing Postpartum Depression
On January 15, 2019, Lagrone informed Navarro that she was being demoted to a sales representative position. Navarro protested and told Lagrone that she wanted to remain in the sales manager role. Lagrone responded that the decision had been made. Though Lagrone acknowledged that Navarro had not had any performance issues that would lead him to believe she could not do her job, he stated that he and his supervisors had concerns about Navarro being able to do her job after the December 27, 2018 meeting. At Navarro's insistence, Lagrone spoke with his supervisors again.
The following day, January 16, 2019, Lagrone again met with Navarro and informed her that the decision to demote her would stand. Navarro told Lagrone that she felt the demotion decision was discriminatory. As a result of her discrimination concerns, Navarro recorded the January 16, 2019 meeting with Lagrone. After Lagrone learned that Navarro had recorded the meeting, he consulted with superiors and determined that Navarro should be terminated for violating RJ Young's recording devices policy. RJ Young's Policies and Procedures manual "requests that [employees] refrain from using any type of recording device without prior consent" and prohibits the "improper use" of recording devices. On January 17, 2019, RJ Young fired Navarro for violating company policy.
Medical Condition Related To Pregnancy
RJ Young filed a motion with the trial court seeking dismissal of Navarro's pregnancy discrimination claim. In support of its motion for dismissal, RJ Young argued that because Navarro and Lagrone did not discuss her pregnancy "in and of itself" during the December 27, 2018 meeting, her pregnancy played no role in the subsequent decisions to demote and fire Navarro. In other words, according to RJ Young, Navarro was not discriminated against in violation of the PDA because she was not pregnant at the time of her demotion and termination. The trial court denied RJ Young's motion for dismissal and ruled that Navarro was entitled to proceed to a jury trial on the issue of whether she was demoted and fired in violation of the PDA.
In denying RJ Young's motion for dismissal, the trial court pointed out that RJ Young's argument "overlooks that the pregnancy discrimination need not be based on pregnancy by itself but may also be based on related medical conditions." Because the decisions followed directly on the heels of Navarro's disclosure of her pregnancy-related medical condition, the trail court found that there was a "nexus between her disclosure of a medical condition related to her pregnancy and the adverse employment actions." The trial court also observed that it was questionable whether RJ Youngs recording policy "actually prohibited" Navarro's conduct because the policy only "requests" that employees not record conversations without consent and only prohibits "improper use" but does not define "improper use." Based on this evidence, the trial court concluded, a reasonable jury could find that the proffered reason for Navarro's termination was a pretext for pregnancy discrimination.
Citrus County, FL Employment Lawyers
Based in Ocala, Florida and representing workers throughout Florida, our employment attorneys in Citrus County, Florida have litigated employment discrimination cases in Florida courts for more than twenty years. If you have experienced workplace discrimination or have questions about your protection from discrimination under federal employment discrimination law, please contact our office for a free consultation with our employment lawyers in Citrus County, Florida. Our employee rights law firm takes employment discrimination cases on a contingency fee basis. This means that there are no attorney's fees incurred unless there is a recovery and our attorney's fees come solely from the monetary award that you recover.