Are Women Protected From Harassment Because Of A Need To Use A Breast Pump At Work?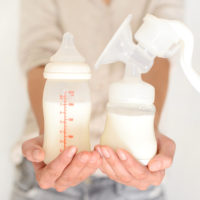 In construing the Pregnancy Discrimination Act (PDA), courts have determined that discrimination against a woman who is lactating or expressing breast milk violates the PDA. Having fought for the rights of pregnant employees for almost twenty years, our Alachua County, Florida pregnancy discrimination attorneys have learned that some employers mistakenly believe that they are insulated from liability for pregnancy discrimination claims so long as they make some effort to accommodate women who need to use a breast pump at work. Although the PDA does not require special treatment for women who need to use a breast pump at work, the recent decision by the U.S. District Court for Delaware in Lampkins v. Mitra QSR, LLC, Case No. 16-647 (D. Del. Nov. 28, 2018) illustrates that mistreatment or hostility towards female employees because of their need to express milk at work is a basis for holding employers liable for pregnancy-based discrimination.
Employees Observing Employee Pump Breast Milk
In that case, Autumn Lampkins (Lampkins) sued her former employer, Mitra QSR, LLC (Mitra), pursuant to the PDA. Lampkins claimed that she was subjected to hostile work environment harassment because of her need to express work in violation of the PDA Lampkins further claimed that she was compelled to quit and, thus, constructively discharged because of the hostile work environment harassment she endured.
Mitra owns and operates Kentucky Fried Chicken (KFC) franchises in Delaware. Lampkins began working for Mitra as an assistant restaurant manager trainee at a KFC in Camden, Delaware. When working at this restaurant, Lampkins was initially required to pump her milk in a bathroom, and then was required to pump in an office which had a camera that could not be turned off and a window through which her co-workers could and did observe her pumping. One male employee was caught observing Lampkins on two occasions when she pumped. On multiple occasions, another male employee used his keys to enter the office while Lampkins was pumping. Lampkins' supervisor also did paperwork in the office while she pumped.
Lampkins wanted to pump every two hours, but her supervisor only allowed her to pump once during a ten-hour shift. After Lampkins' co-workers complained when she took breaks from work to pump, Lampkins was demoted and transferred to a store in Dover, Delaware "so that it would be easier for her to get the time to express her milk." In Dover, Lampkins was again forced to pump in an office with a camera and a window. Other employees saw her pumping through the window and occasionally entered the office while she was pumping. Lampkins' supervisor cut her hours for the stated reason that Lampkins would have more time to pump. Lampkin' supervisor discouraged her from pumping and characterized Lampkins' pumping as "obviously a huge issue." Eventually, Lampkins' milk supply dried up, preventing her from breastfeeding her son.
Lampkins' employment with Mitra ended based on a factually disputed incident involving a customer's jacket. Mitra claimed that Lampkins stole the jacket. Lampkins claimed to have brought the jacket home accidently. Shortly after the jacket incident occurred, Lampkins was told by a co-employee that Lampkins' supervisor intended to fire her. Lampkins quit instead. Lampkins' supervisor testified that she was "probably" about to fire Lampkins because of the jacket incident.
Discrimination Creates Hostile Environment
Mitra filed a motion with the trial court seeking dismissal of Lampkins' claim that she was harassed because of her need to express milk in violation of the PDA. Although Mitra conceded that the harassment Lampkins' endured constituted discriminatory acts, Mitra nonetheless argued that the alleged harassment did not meet the necessary threshold of hostility to establish a PDA hostile work environment harassment claim. Mitra further argued that because Lampkins hostile work environment harassment claimed failed as a matter of law, her constructive discharge claim also failed as a matter of law. The trail court denied Mitra's motion for dismissal.
The trial court found that the harassment was sufficiently severe or pervasive to create a hostile work environment in violation of the PDA. The trial court also found that the harassment was so "intolerable" that a reasonable employee in Lampkins' position would have "felt compelled to quit." In support of this conclusion, the trial court pointed out that Lampkins was demoted, given reduced hours, and "was under the impression that her supervisor was going to fire her—an impression that was essentially confirmed by the supervisor's admission at her deposition that she was probably about to terminate Lampkins." Consequently, the trial court concluded that Lampkins was allowed to bring her claims for hostile work environment harassment and constructive discharge before a jury for resolution.
Free Consultation With Gainesville Discrimination Lawyers
Based in Ocala, Florida and representing employees throughout Central Florida, we have extensive experience representing victims of employment discrimination. If you have been the victim of pregnancy discrimination or have questions about your protection against discrimination for expressing breast milk at work, please contact our office for a free consultation with our Alachua County, Florida employment discrimination attorneys. Our employee rights law firm takes employment discrimination cases on a contingency fee basis. This means that there are no attorney's fees incurred unless there is a recovery and our attorney's fees come solely from the monetary award that you recover.