Can A Harasser's Remarks About His Sex Life Create A Sexually Hostile Work Environment?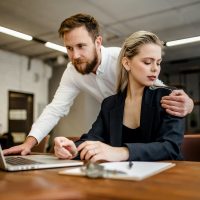 For more than twenty years, our Citrus County, Florida sexual harassment lawyers have fought for the rights of sexual harassment victims. Having decades of experience representing sexual harassment victims, our Inverness, Florida sexual harassment attorneys know employers defend sexual harassment claims by arguing that the harassment at issue was not sexual behavior and, thus, was not sexual harassment. In attempting to bolster their argument and minimize the harassment at issue, employers will also argue that the harasser did not intend to be offensive or cause harm. Unlawful sexual harassment, according to employers, must involve sexual propositions or physical touching. Without such behavior, employers maintain, the harassment at issue is not sexual harassment prohibited by federal employment discrimination law. In this article, our Citrus County, Florida sexual harassment lawyers explain how the decision in Karamatic v. Peyton Resource Group, LP,  Case No. 3:21-cv-02304 (N.D. Tex. July 26, 2022) illustrates that the type of behavior constituting sexual harassment is broadly defined under federal employment discrimination law.
Definition Of Sexual Harassment
Title VII of the Civil Rights Act of 1964 (Title VII) protects employees from sexual harassment in the workplace. Under the guidelines adopted by the U.S. Equal Employment Opportunity Commission (EEOC), which is the federal agency responsible for enforcing Title VII, sexual harassment is defined as unwelcome sexual advances, requests for sexual favors, and other verbal or physical conduct of a sexual nature. Courts have adopted the EEOC's definition of sexual harassment. For example, the court in Jones v. Flagship Int'l,  793 F.2d 714 (5th Cir. 1986) ruled that sexual harassment can take several different forms, including "sexual advances, requests for sexual favors, and other verbal or physical conduct of a sexual nature that is unwelcome in the sense that it is unsolicited or unincited and is undesirable or offensive to the employee."
Sexual Harassment Lawsuit
In Karamatic, a woman named Karamatic brought a sexual harassment claim against her former employer, Peyton Resource Group, LP (PRG), pursuant to Title VII. Karamatic claims that she was required to work in a sexually hostile environment in violation of Title VII.
Karamatic worked for PRG in a managerial role. About a month after she started, PRG hired another manager named Pendleton to manage another department. In the following months, Pendleton allegedly made a variety of inappropriate comments at work, including descriptions of his own sexual activities and comments about other female employees. Karamatic alleges that Pendleton repeatedly described his sexual encounters to her in one-on-one meetings and that Pendleton continued to make remarks about his own sexual activities in one-on-one meetings after she repeatedly asked him to stop.
Karamatic reported Pendleton's sexual behavior multiple times to her supervisor, Mayhew. When she complained a second time, Karamatic claims that Mayhew acknowledged that he had spoken to Pendleton about the inappropriate conduct and may have needed to do so again. Karamatic also alleges that in at least one instance, Mayhew joined Pendleton in a sexually inappropriate conversation about a female employee. Ultimately, Mayhew allowed Karamatic to work from home to avoid Pendleton. A few weeks later, Mayhew presented Karamatic with a new employment agreement that reduced her total compensation and adversely altered certain commission calculations. Shortly thereafter, PRG terminated Karamatic's employment.
Evidence Of Unlawful Sexual Harassment
PRG filed a motion with the trial court seeking dismissal of Karamatic sexual harassment claim. In arguing for dismissal, PRG maintained that Pendleton's alleged behavior did not constitute sexual harassment. The trial court denied PRG's motion for dismissal and ruled that Karamatic's allegations were sufficient to state claim based on a sexually hostile work environment. In denying PRG's motion for dismissal, the trial court found that Pendleton's alleged remarks about his sex life fell within the definition of sexual harassment. Sexual harassment, the trial court observed, is defined as unwanted "sexual advances, requests for sexual favors, and other verbal or physical conduct of a sexual nature[.]" Pendleton's alleged remarks to Karamatic about his sex life were a form of "verbal conduct of a sexual nature" and, thus, constituted a form of sexual harassment prohibited by Title VII.
Free Consultation For Harassment Victims
One of the most important decisions sexual harassment victims must make is which employment law attorneys to consult with regarding their rights under federal employment discrimination law. As part of our dedication to helping sexual harassment victims, an experienced employment law attorney will speak with you personally and you will receive the individualized attention your case deserves. We offer free confidential case evaluations for employees, and you will not have to pay to speak with our employment discrimination attorneys regarding your rights. We are available for consultation at your convenience, including scheduling telephone consultations for evenings and weekends.
Citrus County, FL Harassment Lawyers
Based in Ocala, Florida and representing workers throughout Florida, our sexual harassment attorneys in Citrus County, Florida have dedicated their practice to fighting for the rights of employment discrimination victims. If you have been sexually harassed at work or have questions about your rights as a sexual harassment victim, please contact our office for a free consultation with our sexual harassment lawyers in Citrus County, Florida. Our employee rights law firm takes sexual harassment cases on a contingency fee basis. This means that there are no attorney's fees incurred unless there is a recovery and our attorney's fees come solely from the monetary award that you recover.