Can A Single Incident Of Unwanted Sexual Touching Make A Work Environment Hostile?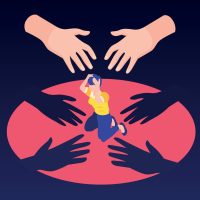 Through their decades of experience handling sexual harassment cases, our sexual harassment lawyers in Citrus County, Florida know that employers defending against sexual harassment claims invariably attempt to set the bar for a hostile work environment too high. In order to create a hostile work environment, employers contend that sexual harassment must involve more than a single isolated incident. Rather than episodic, employers maintain that sexual harassment must be continuous and concerted in order to sustain a hostile work environment claim. Consequently, employers maintain that a single incident of unwanted sexual touching cannot constitute a sexually hostile working environment. In this article, our sexual harassment lawyers in Citrus County, Florida explain how the decision in Reid v. Ingerman Smith, LLP, 876 F.Supp.2d 176 (E.D. N.Y. 2012) demonstrates that a single incident of unwanted sexual touching can create a hostile working environment in violation of federal employment discrimination law.
Protection From Sexual Harassment
Title VII of the Civil Rights Act of 1964 (Title VII) prohibits employers from discriminating against employees on the basis of sex. In Meritor Sav. Bank, FSB v. Vinson, 477 U.S. 57 (1986), the U.S. Supreme Court ruled that sexual harassment is a form of sex discrimination prohibited by Title VII. To violate Title VII, sexual harassment must be sufficiently severe or pervasive to alter the conditions of the victim's employment and create a hostile or abusive work environment. Unlawful sexual harassment under Title VII is not limited to harassment by members of the opposite sex. Instead, Title VII also forbids same-sex sexual harassment. Same-sex sexual harassment occurs when both the harasser and the victim are of the same sex.
Sexual Harassment Lawsuit
In Reid,  a woman named Reid brought a sexual harassment claim against her former employer, Ingerman Smith, LLP (Ingerman Smith), pursuant to Title VII. Reid alleges that she was sexually harassed by her female supervisor in violation of Title VII.
Reid was employed by Ingerman Smith as a legal secretary. Reid alleges that, while she was waiting her supervisor's office to receive an assignment, her supervisor suddenly looked at Reid's breasts, exclaimed "those things are huge" and then "grabbed and squeezed" Reid's right breast. Reid alleges that, after realizing her actions upset Reid, the supervisor dismissed Reid from her office. Reid claims that she viewed the alleged incident, which left her "humiliated and horrified, " as a "sexual assault" and "sexual advance," but felt that complaining to her supervisor would be futile.
Reid maintains that because of her rejection of the supervisor's sexual advance, the supervisor retaliated against her. Immediately after the incident, according to Reid, the supervisor changed Reid's "entire schedule of duties and arbitrarily withheld work from" her. Reid further claims that she was informed by the supervisor that she should discontinue planning the company picnic and assigned the duty to someone else. About one month after the alleged incident, the supervisor "terminated Reid's employment." According to Reid, the supervisor told her, "You are a smart girl. You have a lawsuit. You are not entitled to unemployment, but we will not fight it."
Touching Intimate Body Part Is Severe
Ingerman Smith filed a motion with the trial court seeking dismissal of Reid's sexual harassment claim. In moving for dismissal, Ingerman Smith argued that the "single incident alleged here—[the supervisor's] grabbing of Reid's breast and her comment that Reid's breasts were 'huge'—was insufficiently severe to constitute a hostile work environment." The trial court denied Ingerman Smith's motion for dismissal and concluded that Reid had alleged sufficient facts to state a plausible hostile work environment claim under Title VII.
In denying the motion for dismissal, the trial court disagreed with Ingerman Smith's argument that a single incident of unwanted touching of an intimate body part did not create a sexually hostile work environment under Title VII. Rather, the trial court observed, "direct contact with an intimate body part constitutes one of the most severe forms of sexual harassment." Because Reid alleged that her supervisor on a single occasion "grabbed and squeezed" one of her breasts, the trial court concluded that Reid had alleged facts "concerning unwanted sexual contact" such that a "reasonable employee would find the conditions of [her] employment altered for the worse."
Citrus County Sexual Harassment Lawyers
Based in Ocala, Florida, and representing workers throughout Florida, our sexual harassment attorneys in Citrus County, Florida have litigated sexual harassment cases in Florida courts for more than twenty years. If you have been subjected to unwanted sexual touching in the workplace or have questions about your protection from workplace sexual harassment under federal employment discrimination law, please contact our office for a free consultation with our sexual harassment lawyers in Citrus County, Florida. Our employee rights law firm takes sexual harassment cases on a contingency fee basis. This means that there are no attorney's fees incurred unless there is a recovery and our attorney's fees come solely from the monetary award that you recover.