Can An Offer Of Early Retirement Support A Claim For Age Discrimination?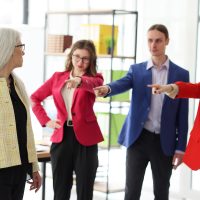 For more than two decades, our age discrimination lawyers in Marion County, Florida have litigated age discrimination cases in Florida courts. Having decades of experience handling age discrimination cases, our age discrimination attorneys in Ocala, Florida know that employers often make offers of early retirement to older workers. When litigating age discrimination cases, employers argue that an offer of early retirement is not evidence of age discrimination because older employees have the option of declining the offer and continuing their employment without consequence. In far too many cases, however, employers use offers of early retirement for the purpose of eliminating older workers from their workforce and replacing them with younger employees. When older employees prevent employers from removing them from the workforce by rejecting an offer of early retirement, employers then find other ways to eliminate them. Consequently, many older workers who decline an offer of early retirement are terminated shortly after rejecting the offer. In this article, our age discrimination lawyers in Marion County, Florida explain how the decision in Rysak v. Ferro Corporation, Case No. 22-cv-2311 (E.D. Pa. Apr. 28, 2023) demonstrates an offer of early retirement can be used to support a claim for age discrimination.
Age Discrimination Lawsuit
In that case, a woman named Rysak brought an age discrimination claim against her former employer, Ferro Corporation (Ferro), pursuant to the Age Discrimination in Employment Act (ADEA). The ADEA prohibits employers from discriminating against employees on the basis of age. Rysak alleges that she was fired because of her age in violation of the ADEA.
Ferro manufactures technology-based performance materials, including paste and tape products for electronic devices and packaging. Rysak, now sixty-nine years of age, began working for Ferro's predecessor company, ESL, in 1973 at the age of nineteen. She worked at its King of Prussia manufacturing facility. During her forty-seven years at ESL, Rysak rose through the ranks, working as a quality control technician, production technician, production supervisor, and assistant director of manufacturing. When Ferro acquired ESL in 2016, Rysak supervised employees in the paste production unit. Although her title changed to Manager Paste Production, her responsibilities remained the same.
In January 2020, Ferro implemented a reorganization plan for the King of Prussia operation. As part of the plan, Ferro consolidated the paste and tape manager positions. On March 6, 2020, Rysak was informed that her position was eliminated and another employee, Besecker, was selected for the job of the combined Production Manager role for paste and tape. Rysak was terminated the same day.
Ferro's North American Operations Manager, Bessler, made the decision to select Besecker for the new position. Ferro's Operations Manager, Luckenbach, was never told that performance was a reason for her termination. When he learned that Rysak would be terminated, Luckenbach told Bessler that he disagreed with the decision. Luckenbach did not want to lose Rysak because he valued her knowledge and experience. Luckenbach requested that the company create a position for her.
A year before Rysak was terminated, Ferro had offered a voluntary early retirement program to all salaried, non-union, full-time employees who were at least fifty-five years of age. Although she was eligible for the early retirement program, Rysak declined the offer of early retirement. Three other employees, Getting, Moore, and Palanisamy, also declined the offer of early retirement. Their positions were later eliminated.
Evidence Of An Intent To Replace Older Workers
Ferro filed a motion with the trial court seeking the dismissal of Rysak's age discrimination claim. In support of its motion for dismissal, Ferro argued that its decision to terminate Rysak and retain Besecker for the consolidated position was motivated by legitimate business needs, not age discrimination. The trial court denied Ferro's motion for dismissal and ruled that Rysak was entitled to proceed to a jury trial on her age discrimination claim.
In denying Ferro's motion for dismissal, the trial court focused on Ferro's voluntary early retirement program. The trial court noted that the "mere" offer of early retirement "without more does not support a claim of age discrimination." The trial court explained, however, that an offer of early retirement "is not irrelevant" in proving an age discrimination claim and "may, together with other evidence, show that [an employer] intended to wean out its older employees from the workforce in favor of younger ones."
In applying this principle, the trial court determined that there was evidence from which a jury could find that Ferro intended to wean out its older workers in favor of younger ones. The trial court pointed out that the four employees, including Rysak, who declined the offer of early retirement were all terminated. Two of the employees, Moore and Palanisamy, were fired three weeks after Rysak. The fourth employee, Getting, was fired on August 8, 2020. "Although all four employees were told their positions were eliminated," the trial court observed, "the reorganization plan documented only Moore and Rysak's eliminations." Moreover, the trial court noted, "Ferro has not identified any employee younger than 55 whose position was eliminated."
Based on this evidence, the trial court concluded that "whether there was a causal connection between [the early retirement program] and the terminations of Rysak and the other older employees who had rejected the offer of early retirement is for the [jury]" to decide. "A jury could reasonably find," the trial court reasoned, "that Ferro intended to replace older employees and found ways to do so after the initial step—[the early retirement program]—failed." The trial court further reasoned that the "jury could decide that Ferro was patiently implementing a plan to avoid the appearance of age-motivated discrimination."
Marion County, FL Age Discrimination Lawyers
Based in Ocala, Florida and representing workers throughout Florida, our age discrimination attorneys in Marion County, Florida have dedicated their practice to fighting for the rights of employment discrimination victims. If you have experienced age discrimination in the workplace or have questions about your protection from age discrimination under federal employment discrimination law, please contact our office for a free consultation with our age discrimination lawyers in Marion County, Florida. Our employee rights law firm takes age discrimination cases on a contingency fee basis. This means that there are no attorney's fees incurred unless there is a recovery and our attorney's fees come solely from the monetary award that you recover.