Can Employers Demote A Pregnant Employee So She Can Spend More Time With Her Newborn Child?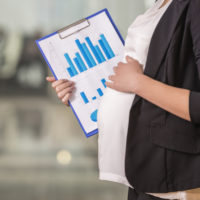 Title VII of the Civil Rights Act of 1964 (Title VII), as amended by the Pregnancy Discrimination Act of 1978 (PDA), forbids employers from discriminating against employees on the on the basis of pregnancy, childbirth, or related medical conditions. Under the PDA, as explained by the U.S. Supreme Court in UAW v. Johnson Controls, 499 U.S. 187 (1991), the "decision to work while [ ] being pregnant . . . is reserved for each individual women to make for herself" and "pregnant women who are able to work must be permitted to work under the same conditions as other employees." Application of these principles means that when pregnant employees are able to perform their job, employers must treat them like all other employees and cannot be force them to stop working because of their pregnancy.
Having fought for the rights of pregnant employees for almost twenty years, our Citrus County, Florida pregnancy discrimination attorneys have learned that employers often come up with unlawful justifications for subjecting pregnant employees to adverse employment actions. For example, employers have attempted to justify the termination of pregnant employees on the grounds of protecting the health of the unborn child, protecting the health of the pregnant employee, concerns about the employee's ability to fulfill job duties while pregnant, and doubts about the employee's desire to continue working after giving birth. A recent decision by U.S. District Court for the Western District of Louisiana in Carter v. Swiftships, LLC, 2018 WL 494238 (W.D. La. Jan. 19, 2018) is instructive in showing that pregnancy discrimination frequently occurs when an employer purportedly believes that it is acting in the pregnant employee's best interest.
Employee Demoted Two Months After Giving Notice Of Pregnancy
In that case, Jordan Carter (Carter) alleged that her former employer, Swiftshops, LLC (Swiftshops), demoted her on the basis of pregnancy in violation of the PDA. In April 2013, Carter was hired by Swiftshops as a Contracts Administrator. Within one year of being hired, Carter was promoted to Contracts Manager. In September 2014, Carter informed Swiftshops' CEO and Human Resources Manager that she was pregnant. Two months later, Carter received an email from the CEO advising her that had had appointed a male employee named Knope as the Contracts Manager and Carter was to report to him going forward. After the demotion, Carter claimed that she began to receive fewer work assignments. In January 2015, Carter was terminated as a part of a reduction in force. 
Swiftshops filed a motion with the trial court seeking dismissal of Carter's pregnancy discrimination claim. In doing so, Swiftshops asked the trial court to rule that Carter's pregnancy discrimination claim was without legal merit and Carter could not present her case to a jury. The trial court denied the Swiftshops' motion for dismissal.
Employer Formulated A Plan To Demote Pregnant Employee
In denying the motion for dismissal, the trial court found that Carter had produced substantial evidence that she was demoted because of her pregnancy. The trial court explained that Knope informed Carter's mother and step-father that the CEO had told him that Carter was demoted because she was pregnant and they feared she would not be able to work as many hours after giving birth. The trial court also observed that Carter testified that Knope told her that because she would have to take maternity leave after giving birth, the CEO intended to have Knope assume Carter's position as Contractors Manager. Moreover, the trial court pointed out, Knope told Carter that the CEO stated that he needed someone in the Contracts Manager position who would not be distracted by a newborn child and viewed the demotion as a favor to Carter by giving her more time to spend with her newborn child. Thus, the trial court concluded, it was for a jury to decide whether Carter was demoted because of her pregnancy.
Free Consultation With Pregnancy Discrimination Lawyers
Based in Ocala, Florida and representing employees throughout Central Florida, we have been aggressively litigating pregnancy discrimination cases for almost twenty years. If you have been the victim of pregnancy discrimination or have questions about your rights as a pregnant employee, please contact our office for a free consultation with our Citrus County, Florida pregnancy discrimination attorneys. Our employee rights law firm takes pregnancy discrimination cases on a contingency fee basis. This means that there are no attorney's fees incurred unless there is a recovery and our attorney's fees come solely from the monetary award that you recover.