Can Employers Discriminate Against Employees Because They Might Become Pregnant Again?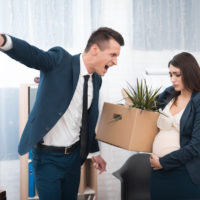 With the passage of the Pregnancy Discrimination Act of 1978 (PDA), Congress amended Title VII of the Civil Rights Act of 1964 (Title VII) to provide that discrimination "on the basis of sex" includes discrimination "because of or on the basis of pregnancy, childbirth, or related medical conditions." In International Union, UAW v. Johnson Controls, Inc., 499 U.S. 187 (1991), the U.S. Supreme Court held that discrimination on the basis of potential pregnancy was discrimination on the basis of sex under Title VII and the PDA. As explained by the U.S. Eighth Circuit Court of Appeals in Krauel v. Iowa Methodist Medical Center, 95 F.3d 674 (8th Cir. 1996), potential pregnancy "is a medical condition that is sex-related because only women can become pregnant."
Having fought for the rights of victims of pregnancy discrimination for nearly twenty years, our Marion County, Florida pregnancy discrimination attorneys have learned that when employees have been pregnant and taken maternity leave, employers often discriminate against them because they might become pregnant again. In applying the holding of the Supreme Court in Johnson Controls, the U.S. District Court for the Northern District of Illinois in Pacourek v. Island Steel Co., 859 F.Supp. 1393 (N.D. Ill. 1994) stated that "[d]iscrimination against an employee because she intends to, is trying to, or simply has the potential to become pregnant is . . . illegal discrimination." The decision by the Eighth Circuit in Walsh v. Computer Sys., Inc., 332 F.3d 1150 (8th Cir. 2003) is instructive in showing how employers discriminate against women because they might become pregnant again.
"Top Performer" Takes Maternity Leave
In that case, Shireen Walsh (Walsh) claimed that she was harassed on the basis of pregnancy in violation of the PDA while employed by National Computer Systems, Inc. (NCS). Walsh worked as an account representative in the customer service division of NCS. Walsh was considered a "top performer." Throughout her employment with NCS, Walsh received multiple promotions, regular raises, and consistently favorable performance evaluations.
While Walsh was pregnant, a female employee named Mickelson became Walsh's supervisor. During her pregnancy, Walsh experienced medical complications related to her pregnancy which required frequent medical attention. NCS maintained a policy that entitled employees to take unlimited sick leave for doctor's appointments for themselves and their children. When Walsh missed work because of pregnancy-related medical conditions, Mickelson required Walsh to provide advance notice and documentation of her medical appointment. Other account representatives were not required to provide the same information about their medical appointments.
Employee Harassed Because She Might Become Pregnant Again
Walsh took a maternity leave from work for the birth of her son named Garrett. When she returned to work, Walsh immediately began experiencing hostility from Mickelson. When Walsh was showing pictures of her son on her first day back from work, Mickelson told her to stop disturbing the office and get back to work. That same day, Mickelson gave Walsh's co-workers the afternoon off as a reward for covering Walsh's workload while she was on maternity leave but told Walsh to stay in the office and get the phones. Mickelson's harassment towards Walsh also included scrutinizing her work attendance, refusing to allow her to change her schedule to leave work at 4:30 pm because her son's daycare closed at 5:00 pm, telling her to "look for another job," reprimanding her for "chit-chatting," referring to her son as "the sickling," increasing her workload, and informing her that she had to make up "every minute" that she spent away from the office for medical appointments for herself or her son.
When Walsh returned to work from her maternity leave, Mickelson also made several pregnancy-based discriminatory remarks to Walsh. During a discussion about a co-worker's pregnancy, Mickelson sarcastically commented to Walsh, "I suppose you'll be next." On another occasion, Walsh took a half-day vacation to go on a trip with her husband. After she returned, Mickelson stated, "well, I suppose now we'll have another little Garrett running around." When Walsh fainted at work and had to go to the hospital, Mickelson told Walsh the next day, "you better not be pregnant again."
Eventually, Walsh complained to a human resources representative that Mickelson was treating her differently and less favorably from other account representatives. No investigation was ever done regarding Walsh's allegations. After her compliant, Walsh confronted Mickelson about the way she was being treated. In response to Walsh's complaint, Mickelson swore at Walsh and pounded the table. Believing that she would not be treated fairly at NCS, Walsh resigned her employment.
Potential Pregnancy Was "Catalyst" For Harassment
After a trial, the jury returned a verdict in favor of Walsh on her pregnancy-based hostile work environment harassment claim. On appeal, NCS argued that the trial court should have dismissed Walsh's claim as a matter of law because Walsh's claim was allegedly rooted in "parent or caretaker discrimination," which is not prohibited by Title VII or the PDA, rather than pregnancy discrimination. The Eighth Circuit rejected NCS's argument and upheld the jury verdict in favor of Walsh.
A Case of Potential Pregnancy Discrimination
In rejecting NCS's argument, the Eighth Circuit explained that Walsh claimed that "she was discriminated against not because she is a new parent, but because she is a woman who had been pregnant, had taken maternity leave, and might become pregnant again." The appellate court also found that Walsh had presented evidence showing that "it was her potential to become pregnant in the future that served as a catalyst for Mickelson's discriminatory behavior" towards her. In support of its finding, the court of appeals pointed to Mickelson's remarks that "I suppose you'll be next," "well, I suppose now we'll have another little Garrett running around," and "you better not be pregnant again." Consequently, the Eighth Circuit concluded, there was "ample support for the jury's finding that Walsh was discriminated against on the basis of pregnancy."
Free Consultation With Ocala Pregnancy Discrimination Lawyers
Based in Ocala, Florida and representing employees throughout Central Florida, we represent employees who have been subjected to employment discrimination, including pregnancy discrimination. If you have been the victim of pregnancy discrimination or have questions about being discriminated against because you might become pregnant in the future, please contact our office for a free consultation with our Marion County, Florida pregnancy discrimination attorneys. Our employee rights law firm takes pregnancy discrimination cases on a contingency fee basis. This means that there are no attorney's fees incurred unless there is a recovery and our attorney's fees come solely from the monetary award that you recover.