Can Employers Fire Employees For Disability-Related Absences From Work?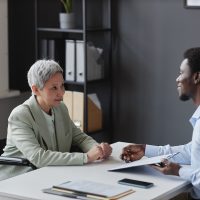 Having decades of experience representing employment discrimination victims, our employment discrimination lawyers in Citrus County, Florida know that disabled employees are sometimes unable to work because of their disability. Despite their obligation to provide reasonable accommodations to disabled employees, many employers mistakenly believe that they are lawfully permitted to terminate disabled employees when they miss work because of their disability. In this article, our employment attorneys in Marion County, Florida explain how the decision in Cardona v. Polaris Charter Academy, Case No. 21-cv-5013 (N.D. Ill. Sept. 26, 2023) shows that disabled employees are protected from discrimination when they intermittently miss work because of their disability.
Disabled Employees' Rights
The Americans with Disabilities Act ("ADA") prohibits employers from discriminating against employees on the basis of disability. The ADA's protection against discrimination on the basis of disability extends to all employees and applicants for employment. The ADA defines the term "discriminate" to include an employer's failure to provide reasonable accommodations to employees with a disability. Under the ADA, reasonable accommodations include job restructuring, part-time or modified work schedules, reassignment to a vacant position, and acquisition or modification of equipment. Courts have also determined a leave of absence from work for medical treatment or recovery can constitute a reasonable accommodation. Once an employee requests a reasonable accommodation, as the court in Fjellestad v. Pizza Hut of America, Inc., 188 F.3d 944 (8th Cir. 1999) explained, "the employer must make a reasonable effort to determine the appropriate accommodation."
Employment Discrimination Lawsuit
In Cardona, a woman named Cardona brought an ADA claim against her former employer, Polaris Charter Academy ("Polaris"). Cardona alleges that her employment was terminated because of her disability in violation of the ADA.
Polaris is a K-8 elementary school. Cardona was a teacher at Polaris for four years where, during the 2019-2020 school year, she served as the only 7th and 8th grade science teacher. While teaching, she was diagnosed with lupus, which causes fatigue, vertigo, and joint swelling. Because of her lupus, Cardona had difficulty sitting or standing for long periods of time and would suffer random flare-ups.
On May 3, 2019, Cardona sent a text message to the Head of School at Polaris, Navarre, stating that she may need to take leave under the Family Medical Leave Act ("FMLA"). Then, on August 9, 2019, Cardona informed the Director of Culture and Character, Peck, about her lupus and stated that she would need procedures and appointments to address is. A few days later, Navarre approved Cardona to take time off for procedures and doctor appointments that Cardona mentioned to Peck. On October 6, 2019, Cardona sent a second text message to Navarre asking if it was possible to cut back on her teaching hours before trying to take FMLA leave. In a follow-up meeting with Navarre, Cardona again suggested that she may need to change from a five-day workweek to a four-day one. Cardona never filed for any FMLA paperwork. During the 2019-2020 school year, Polaris excused approximately 10 of Cardona's absences from work.
Although no one at Polaris explicitly told Cardona that she was taking too many excused absences, Cardona maintains that Polaris created a work culture that pressured employees and herself to work harder. Cardona also received an email that said many teachers were complaining about her absences. On one occasion, Cardona stated that she received pushback from Polaris when she had to leave work early without providing advance notice to attend an emergency medical consultation and pick up a prescription for her lupus. Further, on August 20, 2019, Navarre sent an email to all employees stating that she would begin scrutinizing absences and "holding everyone accountable to being present as much as they are able."
At the end of 2019-2020 school year, Polaris terminated Cardona's employment. Polaris contends that Cardona was terminated due to budgetary constraints caused by enrollment concerns. However, Cardona alleges that Navarre referenced her absences from work as a reason for firing her. Specifically, according to Cardona, Navarre mentioned that Cardona did not "fully participate," had "absences," and "missed school meetings."
Fired For Disability-Related Absences
Polaris filed a motion with the trial court seeking dismissal of Cardona's disability discrimination claim. In moving for dismissal, Polaris argued that the evidence established that Cardona was terminated entirely for budgetary and enrollment concerns—not because of her disability. The trial court denied Polaris' motion for dismissal and ruled that Cardona had presented sufficient evidence to establish that she was fired because of her disability to proceed to a jury trial.
In denying Polaris' motion for dismissal, the trial court focused on the evidence showing that Cardona was fired because of her absences from work. Those absences from work, the trial court observed, were absences that Cardona "needed" in order "to treat her disability." The trial court also pointed out that Cardona alleges that Navarre "also mentioned how Cardona had not been fully participating with school activities and had missed several school meetings." "Both reasons," the trial court explained, "are still logically and practically connected to Cardona's disability-related absences." Thus, Cardona's evidence established that she was terminated because of her disability-related absences. Consequently, the trial court concluded that it was for the jury to decide whether Cardona was "terminated because of her disability-related absences or because of the school's financial restrains."
Citrus County, FL Discrimination Lawyers
Based in Ocala, Florida and representing workers throughout Florida, our employment discrimination attorneys in Citrus County, Florida have litigated employment discrimination cases in Florida courts for more than twenty years. If you have been discriminated against at work or have questions about your rights as an employment discrimination victim, please contact our office for a free consultation with our employment lawyers in Citrus County, Florida. Our employee rights law firm takes employment discrimination cases on a contingency fee basis. This means that there are no attorney's fees incurred unless there is a recovery and our attorney's fees come solely from the monetary award that you recover.