Can Employers Justify Pregnancy Discrimination Because Employment In Pregnancy Is A Danger To Women?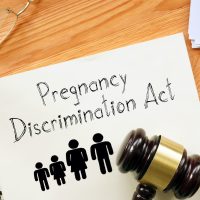 Throughout the past twenty years, our Marion County, Florida pregnancy discrimination attorneys have fought for the rights of pregnant employees. Based on their decades of experience representing pregnancy discrimination victims, our Ocala, Florida pregnancy discrimination lawyers know that employers often attempt to justify pregnancy discrimination based on ostensibly benign concerns for the health and safety of pregnant women. In doing so, employers maintain they are entitled to discriminate against pregnant employees because employment in pregnancy is a danger to women. Because employers rationalize their discriminatory employment decisions based on ostensibly benign motives, our Marion County, Florida pregnancy discrimination lawyers have learned, many pregnant employees are unaware that their rights under federal employment discrimination law have been unlawfully violated.
Pregnant Employees' Rights
Title VII of the Civil Rights Act of 1964, as amended by the Pregnancy Discrimination Act of 1978 (PDA), prohibits discrimination on the basis of pregnancy, childbirth, or related medical conditions. The PDA further mandates that pregnant employees must be treated the same for all employment-related purposes as nonpregnant employees who are similar in their ability or inability to work. Under the PDA, as determined by the U.S. Supreme Court in UAW v. Johnson Controls, Inc.,  499 U.S. 187 (1991), "employers may not require a pregnant woman to stop working at any time during her pregnancy unless she is unable to do her work" and "pregnant women who are able to work must be permitted to work on the same conditions as other employees." Because employers are not "permitted to force women who become pregnant to stop working regardless of their ability to continue," the Johnson Controls Court determined that "danger to a woman herself" because of employment in pregnancy "does not justify [pregnancy] discrimination."
Pregnancy Discrimination Lawsuit
The recent decision in Rios v. Leprino Foods Company Case No. 19-cv-03185 (D. Col. Sept. 9, 2021) demonstrates that employers cannot justify pregnancy discrimination on grounds that employment in pregnancy is a danger to a pregnant employee. In that case, a woman named Rios brought a pregnancy discrimination claim against her employer, Leprino Foods Company (LFC). Rios contends that LFC violated the PDA by refusing to accommodate her pregnancy-related lifting restrictions because LFC asserted that employment in pregnancy was a danger to herself and her unborn child.
LFC is a Colorado-based company that manufactures cheese and dairy-related products. Rios was employed by LFC as a break relief operator. In this position, Rios was required to be able to lift thirty-pound boxes on a regular basis. In the summer of 2017, Rios learned that she was pregnant and due to deliver her baby in April 2018. In November 2017, Rios experienced complications with her pregnancy. Her treating physician put her on two weeks of bed rest. Rios returned to work on December 13, 2017, with a note from her doctor limiting her lifting to fifteen pounds for the duration of her pregnancy. At Rios' request, her doctor increased her lifting restriction from fifteen to twenty pounds.
On December 18, 2017, Rios met with a management-level employee, Frisbie, regarding accommodation for her pregnancy-related lifting restriction. At the meeting, Frisbie relayed his determination that Rios' lifting restriction could not be accommodated. Frisbie expressed concern that he could not live with anything happening to Rios or her baby if she continued to work given her doctor's restrictions. Following the meeting, Rios utilized leave under the Family Medical Leave Act (FMLA) and received Short-Term Disability benefits.
Rios gave birth on April 8, 2018. Although Rios' Short-Term Disability benefits ended on May 20, 2018, when her doctor determined that she was able to return to work without restrictions, Rios chose to remain off work until July 2, 2018, so as to care for her newborn child. After several months on leave, LFC reinstated Rios to her same position as break relief operator when she eventually returned to work on July 2, 2018.
Danger To Women Does Not Justify Discrimination
LFC filed a motion with the trial court seeking dismissal of Rios' pregnancy discrimination claim. In support of its motion for dismissal, LFC argued that it "could not provide accommodations for [Rios'] lifting restriction at the time of her request, and instead offered her a leave of absence with significant Short-Term Disability benefits." The trial court denied LFC's motion for dismissal and determined that Rios was entitled to bring her pregnancy discrimination claim before a jury for resolution.
In denying LFC's motion for dismissal, the trial court focused on "Frisbie's comment of personal concern over [Rios'] safety if she kept working while pregnant." The trial court pointed out that the U.S. Supreme Court has determined that "danger to a woman herself does not justify [pregnancy] discrimination." Because Frisbie's "comment of personal concern came in the same conversation as when he determined that [LFC] could not accommodate [Rios]," the trial court found that "a reasonable jury could conclude that Frisbie's statement expressed discriminatory intent based on [Rios'] pregnancy and that the decision not to accommodate stemmed from that intent."
Discrimination Lawyers In Marion County, FL
Based in Ocala, Florida, and representing workers throughout Florida, our pregnancy discrimination attorneys in Marion County, Florida have litigated pregnancy discrimination cases in Florida courts for more than twenty years. If you have been discriminated against because of pregnancy or have questions about your rights as a pregnant employee under federal employment discrimination law, please contact our office for a free consultation with our pregnancy discrimination lawyers in Ocala, Florida. Our employee rights law firm takes pregnancy discrimination cases on a contingency fee basis. This means that there are no attorney's fees incurred unless there is a recovery and our attorney's fees come solely from the monetary award that you recover.