Can Employers Retaliate Against Family Members Of Employees Who Complain About Sexual Harassment?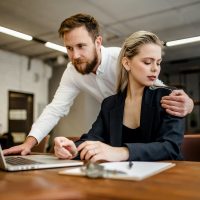 For the past twenty years, our Citrus County employment lawyers have litigated workplace retaliation cases in Florida courts. Having decades of experience representing workplace retaliation victims, our Inverness, Florida employment attorneys know that sexual harassment victims and family members sometimes work for the same employer. Under such circumstances, when a sexual harassment victim lodges a sexual harassment complaint, the mutual employer often retaliates against the sexual harassment victim's family member. For example, the mutual employer terminates a husband after his wife lodges a sexual harassment complaint. Likewise, a son is fired in retaliation for his mother's filing of a sexual harassment complaint against their mutual employer. In this article, our Citrus County employment attorneys explain how the decision in Lare v. Supreme Maintenance, Inc.,  2022 WL 13821774 (D. N.M. Oct. 21, 2022) demonstrates that federal employment discrimination law prohibits an employer from retaliating against a close family member of an employee who has complains about sexual harassment in the workplace.
Retaliatory Termination Lawsuit
In that case, a man named Lare brought a retaliatory termination claim against his former employer, Supreme Maintenance, Inc. (SMI), pursuant to Title VII of the Civil Rights Act of 1964 (Title VII). Sexual harassment in the workplace is a form of sex discrimination prohibited by Title VII. To protect sexual harassment victims, Title VII also contains an anti-retaliation provision. Under Title VII, employees are protected from retaliation when they complain about sexual harassment in the workplace. Lare claims that SMI retaliated against him in violation of Title VII by firing him because his wife, who was also employed by SMI, lodged a sexual harassment complaint.
Lare and his wife were employed as janitorial staff by SMI. As part of their work for SMI, Lare and his wife were assigned to clean the Concentrix Call Center. A man named Martinez worked as the manager at Concentrix. While working at Concentrix, Lare's wife was allegedly sexually harassed by Martinez. On October 28, 2019, Lare's wife complained about the sexual harassment to SMI's administrative director, Hunt, and SMI's director of operations, Sanchez. On December 10, 2019, Lare's wife also made an anonymous complaint to Human Resources at Concentrix about Martinez allegedly sexually harassing her.
Two days after his wife complained to Concentrix about sexual harassment, Martinez contacted SMI, accused Lare of stealing a laptop from the Concentrix offices, and requested that neither Lare nor his wife return to work at Concentrix. According to Lare, the allegations of theft by Martinez were false because he "never had access to any of the offices." Despite being accused of theft, no criminal charges were brought against Lare for the alleged theft.
Harassment Complainant's Husband Fired
On December 30, 2019, Lare and his wife attended a meeting with Sanchez and Hunt. At the beginning of the meeting, Lare and his wife discussed Martinez's alleged sexual harassment of Lare's wife with Sanchez and Hunt. They also discussed the alleged laptop theft. Hunt purportedly said that "he wasn't sure if [the allegations of theft] were true or not because the customer Concentrix Call Center only told him about it and he hadn't seen any proof nor did he say anyone else had seen it." Lare and his wife asked Sanchez and Hunt to investigate the alleged sexual harassment and alleged theft. However, SMI did not investigate either allegation before firing Lare.
After Lare, his wife, Sanchez, and Hunt discussed the alleged sexual harassment and theft, Lare was informed that his employment with SMI was terminated. Despite the discussion of the alleged theft, Lare was terminated for allegedly being a "no call, no show" from December 12, 2019 to December 19, 2019. But, according to Lare, this reason was pretextual because he "was not scheduled to work during that time.
Protection From Retaliation
SMI filed a motion with the trial court seeking dismissal of Lare's retaliatory termination claim. In moving for dismissal, SMI argued that Title VII did not protect Lare from retaliation because he did not complain about sexual harassment. Rather, according to SMI, only Lare's wife was protected from retaliation under Title VII because she was the employee who lodged a sexual harassment complaint. In other words, SMI argued that only employees who complain about sexual harassment are protected from retaliation by Title VII. The trial court denied SMI's motion for dismissal and ruled that Lare had alleged sufficient facts to state a claim for retaliatory discharge under Title VII.
At the outset of its opinion, the trial court explained that Lare's "retaliation claim relies on his wife's report of sexual harassment." Thus, trial court pointed out that the threshold issue was whether Title VII protects Lare from retaliation based on the sexual harassment complaint made by his co-employee wife. In resolving this issue, the trial court determined Lare "falls within the zone of interest Congress sought to protect" from retaliation under Title VII. In support of its conclusion, the trial court observed that Lare and his wife were both employed by SMI, his wife engaged in protected activity under Title VII by complaining about sexual harassment, and Lare claims that he was fired in retaliation for his wife's sexual harassment complaint. These allegations, the trial court reasoned, were sufficient to give Lare "an interest" protected by Title VII's anti-retaliation provision.
Citrus County, FL Employment Lawyers
Based in Ocala, Florida and representing workers throughout Florida, our employment attorneys in Citrus County, Florida have dedicated their practice to fighting for the rights of workplace retaliation victims. If you have been retaliated against for exercising your employee rights or have questions about your protection from retaliation under federal employment discrimination law, please contact our office for a free consultation with our employment lawyers in Citrus County, Florida. Our employee rights law firm takes workplace retaliation cases on a contingency fee basis. This means that there are no attorney's fees incurred unless there is a recovery and our attorney's fees come solely from the monetary award that you recover.