Can Employment Decisions Based On An Employee's Accent Constitute Evidence Of National Origin Discrimination?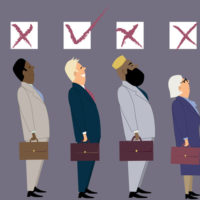 Title VII of the Civil Rights Act of 1964 (Title VII), which is federal law, prohibits employers from discriminating against employees on the basis of national origin. Although Title VII does not define the term "national origin," the U.S. Supreme Court in Espinoza v. Farah Manufacturing Company., Inc., 414 U.S. 86 (1973) defined a national origin as the "country where a person was born, or, more broadly, the country from which his or her ancestors came." Speaking English with an accent often reflects that an individual grew up in a country other than the United States. As a result, as the U.S. Ninth Circuit Court of Appeals explained in Fragante v. City & Cty. of Honolulu, 888 F.2d 591 (9th Cir. 1989), an individual's accent and national origin are intertwined.
Have litigated national origin discrimination cases for almost twenty years, our Marion County, Florida national origin discrimination attorneys have learned that employers sometimes try to justify, whether directly or indirectly, employment decisions based an employee's accent. For example, employers will make comments about an employee's lack of communication skills, instruct an employee to speak English when he or she is speaking English, make remarks about the difficulty in understanding an employee, mock an employee's accent, or make derogatory comments about an employee's accent.
As determined by the U.S. Tenth Circuit Court of Appeals in Carino v. Univ. of Okla. Bd. of Regents, 750 F.2d 815 (10th Cir. 1984), a "foreign accent" that "does not interfere" with an employee's ability to perform his or her job duties is "not a legitimate justification for an adverse employment decision." A more recent case from the U.S. District Court for Kansas in Hoang Nguyen v. Unified Gov. of Wyandotte, 2018 WL 587231 (D. Kan. Jan. 29, 2018) is instructive in showing that employment decisions based on an employee's accent can be evidence of national origin discrimination. 
Employee's Accent A Factor In Failure To Promote
In that case, Hoang Nguyen (Nguyen), an Asian-American of Vietnamese national origin, brought a Title VII action against his employer, the Unified Government of Wyandotte County (County), claiming that he was discriminatorily denied promotion on the basis of his national origin and race. Nguyen claimed that his Vietnamese accent was the real reason for the failure to promote him.
Nguyen was employed as a Mechanical Engineer at the County's power plant. In 2014, Nguyen applied for promotion to the position of Director of Electric Production Operations. An employee named Quach interviewed Nguyen and an employee named Moe for the position. Ultimately, Quach selected Moe for the position. In selecting Moe for the position, Quach explained that Moe's communication skills were exceptional because "he has no accent and he definitely speaks clearly and people can understand him easily." In contract, Quach found that Nguyen was "hard to understand sometimes," and his "pronunciation is a little bit deficient given the time he's been in the U.S.," and "it's very hard to understand him" particularly in a big group meeting. As a result, Quach admitted that communication skill was a significant factor in the decision not to select Nguyen for promotion. 
Evidence Of National Origin Discrimination
The County filed a motion with the trial court seeking dismissal of Nguyen's discriminatory failure to promote claim. In doing so, the County asked the trial court to rule that Nguyen's claim was without legal merit and Nguyen could not present his claim to a jury. The trial court denied the County's motion for dismissal.
At the outset of its opinion, the trial court pointed out that employment decisions cannot be justified on the basis of an employee's accent unless the employer can establish the accent interferes with the employee's ability to perform his or her job. The trial court found that Nguyen positive performance evaluations, which did not note any problems with Nguyen's accent or communication skills, demonstrated that Nguyen's accent did not adversely affect his work performance. Thus, the trial court explained, Quach's comments about Nguyen's accent could be viewed by the jury as evidence of discriminatory animus against Nguyen "on account of his national origin." In other words, because Nguyen had produced evidence establishing that his accent was a significant factor in the decision not to promote him, Nguyen had produced sufficient evidence for a jury to find that he was not promoted on the basis of national origin because Nguyen's accent and national origin are "inextricably intertwined."
Free Consultation With National Origin Discrimination Lawyers
Based in Ocala, Florida and representing employees throughout Central Florida, we have almost twenty years of experience representing employees who have been discriminated against on the basis of national origin. If you have been subjected to an adverse employment because of your accent or have questions about your protection against discrimination because of your accent, please contact our office for a free consultation with our Marion County, Florida national origin discrimination attorneys. Our employee rights law firm takes employment discrimination cases on a contingency fee basis. This means that there are no attorney's fees incurred unless there is a recovery and our attorney's fees come solely from the monetary award that you recover.