Court Rejects Employer's Attempt To Portray Sexual Harassment As "Nothing More Significant Than Flirting"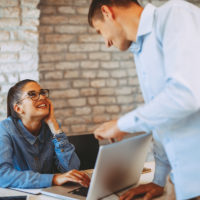 Title VII of the Civil Rights Act of 1964 (Title VII) protects employees from sexual harassment that is sufficiently severe or pervasive to alter the conditions of the victim's employment and create an abusive work environment. Having represented sexual harassment victims for almost twenty years, our Citrus County, Florida sexual harassment lawyers have learned that employers often defend sexual harassment cases by claiming that the conduct was not really sexual in nature. For example, employers frequently argue that the conduct was really just flirting, horseplay, or banter. Grasping at straws, employers will sometimes even argue that the whole thing was just a misunderstanding. Read more to learn about wrongful termination through sexual harassment.
Unfortunately, some courts rubberstamp such self-serving employer arguments and rule that a reasonable person in the victim's position would not find the conduct sufficiently offensive to create a hostile work environment. In other words, following the lead of employers, courts often seek to minimize the discriminatory effect of the harasser's conduct and find that the harasser ostensibly acted with benign intent. The recent decision by the U.S. District Court for the Northern District of Mississippi in Moore v. Bolivar County, Mississippi, No. 15-145 (N.D. Miss. Dec. 1, 2017) is instructive in showing that once there is evidence of improper conduct and the victim subjectively perceived the conduct as offensive, whether the conduct rises to the level required to create a hostile work environment is in the jury's hands.
Employee's Rejection Of Sexual Advances Culminates In Discharge 
In that case, Isadore Samuel Moore (Moore) asserted a sexual harassment claim against his former employer, Bolivar County Regional Correctional Facility (Bolivar County), pursuant to Title VII. Moore was employed by Bolivar County as an alcohol and drug counselor. Moore received his initial training from the Director of the Alcohol and Drug Department, a female employee named Cook. 
According to Moore, within the first three months of his hire, Cook began to sexually harass him. Moore claimed that Cook asked him if he was married and if he was "seeing anybody," complimented him on how he looked, invited him to go have drinks with her, sent him a picture of herself to his personal e-mail account, told him that he "looks like the type of guy that knows his way around women," and wanted to find out "what kind of guy he was." As a result of Cook's conduct, Moore alleged that he suffered significant stress which required him to seek counseling and begin taking medication for hypertension.
Moore claimed that after he rejected Cook's sexual advances, Cook began criticizing his work performance, reprimanding him, writing him up, and required him to attend training sessions to improve the quality of his work. In early 2014, Cook was suspended without pay for three days for "consistently disregarding instructions from his supervisors and failing to improve his work performance." In October 2014, the Bolivar County Sheriff terminated Moore's employment because of "unsatisfactory work performance and incomplete client files."
Court Finds Alleged Harasser Brought About Termination
In his lawsuit, Moore claimed that Cook subjected him to quid pro quo sexual harassment because his rejection of her sexual advances resulted in his termination. Bolivar County filed a motion with the trial court seeking dismissal of Moore's sexual harassment case. In moving for dismissal, Bolivar County argued that Moore's sexual harassment case must be dismissed because Cook's alleged harassment was "nothing more significant than flirting." The trial court refused to dismiss Moore's quid pro quo sexual harassment and ruled that whether Cook subjected Moore to quid pro quo sexual harassment must be resolved by a jury.
In allowing Moore's quid pro quo sexual harassment claim to proceed to a jury trial, the trial court found that the evidence reflected that "shortly after" Moore rejected Cook's sexual advances, "Cook began criticizing, reprimanding, and disciplining [Moore], leading to his termination." The trial court also found that "given the temporal proximity" between Moore's rejection of Cooks' sexual advances and her retaliatory actions, along with evidence that Cook "improperly wrote-up" Moore, there was sufficient evidence to establish that Cook intended to bring about Moore's termination because of his rejection of her sexual advances. Although Cook was not the ultimate decision-maker with respect to Moore's termination, the trial court observed that Cook met with the Bolivar County Sheriff on "several occasions" to discuss Moore's work performance. This evidence, the trial court concluded, was sufficient to establish that Cook caused Moore's termination.
Free Consultation With Citrus County Sexual Harassment Lawyers
Based in Ocala, Florida and representing employees throughout Central Florida, we have been fighting for the rights of sexual harassment victims for almost twenty years. If you have experienced sexual harassment at work or have questions about being retaliated against for rejecting a supervisor's sexual advances, please contact our office for a free consultation with our Citrus County, Florida sexual harassment lawyers. Our employee rights law firm takes sexual harassment cases on a contingency fee basis. This means that there are no attorney's fees incurred unless there is a recovery and our attorney's fees come solely from the monetary award that you recover.