Court Sends Age Discrimination Case To Jury Because "No Reasonable Employer" Would Fire Employee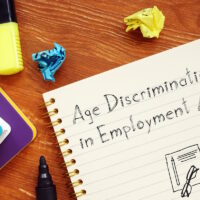 For more than two decades, our Marion County, Florida age discrimination victims' lawyers have represented Florida employees who have been discriminated against based on age. Through their extensive experience representing age discrimination victims, our Ocala, Florida age discrimination victims' attorneys know that courts repeatedly declare they do not serve as super-personnel departments weighing the prudence or wisdom of employment decisions. Seizing on this principle, employers invariably argue that not matter how irrational, nonsensical, or flimsy their reason for an employment decision, the federal anti-discrimination laws do not interfere.
However, as the U.S. Second Circuit Court of Appeals observed in Stratton v. Dept. for the Aging, 132 F.3d 869 (2d Cir. 1997), "actions taken by an employer that disadvantage an employee for no logical reason constitute strong evidence of an intent to discriminate." In harmony with this principle, the U.S. Seventh Circuit Court of Appeals determined in Bullard v. Sercon Corp., 846 F.2d 463 (7th Cir. 1988) the fact that an employee is fired "without good cause" may in some cases be evidence of discrimination. Thus, if the employer offers an irrational, nonsensical, or flimsy reason for its employment decision, a jury may reasonably conclude that the reason was asserted to mask a discriminatory motive. In this article, our Ocala, Florida age discrimination victims' lawyers explain how the decision in Sligay v. The Kroger Company,Case No. 19-cv-10802 (E.D. Mich. Sept. 2, 2020) demonstrates that the more questionable an employer's reason for an employment decision, the easier it will be for a court to send an employment discrimination case to a jury for resolution.
Employee Claims Fired Based On Age
In that case, Mary Sligay (Sligay) brought an age discrimination lawsuit against her former employer, The Kroger Company (Kroger), pursuant to the Age Discrimination in Employment Act (ADEA). Under the ADEA, employers are prohibited from making employment decisions on the basis of employees' age. Sligay claims that Kroger violated the ADEA by firing her because of her age.
Sligay worked for Kroger for thirty-eight years. When fired, Sligay was working at Kroger's store in Taylor, Michigan as a direct store delivery receiver. Although Kroger attempted to portray Sligay as a problem employee by pointing to various "write-ups" over the years, all of those were for minor incidents, such as being tardy or not properly "calling off" for work. Sligay's final three annual performance evaluations indicate that in those years she was "exceeding expectations."
In August 2018, an assistant manager was looking over the store's inventory reports and noticed "shrinkage," i.e., inventory that cannot be accounted for. One of Sligay's job duties was to sort through expired or damaged items brought to the back room from various departments. Edible items would be donated to charity and damaged or expired items would be thrown out or returned to the vendor for credit. All such items, according to Kroger's policy, were supposed to be scanned by a hand-held scanner. The assistant manager found some items in the trash that had not been scanned. Kroger then launched an investigation and the investigator ended up focusing his attention on Sligay.
Employee Claims Singled Out Based On Age
The investigator claimed that on three occasions he observed Sligay discarding various items that were not scanned out. On these occasions, the investigator further alleged, he observed Sligay with a box of random unknown trash, then taking the items placed in the damaged area (intended to be sorted through and scanned out), and placing the items in the trash box. At no point, according to the investigator, did Sligay make any scan out attempt. The investigator also found that Sligay engaged in a pattern of personal purchases while she was punched in for her shift. The investigator alleged that Sligay would shop for the items and then purchase them while punched in for work. Sligay actions, according to Kroger, violated its policy that all employee purchases are to be made when the employee is off the clock.
On August 17, 2018, Kroger terminated Sligay's employment for having thrown away items without scanning them and for purchasing items while on the clock. Sligay was replaced by a twenty-eight year old worker. At her deposition, Sligay testified that she scanned everything except possibly one package of tortilla shells that had been submerged in bleach, and she told one of the assistant managers that she was throwing it away for that reason. At her deposition, Sligay admitted to purchasing items (usually something to drink) while on the clock, but claimed that she did so with the knowledge of the management staff who would cover her workstation for her while she would "run up and get it." Sligay further testified that other employees, including those significantly younger than her, routinely made purchases on the clock and were not fired.
Unreasonable Discharge Reflects Discrimination
Kroger filed a motion with the trial court seeking dismissal of Sligay's age discrimination. In support of its motion for dismissal, Kroger argued that the evidence established that Sligay was fired for a legitimate, non-discriminatory reason: the company's investigator saw her violate company policy. The trial court denied Kroger's motion for dismissal and ruled that Sligay's evidence was sufficient to proceed to trial on the issue of whether she was fired based on age in violation of the ADEA.
In denying Kroger's motion for dismissal, the trial court focused on the shaky reason for Sligay's dismissal and found that a "jury could easily conclude that no reasonable employer would discharge a highly experienced employee, who according to her most recent annual performance reviews had been exceeding expectations, based on her alleged violations of the two cited work rules." In support of its conclusion, the trial court reasoned that Slager denied violating the failure to scan work rule and the evidence showed that the making purchases while on the clock work rule "was routinely disregarded, not only by [Sligay] but by other employees as well, with management's knowledge and approval." Based on this evidence, the trial court determined, "a jury would be entitled to disbelieve Kroger's reasons for discharging [Sligay] and conclude that the true reasons were discriminatory."
Ocala, FL Lawyers For Age Discrimination
Based in Ocala, Florida and representing employees throughout Central Florida, our Marion County, Florida age discrimination victims' attorneys have been fighting on behalf of employees against unlawful employment practices for more than twenty years. If you have been discriminated against based on age or have questions about your employee rights under the federal anti-discrimination laws, please contact our office for a free consultation with our Ocala, Florida age discrimination victims' lawyers. Our employment and labor law attorneys take age discrimination cases cases on a contingency fee basis. This means that there are no attorney's fees incurred unless there is a recovery and our attorney's fees come solely from the monetary award that you recover.