Discharged Worker Claims Age Discrimination Where Employer Was Recruiting Younger Staff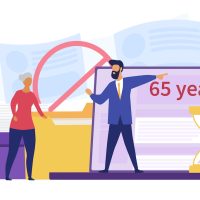 For more than twenty years, our Citrus County, Florida employment lawyers have fought for the rights of employment discrimination victims. Having litigated employment discrimination cases for decades, our Inverness, Florida employment lawyers know that older workers continue to be targeted for termination because of their age. A common tactic used by employers when targeting older employees for termination is to conduct a review of their past work performance and come up with alleged performance problems that are used to justify their termination. In this article, our Citrus County, Florida employment attorneys explain how the alleged facts in Desai v. University of Massachusetts Memorial Medical Center, Case No. 4:19-cv-10520 (D. Mass. May 31, 2022) are illustrative of this employer tactic.
Age Discrimination Lawsuit
In that case, a woman named Desai brought an age discrimination lawsuit against her former employer, the University of Massachusetts Memorial Medical Center (the Medical Center), pursuant to the Age Discrimination in Employment Act (ADEA). Under the ADEA, employers are forbidden from discriminating against employees on the basis of age. Desai claims that the Medical Center terminated her employment as a radiologist because of her age in violation of the ADEA.
In 1992, Desai began working at the Medical Center as a radiologist. The Chair of the Radiology Department, Rosen, supervised and managed all radiologists employed by the Medical Center, including Desai. Desai was highly regarded among many of her colleagues. In letters of recommendation written over the years, colleagues described Desai as a "superb," "excellent," and "careful and observant" radiologist with "excellent command of the intricacies of interpretation in chest CT scans." Indeed, none of Desai's annual performance reviews reflected any deficiencies in her performance.
However, two doctors lodged complaints about the quality of Desai's chest CT interpretations. As a result, Rosen decided to conduct a review of Desai's chest CT interpretations. On February 1, 2017, Rosen asked Radiology Department staff to select randomly twenty-five of Desai's chest CT interpretations and, as a control group, twenty-five chest CT interpretations from other radiologists. On August 25, 2017, Rosen then contacted another doctor, Litmanovich, a chest radiologist unaffiliated with the Medical Center, to conduct an independent review. Rosen asked Litmanovich whether she agreed or disagreed with each interpretation in the group of fifty anonymized studies, and if she disagreed, whether it was a minor or major disagreement and whether in her opinion the disagreement would have an impact on patient care.
Recruiting Younger Staff
On October 3, 2017, before Litmanovich's review was complete, Rosen sent an email to several executives of the Medical Center stating that he had found a "great" chest radiologist who was finishing his fellowship in June 2018. Rosen stated that he wanted to make the radiologist a job offer, but that he had "not formally resolved Desai's employment—planned for 9/30/18." A week later, a radiologist in the Radiology Department, Ferrucci, sent an email to Rosen stating that he had spoken with Desai and "told her that you wanted to be accommodating especially in recognition of her years of service," but that "you also had an obligation as Chair to think about recruiting younger staff for service needs." Rosen responded, "Thanks."
On December 25, 2017, Litmanovich sent Rosen her findings. Litmanovich identified five major errors and nine errors impacting patient care. As part of her age discrimination lawsuit, Desai hired an expert in radiology to review the fifty interpretations reviewed by Litmanovich. That expert found that Desai made no significant errors, that her interpretations were "well within the expected standard of care," and that Litmanovich's criticism was "entirely subjective."
On March 14, 2018, Rosen met Desai to tell her that her employment would be terminated on March 17, 2018. Rosen represents that his decision to terminate Desai's employment was based on his assessment of Litmanovich's independent review. On an "employee separation form" signed by Rosen on November 30, 2018, Rosen listed the reason for Desai's termination as "retirement," rather than selecting an option in the form for "performance issues."
Pretextual Performance Review
The Medical Center filed a motion with the trial court seeking dismissal of Desai's age discrimination claim. The Medical Center maintained that the evidence established that Desai was fired due to performance issues found in Limanovich's independent review of her work. The trial court denied the Medical Center's motion for dismissal and ruled that Desai had presented sufficient evidence of age discrimination to proceed to a jury trial.
In denying the Medical Center's motion for dismissal, the trial court focused on the suspicious circumstances surrounding the independent review of Desai's work performance. The trial court pointed out that although Litmanovich did not send her independent review to Rosen until December 25, 2017, Rosen had sent an email to several executives two months earlier "stating that he wanted to make a job offer to a radiologist finishing his fellowship that June, flagging that the end of Desai's employment was 'planned' for September 30, 2018." Thus, according to the trial court, the evidence suggested that the Medical Center "had plans to terminate" Desai "regardless of how Litmanovich's review turned out, thus making Rosen's assessment of Litmanovich's review—the proffered non-discriminatory reason—pretextual." In other words, the trial court reasoned, the Medical Center used the alleged independent performance review as a pretext for firing Desai because of her age.
Citrus County, FL Employment Lawyers
Based in Ocala, Florida and representing workers throughout Florida, our employment attorneys in Citrus County, Florida have dedicated their practice to fighting for the rights of employment discrimination victims. If you have experienced workplace discrimination or have questions about your rights as an employment discrimination victim, please contact our office for a free consultation with our employment lawyers in Citrus County, Florida. Our employee rights law firm takes employment discrimination cases on a contingency fee basis. This means that there are no attorney's fees incurred unless there is a recovery and our attorney's fees come solely from the monetary award that you recover.