Do Employees Still Have Sexual Harassment Claims When Pressured Into Having Sex By Job Threats?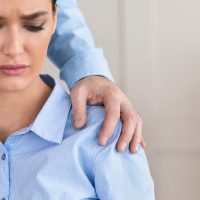 Having litigated sexual harassment cases in Florida courts for more than two decades, our sexual harassment lawyers in Marion County, Florida know that a common employment law myth is that employees who are pressured into having sexual relations with a supervisor because of threats to their job do not have meritorious sexual harassment claims. Because of this employment law myth, many sexual harassment victims who endure one of the most egregious forms of sexual harassment do not pursue available remedies under federal employment discrimination law. As observed by the court in Jin v. Metro Life Ins. Co.,  310 F.3d 84 (2d Cir. 2002), "requiring an employee to engage in unwanted sex acts is one of the most pernicious and oppressive forms of sexual harassment that can occur in the workplace."
Remarkably, this employment law myth originated and continues to endure despite the U.S. Supreme Court's landmark decision Meritor Sav. Bank v. Vinson,  477 U.S. 57 (1986). In that case, the Supreme Court held for the first time that sexual harassment is a form of sex discrimination prohibited by Title VII of the Civil Rights Act of 1964 (Title VII). A ruling handed down by the Court even though the sexual harassment victim in that case engaged in sexual acts with a supervisor, which she claimed were unwelcome and occurred because of threats to her job. Thus, the Supreme Court's first landmark sexual harassment case involved circumstances where an employee alleged that she was required to engage in unwanted sexual acts because of job threats by a supervisor.
In this article, our sexual harassment lawyers in Marion County, Florida explain how the decision in Moody v. Atlantic City Board of Education, 870 F.3d 206 (3d Cir. 2017) demonstrates that employees can still bring sexual harassment claims when they are pressured into engaging in unwanted sexual acts because of a supervisor's threats to their job.
Sexual Harassment Lawsuit
In that case, a woman named Moody brought a sexual harassment claim against her employer, the Atlantic City Board of Education (Board), pursuant to Title VII. Moody claims that she was subjected to unwanted sexually harassing behavior, including being pressured into have sex with her supervisor because of threats to her job, in violation of Title VII.
In November 2001, Moddy began working for the Board as a substitute custodian. As a substitute custodian, Moody filled in for full-time custodians but was not guaranteed any work. By October 2012, Moody's supervisor, Marshall, was assigning Moody regular work.
Moody claims that, around the end of October 2012, Marshall began making sexual comments to her and told her that he would assign her more hours if she performed sexual favors for him. According to Moody, Marshall "would often be very touchy feely and grab [Moody's] breasts or buttocks at the workplace." Moody testified that: (1) in early November 2012, Marshall called her into his office and tried to remove her shirt; (2) in late November 2012, Marshall called Moody into his office, where Moody found Marshall sitting unclothed in his office chair; and (3) in December 2012, Marshall grabbed Moody, pulled her towards him, and stated: "you want more hours?"
Worker Felt Pressured Into Having Sex
Moody alleges that, on December 27, 2021, Marshall sent her text messages, including an obscene sexual proposition, promising to obtain her full-time work if she acquiesced to his sexual advances. That evening, according to Moody, Marshall came to her house and told her that she would get full-time work if she had sex with him. Marshall allegedly grabbed her and began to kiss her. Moody "felt that her job had been threatened," and therefore she gave into Marshall's unwelcome advances and reluctantly had sex with him. In the days following this encounter, Moody alleges that she told Marshall that it would never happen again. Moody contends that Marshall treated her differently after she rejected him, including reducing her house because she rejected his sexual advances.
In February 2013, Moody lodged a sexual harassment complaint with Human Resources. Human Resources subsequently began an investigation into Moody's complaint. Although Human Resources interviewed Moody, Marshall, and eight employees, it did not reach a conclusion as to whether Moody was sexually harassed. Ultimately, the Board hired an outside law firm to conduct an independent investigation. The law firm issued a report in July 2013 finding that Moody was not subjected to sexual harassment.
Sexual Harassment Includes Unwanted Sex Acts
The trial court dismissed Moody's sexual harassment claim. On appeal before the U.S. Third Circuit Court of Appeals, a threshold issue was whether the alleged sexual harassment Moody experienced was unwelcome in the sense that it was undesired and unwanted by Moody. In resolving this issue, the appellate court focused Moody's testimony that she engaged in sex with Marshall because she felt her job was threatened. The court of appeals observed that Moody testified that "she believed Marshall expected to trade sexual favors for work and would seek retribution if she did not accede to his demands, and that he made her uncomfortable when he grabbed her and when he invited her into his office while he was unclothed." The appellate court also pointed out that Marshall sent Moody an obscene sexual proposition by text message, and thereafter showed up at Moody's "house uninvited and pressured her into having sex with him by threatening her job." Based on this evidence, the Third Circuit concluded that a reasonable jury could find that Moody was subjected to unwanted sexual harassment in violation of Title VII.
Marion County Sexual Harassment Lawyers
Based in Ocala, Florida, and representing workers throughout Florida, our employment sexual harassment attorneys in Marion County, Florida have fought for the rights of sexual harassment victims for more than twenty years. If you have been required by a supervisor to engage in unwanted sexual acts or have questions about your rights as a sexual harassment victim, please contact our office for a free consultation with our sexual harassment lawyers in Marion County, Florida. Our employee rights law firm takes sexual harassment cases on a contingency fee basis. This means that there are no attorney's fees incurred unless there is a recovery and our attorney's fees come solely from the monetary award that you recover.