Do Sexist Comments & Jokes Contribute To The Creation Of A Sexual Hostile Work Environment?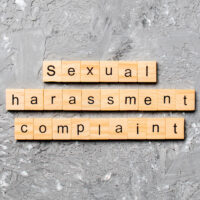 Having fought for the rights of sexual harassment victims for more than two decades, our Citrus County, Florida sexual harassment lawyers have learned that a common employment law myth is that non-sexual behavior does not contribute to the creation of a sexual hostile work environment. However, prohibited sexual harassment is not limited to verbal or physical conduct of a sexual nature, such as sexual remarks, sexual advances, or sexual touching. Instead, prohibited sexual harassment also includes non-sexual behavior. As the U.S. Fourth Circuit Court of Appeals in EEOC v. & R & R Ventures, Inc., 244 F.3d 334 (4th Cir. 2001) explained, a work environment involving "remarks that intimidate, ridicule, and maliciously demean the status of women can create an environment that is as hostile as an environment that contains unwanted sexual advances." In this article, our Inverness, Florida sexual harassment attorneys explain how the recent decision by the U.S. District Court for the Northern District of New York in Erno v. N.Y. State Office of Info. Tech. Services,2020 WL 2736563 (N.D. N.Y. May 26, 2020) demonstrates that non-sexual behavior can contribute to the creation of a sexual hostile work environment.
Employee Claims Sex-Based Harassment
In that case, Marie Erno (Erno) brought a sexual harassment lawsuit against her employer, New York State Office of Information Technology Services, Inc. (ITS), pursuant to Title VII of the Civil Rights Act of 1964 (Title VII). Under Title VII, employees are protected from sex-based harassment which is sufficiently severe or pervasive to alter the conditions of the victim's employment and create an abusive working environment. Erno claims that she was subjected to sex-based harassment in violation of Title VII.
Erno is employed by ITS as an Information Technology Specialist III. Erno's claim of sex-based harassment stems from sexual harassment directed at her and others by her former supervisor, a man named Lubin. Erno alleges that during the time they worked in the same office, Lubin "would frequently make explicit jokes and comments." On one occasion, according to Erno, Lubin publicly discussed his spouse's ability to perform oral sex. Erno further alleges that "on no less than ten occasions, Lubin told an offensive joke wherein a woman was told that she should show her breasts if she wanted to get ahead in the world." While these comments were sometimes made in front of co-workers, on other occasions they were made directly to Erno.
Employee Lodges Harassment Complaint
Ultimately, Erno lodged a complaint with a supervisory-level employee about Lubin's alleged sexually harassing conduct and creation of a hostile workplace. After Erno submitted a written complaint to human resources personnel regarding the harassment, ITS initiated an investigation regarding Lubin's complaint. After completing its investigation, ITS sent Erno an email informing her that her "allegations of sexual harassment, hostile work environment were substantiated." Although ITS told Erno that "affirmative action will be taken to address the situation," Erno claims that "no preventive or corrective actions were taken." Instead, according to Erno, ITS continued to force her to work with Lubin, who then began making thinly veiled threats against her and even trained a camera on her workstation. Erno further claims that Lubin also began making statements in the office that Erno was lying and "trying to get him fired."
Sexist Comments Create Abusive Environment
ITS filed a motion with the trial court seeking dismissal of Erno's sexual harassment claim. In doing so, ITS maintained that Lubin's alleged harassing conduct was insufficiently severe or pervasive to create a hostile or abusive working environment in violation of Title VII. The trial court denied ITS's motion for dismissal and ruled that Erno's allegations were sufficient to state a hostile work environment claim based on her sex.
In denying ITS's motion for dismissal, the trial court explained that the "depiction of women in offensive jokes that are uniformly sexually degrading toward women are particularly insulting because they cast women in a demeaning role—as objects of sex-based ridicule and subjects for sexual exploitation." In applying this principle, the trial court found that Erno's allegations that she was repeatedly subjected to crude sexist comments and jokes were sufficient to establish that a "reasonable person in [Erno's] position would feel the conditions of her employment had changed for the worse."
Consult With Inverness Sexual Harassment Lawyers
Based in Ocala, Florida and representing employees throughout Central Florida, our Citrus County, Florida sexual harassment attorneys have dedicated their practice to representing sexual harassment victims. If you have been subjected to sexist comments or jokes in the workplace or have questions about your protection against gender-driven harassment, please contact our office for a free consultation with our Inverness, Florida sexual harassment lawyers. Our employees' rights attorneys take sexual harassment cases on a contingency fee basis. This means that there are no attorney's fees incurred unless there is a recovery and our attorney's fees come solely from the monetary award that you recover.