Does Asking An Employee About His Or Her Physical Ability To Do The Job Reflect Disability Discrimination?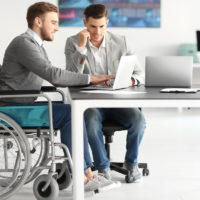 Having litigated disability discrimination claims for almost twenty years, our Alachua County, Florida employment law attorneys have learned that employers frequently discriminate against employees who they perceive as disabled. Under the Americans with Disabilities Act (ADA), employees are protected from disability discrimination if they have an actual disability or the employer "regards" them as having a disability. Thus, for purposes of the ADA, the term disability means an individual has an actual disability or is "regarded as" having a disability. In the context of a disability discrimination lawsuit, the difference between an actual disability and a perceived disability is significant. Simply stated, it is far easier to prove that an employer "regarded" the employee as disabled than it is to prove that the employee has an actual disability.
To prove an actual disability under the ADA, an individual must establish that he or she has a physical or mental impairment that substantially limits one or more major life activities. The ADA defines a physical impairment as any physiological disorder or condition affecting one or more body systems, such as neurological, musculoskeletal, respiratory, and cardiovascular. The ADA defines a mental impairment as any mental or psychological disorder, such as intellectual disability, emotional or mental illness, and specific learning disabilities. Major life activities include seeing, hearing, sleeping, walking, standing, lifting, bending, speaking, concentrating, communicating, and working.
To prove an employer "regarded" an individual as disabled, the individual only has to establish that the employer perceived him or her as having a physical or mental impairment regardless of whether or not the impairment actual limits or is perceived to limit a major life activity. Consequently, an individual does not have to prove that the employer subjectively believed that the individual was substantially limited in a major life activity because of the perceived physical or mental impairment. In eliminating the burden of demonstrating that the employer subjectively believed that the employee was substantially limited in a major life activity because of the perceived physical or mental impairment, the ADA's "regarded as" definition of disability significantly expands the class of individuals who are entitled to protection under the ADA. 
Employee Questioned About Physical Ability To Do The Job
The recent decision by the U.S. District Court for Hawaii in Crowley v. Wal-Mart Stores, Inc., 2018 WL 4345251 (D. Hawai'i Sept. 11, 2018) illustrates the expansive scope of the ADA's "regarded as" definition of disability. In that case, Terrance Crowley (Crowley) brought an ADA claim against his former employer, Wal-Mart Stores, Inc. (Wal-Mart). Crowley alleged that Wal-Mart terminated his employment because it wanted a nondisabled store manager to replace him.
Crowley was employed by Wal-Mart as a store manager. In 2010, 2011, and 2012, Crowley took leave under the Family Medical Leave Act for three surgeries to his ankle. Crowley alleged that a Market Manager named Halsey pressured him to return to work early from each of these surgeries. In March 2013, an employee named Armijo replaced Halsey as the Market Manager and as Crowley's direct supervisor. Crowley claimed that Armijo, upon seeing Crowley walking with a cane and boot, asked him on several occasions whether he was still able to run the store. Being able to walk around the store was an essential function of Crowley's store manager position.
Crowley had another ankle surgery in 2014, taking off from August 27, 2014 to October 27, 2014, to recover. On October 27, 2014, Crowley met with Armijo and a Market HR Manager. During the meeting, Crowley was terminated because of alleged safety concerns that went unaddressed, including bald tires on a fork lift.
Employer May Have Regarded Employee As Disabled
Wal-Mart filed a motion with the trial court seeking dismissal of Crowley's disability discrimination claim. In doing so, Wal-Mart claimed that Crowley failed to establish that he has an actual disability or that Wal-Mart "regarded" Crowley as disabled. In particular, Wal-Mart argued that "asking a person about his or her ability to do his or her job" was insufficient as a matter of law to establish that an employer perceived the employee as disabled. The trial court denied Wal-Mart's motion and ruled that whether Wal-Mart fired Crowley on the basis of disability was for a jury to decide.
The trial court found that Armijo's comments to Crowley about whether he was physically able to perform his job as store manager reflected that Armijo "may have regarded Crowley as disabled." Because Armijo participated in the decision to fire Crowley, the trial court explained, his comments constituted "circumstantial evidence" that Crowley was fired based on his perceived disability. Thus, although Wal-Mart allegedly had a "legitimate nondiscriminatory safety reason for having terminated Crowley," the trial court concluded, "it is for the jury to decide whether that reason was pretextual given Armijo's participation in Crowley's termination."
Free Consultation With Gainesville Employment Lawyers
Based in Ocala, Florida and representing employees throughout Central Florida, we have extensive experience litigating disability discrimination cases in federal and state court. If you have been the victim of disability discrimination or have questions about your protection against disability discrimination, please contact our office for a free consultation with our Alachua County, Florida employment law attorneys. Our employee rights law firm takes disability discrimination cases on a contingency fee basis. This means that there are no attorney's fees incurred unless there is a recovery and our attorney's fees come solely from the monetary award that you recover.