Does Firing A Worker Because She Took Maternity Leave Constitute Pregnancy Discrimination?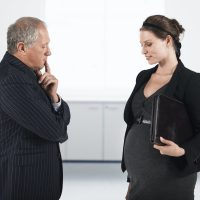 For more than twenty years, our Citrus County, Florida pregnancy discrimination attorneys have represented Florida employees who have been discriminated against on the basis of pregnancy. Through their extensive experience representing pregnancy discrimination victims, our Inverness, Florida pregnancy discrimination lawyers know that a common employment law myth is that pregnant workers lose their protection from pregnancy discrimination after giving birth. Because of this employment law myth, our Citrus County, Florida pregnancy discrimination attorneys have learned, many women who were fired while on maternity leave or shortly after returning to work from maternity leave are unaware that their rights under federal employment discrimination law have been unlawfully violated.
Legal Protection For Pregnant Employees
Title VII of the Civil Rights Act of 1964, as amended by the Pregnancy Discrimination Act of 1978 (PDA), prohibits discrimination on the basis of pregnancy, childbirth, or related medical conditions. In seeking to narrow the scope of the PDA's protection against pregnancy discrimination, employers maintain that the fact that an employee was no longer pregnant at the time of the adverse employment action, such as a termination, automatically defeats the employee's claim of pregnancy discrimination. Based on this position, employers contend that women who are on maternity leave or return to work following maternity leave are no longer protected by the PDA from pregnancy discrimination. Courts have consistently rejected these employer arguments. In Smith v. F.W. Morse & Co.,  76 F.3d 413 (1st Cir. 1996), the U.S. First Circuit Court of Appeals determined that because "a short-term inability to work is bound up with the very nature of pregnancy and childbirth, that disability is a pregnancy-related condition within the meaning of [the PDA], and [the PDA] thus prohibits an employer from dismissing an employee in retaliation for taking an authorized maternity leave." Thus, the Smith  court explained, the PDA "mandates that an employer must put an employee's pregnancy (including her departure on maternity leave) to one side in making its employment decisions." In other words, the PDA forbids employers from making employment decisions based on an employee's pregnancy or taking of maternity leave. When an employer fires a woman because she is on maternity leave or took maternity leave, the employer has discriminated against her on the basis of pregnancy in violation of the PDA.
Pregnancy Discrimination Lawsuit
The recent decision in Rayford v. La Petite Academy, Inc., Case No. 19-cv-7877 (N.D. Ill. June 4, 2021) is illustrative of these principles. In that case, a woman named Rayford (Rayford) brought a pregnancy discrimination claim against her former employer, La Petite Academy, Inc. (La Petite) under the PDA. Rayford claims that La Petite violated the PDA by terminating her employment following her maternity leave.
La Petite is a national educational daycare company with locations across the country. In May 2012, Rayford began working for La Petite. In April 2016, she became the director of La Petite's school in Aurora, Illinois. In January 2018, Rayford informed her supervisor, a woman named Sallay (Sallay) that she was pregnant. In July 2018, Rayford requested leave under the Family Medical Leave Act (FMLA) for the birth of her child. Rayford's FMLA maternity leave was approved for the time period from September 11, 2018, until November 6, 2018.
You Leaving Is Not A Good Thing
Following the approval of Rayford's FMLA maternity leave, Rayford and Sallay discussed how the school would cover Rayford's absence. Rayford testified that Sallay was concerned about her leaving and told her, "you leaving is not a good thing." Ultimately, Sallay selected a woman named Theobald to oversee operations at the Aurora school while Rayford was on maternity leave.
Rayford gave birth on September 7, 2018, and began her FMLA maternity leave a few days earlier than planned. When Theobald began filling in at the Aurora, she noticed several violations of La Petite policies, including children bringing in outside food to eat during the school day and staff transporting children without proper authorization. Shortly after Rayford returned from FMLA maternity leave in November 2018, Sallay and Rayford met to discuss the policy violations Theobald had uncovered. Sallay decided to terminate Rayford because of the policy violations.
Evidence Of Discriminatory Discharge
La Petite filed a motion with the trial court seeking dismissal of Rayford's pregnancy discrimination claim. In support of its motion for dismissal, La Petite proffered a new take on the customary employer argued that the fact that an employee was no longer pregnant at the time of the termination defeats the employee's claim of pregnancy discrimination. La Petite claimed that the timing of Rayford's termination was not suspicious—firing her shortly after she returned from maternity leave—because it "knew of [Rayford's] pregnancy and of her intention to take maternity leave months before she even began her leave, let alone returned from it, and it was only after [Rayford] returned to work" that she was fired. In other words, according to La Petite, firing an employee shortly after she returned from maternity leave is not suspicious because she was no longer pregnant when she was fired.
The trial court denied La Petite's motion for dismissal and ruled that Rayford was entitled to present her pregnancy discrimination claim to a jury for resolution. In doing so, the trial court rejected La Petite's argument that the timing of Rayford's termination was not suspicious. The trial court refused to accept La Petite's position that termination must be "close in time to [the pregnant employee's] initial request for maternity leave to be suspicious." A position advanced by La Petite, the trial court pointed out, without citation to any legal authority. Instead, the trial court found that the timing of Rayford's termination was suspicious because it came "close on the heels" of her return from maternity leave.
In addition to the suspicious timing of Rayford's termination, the trial court found that Rayford's testimony that Sallay was "displeased about having to find cover for [Rayford's] maternity leave and told her that "you leaving is not a good thing," was another "piece of circumstantial evidence" reflecting that La Petite acted with discriminatory intent in terminating Rayford. Combing this evidence with the suspicious timing, the trial court concluded, "a reasonable jury could conclude that the evidence, considered as a whole, is fishy enough to support an inference of discrimination."
Discrimination Lawyers In Citrus County, FL
Based in Ocala, Florida, and representing workers throughout Central Florida, our pregnancy discrimination attorneys in Citrus County, Florida have litigated employment discrimination cases in Florida courts for more than two decades. If you have been discriminated against because of pregnancy or have questions about your rights as a pregnant employee under federal employment discrimination law, please contact our office for a free consultation with our pregnancy discrimination lawyers in Inverness, Florida. Our employee rights law firm takes pregnancy discrimination cases on a contingency fee basis. This means that there are no attorney's fees incurred unless there is a recovery and our attorney's fees come solely from the monetary award that you recover.