Does The Americans With Disabilities Act Protect Employees From Retaliation If They Are Not Disabled?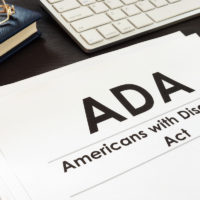 Under the Americans with Disabilities Act (ADA) employers are prohibited from discriminating against employees on the basis of disability. Under the ADA, employers are also obligated to provide employees with reasonable accommodations for their disability. To preserve the availability of these rights, and to enforce them, the ADA contains an anti-retaliation provision. Under the ADA, employees are protected from retaliation for exercising their rights under the ADA, including complaining about perceived disability discrimination and requesting a reasonable accommodation.
Having almost twenty years of experience representing employees who have been subjected to disability discrimination, our Alachua County, Florida disability discrimination attorneys have learned that employers defend retaliation claims under the ADA by arguing that an employee must have an actual disability in order to receive protection from retaliation by the ADA. Without an actual disability, employers argue, an employee is not protected from retaliation by the ADA. The recent decision by the U.S. District Court for the Southern District of Ohio in Hoover v. Chipotle Mexican Grill, Inc., 2018 WL 1899166 (S.D. Ohio April 20, 2018) is instructive in showing that an employee does not have to be disabled in order to come within the scope of the ADA's protection from retaliation.
Employee Claims Retaliatory Discharge Under ADA
In that case, Adam Hoover (Hoover) claimed that his former employer, Chipotle Mexican Grill, Inc. (Chipotle), subjected him to retaliatory discharge in violation of the ADA. Hoover began working at Chipotle as a crew member on October 1, 2013. In January 2014, Hoover was promoted to Take-Out Specialist. In early February 2015, Hoover was selected to be a Kitchen-Manager-in-Training.
In late February 2015, Hoover experienced a bullying incident at Miami University. On March 2, 2015, Hoover worked a closing shift at Chipotle and intended to commit suicide after leaving the restaurant. Without telling anyone about his suicidal plan, Hoover used social media to stage a fake kidnapping and report that he was being held against his will in the trunk of a car. After using social media to post the information, Hoover abandoned his car and walked for approximately two hours. In the meantime, Chipotle co-workers discovered the social media post and began a search for him. Hoover eventually walked to a house and asked the occupants to call the police, claiming that he had been kidnapped.
After some 30 minutes of discussion, Hoover admitted to the police that he was planning suicide and had faked the kidnapping. Hoover was taken to a hospital and released the next day, diagnosed with "adjustment disorder with mixed anxiety and depressed mood" and "sleep disturbance." Hoover was instructed to obtain outpatient mental health counseling and decrease his work hours. Hoover eventually pled guilty to a misdemeanor stemming from the false kidnapping report. Hoover remained in counseling for four months. Hoover took a week off from school and work after the incident. To accommodate his anxiety, his mental health counselor recommended that Hoover resume work in the kitchen area because there had been significant media coverage of the incident.
According to Hoover, the restaurant's General Manager and Assistant General Manager began treating him differently upon his return to work. Hoover asked to work only three days the first week he returned and his supervisors accommodated his request. However, when Hoover asked for additional hours, the General Manager did not want to schedule Hoover full-time right away.
Employee Complains About Perceived Disability Discrimination
On March 25, 2015, Hoover met with two Chipotle managers and a former Chipotle employee at a yogurt shop. During the meeting, Hoover stated that he "felt as though he was being shut out and . . . treated as fragile." Hoover was concerned that he was no longer on track to be promoted to Kitchen Manager. Hoover also expressed his concerns about being subjected to disability discrimination, talked about consulting a lawyer concerning his employment rights, and asked his co-workers whether they would support him if he brought a disability discrimination lawsuit against Chipotle.
The next day, one of the managers informed the General Manager about the meeting with Hoover. The manager told the General Manager that Hoover felt that he was being treated differently and unfairly, that he feared his Kitchen Manager training was being delayed, and he intended to consult a lawyer if the situation did not change. The General Manager and Area Manager decided to terminate Hoover. On March 28, 2015, the General Manager told Hoover that he was fired. The proffered reason for the termination was that Hoover was gossiping about other employees. 
Employee Must Have Reasonable, Good Faith Belief
Chipotle filed a motion with the trial court seeking dismissal of Hoover's ADA retaliation claim. In doing so, Chipotle asked the trial court to find that Hoover's retaliation claim failed as a matter of law and Hoover was prohibited from bringing his retaliation claim before a jury. The trial court denied Chipotle's motion for dismissal.
At the outset of its opinion, the trial court explained that an employee "need not be disabled in order to assert a claim of disability retaliation, so long as he has a reasonable, good faith belief that the opposed act or practice is unlawful under the ADA." The trial court pointed out that Hoover met with Chipotle managers to discuss his concerns about disability discrimination, including his belief that management was responding negatively to his mental health impairment and his "plan to seek legal redress for perceived disability discrimination." "Complaining to management about suspected discrimination," the trial court observed, "is a classic example of protected activity" under federal employment discrimination laws, including the ADA. This evidence, the trial court found, established that Hoover had a good faith belief that he was being discriminated against in violation of the ADA.
Employee's Complaint Led Directly To Termination 
In denying Chipotle's motion for dismissal, the trial court also emphasized the close timing between Hoover's complaint about perceived disability discrimination on March 25 and Hoover's termination on March 28. The close timing between the two events, the trial court determined, supported the inference that Hoover's complaint about perceived disability discrimination "led directly to his termination." Based on the totality of the evidence, the trial court concluded, a jury could find that Chipotle's "proffered reason for the termination was Hoover's [ADA] protected conduct at the [yogurt shop] meeting, including his plan to seek legal redress for perceived disability discrimination."
Free Consultation With Disability Discrimination Lawyers
Based in Ocala, Florida and representing employees throughout Central Florida, we have been litigating disability discrimination cases for almost twenty years. If you have been discriminated against on the basis of a disability or have questions about being retaliated against for complaining about perceived disability discrimination, please contact our office for a free consultation with our Alachua County, Florida disability discrimination attorneys. Our employee rights law firm takes disability discrimination cases on a contingency fee basis. This means that there are no attorney's fees incurred unless there is a recovery and our attorney's fees come solely from the monetary award that you recover.