EEOC Sexual Harassment Lawsuit Claims Harasser Engaged In Sexual Assault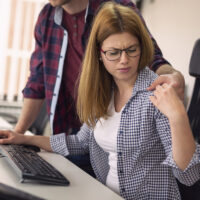 In a press release issued on February 7, 2020, the U.S. Equal Employment Opportunity Commission (EEOC) announced that it has filed a sexual harassment lawsuit against Vinca Enterprises, Inc. and Puri Group of Enterprises, Inc. On February 7, 2020, the EEOC filed the sexual harassment lawsuit, United States Equal Employment Opportunity Commission v. Vinca Enterprises, Inc. and Puri Group of Enterprises, Inc., Case No. 2:20-cv-4021, in the U.S. District Court for the Western District of Missouri after initially attempting to reach a pre-litigation settlement through its statutorily mandated conciliation process.
The EEOC has brought the sexual harassment lawsuit pursuant to Title VII of the Civil Rights Act of 1964 (Title VII) on behalf of Kathryn Palmer (Palmer). Under Title VII, employers are prohibited from discriminating against employees on the basis of sex. Sexual harassment is a form of sex discrimination prohibited by Title VII. As explained by the U.S. Supreme Court in Meritor Sav. Bank v. Vinson, 477 U.S. 57 (1986), employees are not required to run a "gauntlet of sexual abuse in return for the privilege of being allowed to work and make a living." In this article, our Marion County, Florida sexual harassment lawyers explain the EEOC's allegations of unlawful sexual harassment.
EEOC Claims Unlawful Sexual Harassment
Vinca Enterprises, Inc. and Puri Group of Enterprises, Inc. own and operate a DoubleTree hotel in Jefferson City, Missouri. From 2008 to 2015, Palmer was employed as a housekeeper and laundry worker at the DoubleTree hotel in Jefferson City. The EEOC alleges that from 2015 until early 2015, Palmer was subjected to unwanted sexually harassing behavior on a daily basis by a male room inspector named King. King's unwelcome sexual behavior towards Palmer included offensive sexual remarks, comments about his sexual experiences, hitting Palmer on the arm while she was folding laundry, and throwing Palmer on a bed in a guest room while making an offensive remark.
The EEOC further alleges that Palmer made offensive remarks on a daily basis towards other female employees, including comments about their genitalia and his genitalia. Palmer, according to the EEOC, observed and heard about King's harassment of other female workers. On one occasion, King allegedly threw another female employee named Session on a bed in a guest room and stated, "I am going to rape you." When Session complained to the General Manager of the DoubleTree hotel, the General Manager stated that he did not have to do anything about it. The EEOC claims that Palmer also complained to management employees, including the owner, about King's unwanted sexual harassing behavior. Despite Palmer's complaints, management took no action to stop the harassment and King continued to subject Palmer to unwanted sexually harassing behavior.
Helping Sexual Harassment Victims
The EEOC is the administrative agency of the United States responsible for interpreting and enforcing federal laws prohibiting employment discrimination, including sexual harassment. In enforcing the federal anti-discrimination laws, the EEOC is also authorized by federal law to bring lawsuits on behalf of employees who were subjected to a sexual hostile work environment. In a press release issued by the EEOC on February 7, 2020 regarding the case, a regional attorney for the EEOC's St. Louis District Office, Andrea G. Baran, explained that "sexual harassment in the workplace is always disturbing, but this harassment occurred on a frequent basis and continued even after management and one of the owners knew what was happening." Ms. Baran added, the "EEOC is here to defend the rights of sexual harassment victims."
Consult With Ocala Sexual Harassment Lawyers
Based in Ocala, Florida and representing employees throughout Central Florida, our Marion County Florida sexual harassment attorneys have represented employees in hundreds of cases before the EEOC. If you have been subjected to sexual harassment at work or have questions about your rights as a sexual harassment victim, please contact our office for a free consultation with our Ocala, Florida sexual harassment lawyers. Our employment law attorneys take sexual harassment cases on a contingency fee basis. This means that there are no attorney's fees incurred unless there is a recovery and our attorney's fees come solely from the monetary award that you recover.