Employee Claims Pregnancy Discrimination When She Was Fired After Requesting Maternity Leave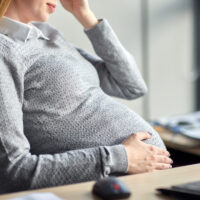 Having litigated pregnancy discrimination cases in Florida courts for more than twenty years, our Citrus County, Florida pregnancy discrimination lawyers know that employers often target women for termination after they disclose their pregnancy. In many cases, employers target pregnant employees for termination through selective enforcement of their personnel policies. In such circumstances, pregnant employees are fired for violating a personnel policy that the employer does not enforce against non-pregnant employees. In some cases, employers target pregnant employees for termination by creating a new personnel policy to justify their eventual termination decision. In this article, our Homosassa, Florida pregnancy discrimination lawyers explain how the alleged facts in Small v. Office of Congressman Henry Cuellar,Case No. 1:19-cv-01314 (D. D.C. Sept. 10, 2020) illustrate the significant obstacles pregnant employees continue to face in their efforts to retain employment.
Worker Claims Fired Because Of Pregnancy
In that case, Kristie Small (Small) brought a pregnancy discrimination lawsuit against her former employer, the Office of Congressman Henry Cuellar (the Office), pursuant to the Pregnancy Discrimination Act (PDA). Under the PDA, women are protected from discrimination on the basis of pregnancy, childbirth, or related medical conditions. The PDA mandates that employers treat pregnant employees the same as non-pregnant employees. Small claims that the Office violated the PDA by firing her because she became pregnant and asked for maternity leave.
Small worked on Capital Hill since 2005. She started out as a staff assistant and scheduler, then as a legislative assistant, and later as a staffer for the House Administration Committee. In 2018, Congressman Henry Cuellar (Cuellar) hired her as Deputy Chief of Staff. Her duties included serving as Cuellar's principal liaison, supervising other employees, receiving work product, and managing the office budget and operations.
New Policy Created After Pregnancy Disclosed
Small's first day on the job was June 1, 2018. About one month later, she requested one day of sick leave, marking "pregnancy" as the reason. Cuellar approved the request. About one month after that, Small sent Cuellar an email requesting maternity leave, along with a schedule of her prenatal appointments. Cuellar responded the same day, saying: "Ok let's talk about this and probation period for you as I have for every new employee." Small claims this was the first time she heard of a probation period, and Cuellar later informed her that probation ran for 90 days.
On September 5, 2018, Small and Cuellar met to discuss how Small had performed during her first 90 days. Cuellar gave Small some positive feedback, but he also identified three areas that required improvement. Cuellar then extended Small's probationary period by 30 days, saying that he wanted to see if Small could improve. Small also asked for a pay raise, citing the high cost of putting two children in daycare. Cuellar demurred, suggesting they revisit the issue in 30 days. On October 16, 2018, Cuellar terminated Small's employment. Cuellar told Small that he was firing her because she had failed to address the performance issues identified in their September meeting.
New Policy Used To Scrutinize Pregnant Employee
The Office filed a motion with the trial court seeking dismissal of Small's pregnancy discrimination claim. In arguing that Small's pregnancy discrimination claim must be dismissed and not presented to a jury for resolution, the Office argued that it had a legitimate, non-discriminatory reason for Cuellar's decision to fire Small: her poor job performance. The trial court denied the Office's motion for dismissal and ruled Small's evidence was sufficient for a reasonable jury to find that she was fired because of her pregnancy in violation of the PDA.
In denying the Office's motion for dismissal, the trial court focused on the evidence showing that Cuellar told Small directly on heels of her request for maternity leave that she was on a 90-day probationary period. The trial court found that Small's evidence reflected that Cuellar, in response to her request for maternity leave, "instituted a blanket probationary period policy that had not previously existed." In support of this conclusion, the trial court pointed to Small's testimony that she first learned of the probationary policy after she requested maternity leave, the testimony of another Office employee that no one informed her she was on probation when her employment began, and the fact that the Office's Employee Handbook did not mention this probationary period until it was amended in March 2019, after Small's termination.
Based on the evidence showing that the Office instituted a new probationary period policy when responding to Small's request for maternity leave, the trial court determined that "a reasonable jury could find that Cuellar decided to give Small added, harsher scrutiny because she was pregnant and asked for leave." This evidence, the trial court further determined, would enable a reasonable jury to find that Small's pregnancy and request for maternity leave "tainted [Cuellar's] assessment of her job performance and carried over into his decision to fire her."
Homosassa, FL Lawyers For Pregnancy Discrimination
Based in Ocala, Florida and representing employees throughout Central Florida, our Citrus County, Florida pregnancy discrimination attorneys have been fighting for the rights of pregnant employees for more than two decades. If an employer has discriminated against you based on pregnancy or you have questions about your protection against pregnancy discrimination under the federal employment laws, please contact our office for a free consultation with our Homosassa, Florida pregnancy discrimination lawyers. Our employment and labor law attorneys take pregnancy discrimination cases cases on a contingency fee basis. This means that there are no attorney's fees incurred unless there is a recovery and our attorney's fees come solely from the monetary award that you recover.