Employee Claims She Was Fired Because Of Age Where Supervisors Said They Wanted To Get Rid Of "Old" Employees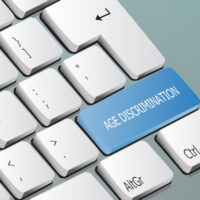 Having represented victims of age discrimination for more than twenty years, our Ocala, Florida age discrimination attorneys know that older workers continue to face significant obstacles in their efforts to retain employment. In many cases, employers systematically target older workers for elimination, either by incrementally eliminating their job duties, demoting them with hopes they will quit, forcing them to retire, or discharging them. Congress enacted the Age Discrimination in Employment Act (ADEA), as explained by the U.S. Seventh Circuit Court of Appeals in Graefenhain v. Pabst Brewing Co., 827 F.3d 13 (7th Cir. 1987), because "many employers or younger business executives act as if they believe there are good business reasons for discriminating against older employees." The facts alleged in Wallace v. Esper, Case No. 18-cv-06525 (S.D. N.Y. Sep. 30, 2019) are illustrative of the circumstances described by the Graefenhain court.
Employee Claims Fired Because Of Age
In that case, Susan Wallace (Wallace) brought an age discrimination lawsuit against her former employer, the U.S. Department of the Army (the Department), pursuant to the ADEA. Wallace claims that the Department violated the ADEA by terminating her employment because of her age.
Wallace, who was born in 1958, has over seventeen years of experience as a Commissioned U.S. Army military officer and lawyer (otherwise known as Judge Advocate General Officer or JAG). Beginning in May 2010, Wallace was employed as an Excepted Service General Attorney within the Department's U.S. Army Corps of Engineers (USACE) unit. Wallace was removed from that position in April 2017 for alleged "medical inability to perform." Wallace nonetheless continued to serve as a JAG officer until June 2018, at which point she retired, having attained the maximum service age of sixty years.
Employer "Does Not Need Old" Employees
Wallace claims that throughout her time at USACE she experienced discrimination based on her age. In 2014, according to Wallace, her supervisor, a woman named Lee, and Lee's supervisor, a woman named McAndrew, made comments "to and around" her about their intention to get rid of "old" lawyers and hire "only" the youngest civilian lawyers possible. Later that year, Lee and McAndrew allegedly hired a male attorney in his early twenties to replace the retiring attorney and started giving Wallace's work to the "least experienced" attorney in the office.
Wallace alleges that by "about late 2014 or early 2015," Lee and McAndrew were announcing that the USACE Chief Counsel's policy is to hire "only younger attorneys." Lee and McAndrew also purportedly commented during this time that the Department "does not need old lawyers," "is hiring only young lawyers," and "the younger, the better."
In February 2016, Lee allegedly reassigned most of Wallace's case load "to the youngest and least experienced attorney" in the office. In August 2016, Wallace claims that Lee stopped assigning her litigation work altogether. By the time of her termination in April 2017, Wallace alleges that all of her work had been given to substantially younger attorney who was "totally inexperienced [and] untrained."
Age Biased Remarks Reflect Age Discrimination
The Department filed a motion with the trial court seeking dismissal of Wallace's age discrimination claim.In doing so, the Department claimed that Wallace's age discrimination claim is factually and legally frivolous. The trial court denied the Department's motion for dismissal and ruled that Wallace had presented sufficient evidence to establish a meritorious age discrimination claim.
In denying the Department's motion for dismissal, the trial court focused on the age-based discriminatory comments by Lee and McAndrews. The trial court found that the comments "clearly reflect an intent to discriminate in employment practices based on age," and because some of the age biased comments were made by Wallace—the supervisor who Wallace claims personally removed her responsibilities and played a key role in her termination—the discriminatory age comments "support an inference" that Wallace was fired "because of her age." The trial court also pointed out that Wallace alleged that the Department had not hired anyone over the age of forty since 2010 and that she was effectively, and then actually, replaced by someone substantially younger. Based on these allegations, the trial court concluded, Wallace had alleged sufficient facts to demonstrate that her age was an impermissible factor in the decision to terminate her employment.
Free Consultation With Ocala Age Discrimination Lawyers
Based in Ocala, Florida and representing employees throughout Central Florida, our Ocala, Florida age discrimination attorneys have more than two decades of experience representing employees who have been discriminated against on the basis of age. If you have experienced age discrimination at work or have questions about your protection against age discrimination, please contact our office for a free consultation with our Ocala, Florida age discrimination lawyers. Our employees' rights law firm takes age discrimination cases on a contingency fee basis. This means that there are no attorney's fees incurred unless there is a recovery and our attorney's fees come solely from the monetary award that you recover.